How to set up an Apple Watch and get the most out of your fitness tracker
Want to know how to set up an Apple Watch? We've got you covered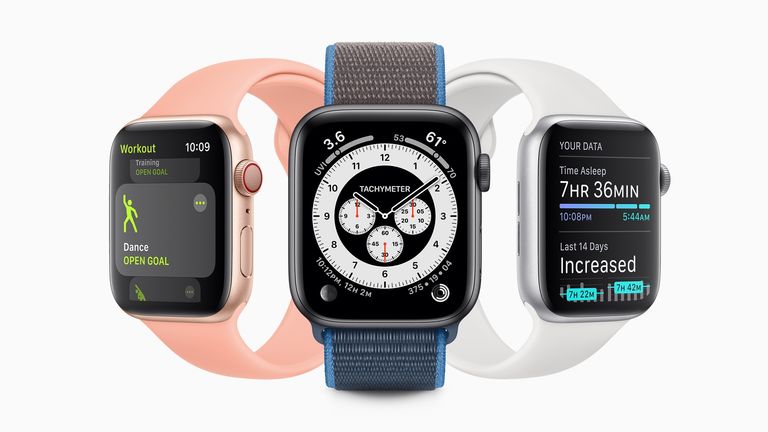 (Image credit: Apple)
Want to know how to set up an Apple Watch? Our guide has got you covered and will have your watch up and running in no time.
If you've taken the plunge and invested in one of the best fitness trackers out there it's time to learn exactly how to set it up, explore the features and make sure you're using it correctly to help you meet your health and fitness goals. 
Whether you've picked up the Apple Watch Series 5 or treated yourself to the latest model the Apple Watch Series 6, you'll be relieved to hear this smartwatch is super easy to set up and use and can really boost workout motivation. 
Here's how to set up an Apple Watch, with our top ticks for making the most out of your new gadget. 
How to set up an Apple Watch
Charge and sync
Keen to take your watch out of the shiny white box and put it straight on your wrist? We don't blame you! But, before you even try it on it's important you understand how to set up an Apple Watch so you don't miss an important step. 
Before you even open the box, make sure your iPhone is up to date with the latest iOS downloaded (you can find this via the settings app on your iPhone), fully charged and connected to WiFi with Bluetooth switched on. 
Next, take your new watch out of the box, lay it on a clean, flat surface and connect it to the charging cable included in the box. Once fully charged, you can turn on your Apple Watch. 
Find the button on the side of the watch and hold it down until you see the Apple logo appear. Once your new watch has sprung to life, it will direct you to move your phone closer, in order to pair them. You should see the words 'Use your iPhone to set up this Apple Watch', press 'Continue', and your iPhone and watch will sync up. 
If you're transferring data from an old Apple Watch, make sure you've backed it up before you start this process, otherwise, the data could be lost. Make sure that you don't move your phone away from your Apple Watch until this process is complete.
Sign in with your Apple ID
Halfway through the syncing process, a message should appear instructing you to hold your Apple Watch up to the camera on your phone. 
Now is the time you can (finally) put your watch on your wrist and continue the setup process. It usually takes a few seconds before a second message appears to tell you that they've paired.
At this point, the devices will also prompt you to sign in to your watch with the Apple ID you use on your phone. This means you can then transfer apps and also use your account for any in-app purchases. This is also when you can input your credit card details for Apple Pay if you'd like to activate it.
You may also be prompted to input a password. It's always a good idea to do this, just in case your watch is lost or stolen. Try and choose a combination that won't be obvious, and that only you will know.
Organise your apps
Your Apple Watch will come with basic apps that you're probably already familiar with on your phone. These include Apple Pay and the Activity app, which tracks your steps. You'll also be able to see your messages and phone calls on your watch.
Syncing your phone and watch together means that you can use the Apple Watch app on your phone. This enables you to adjust how the watch looks or to rearrange or delete apps from your watchface. To do this, simply tap on the app on your phone, and then tap 'My Watch' to make any changes.
If you want to take on a couch to 5k challenge, download the Watch to 5k app. If you've turned to walking for weight loss and want something entertaining to accompany you as you walk, download the Time to Walk app and listen to the tales of popular public figures like Dolly Parton and Uzo Aduba.
One of the best workout apps the Apple Watch has to offer is the 7 Minute Workout app, which is great for fitting quick, no-equipment exercises into your day. 
When it comes to using your watch to add mindful moments to your day, try yoga for beginners via the Start With Yoga app or download Headspace and listen to sleep-guided meditations during your bedtime routine to help you sleep better. 
Get to know the features
You might be familiar with the Activity app from your iPhone—this is also a key feature on the Apple Watch. The Move and Exercise rings give a great overview of your daily movement and overall health and fitness. The Stand ring also gives you prompts to get up and move more throughout the day.
If you want to change the daily Move and Exercise goals, you can do this via the Activity app and then increase or decrease the number of calories you want to burn every day. 
Whether you're embarking on a new journey into fitness for women or are a regular gym-goer looking to track your process, you can set goals via the Workout app. 
Once you decide what goal you want to set, touch the workout you want to do. Next, click on the three dots (the more button)—set a goal (whether that's a swimming time or your running distance) and then start your workout.
While you're working out you can simply raise your wrist and the screen will come alive so you can check in on how many miles you've covered, or how many calories you've burned walking. 
How does an Apple Watch work? 
While learning how to set up an Apple Watch, you might also be curious to know how exactly an Apple Watch works. 
This smartwatch can do everything from tracking your daily steps to measuring your blood oxygen levels—it's pretty impressive!
As well as having motion sensors that track your movement, and heart rate sensors to monitor your heart rate, the Apple Watch Series 6 also has blood oxygen sensors that connect with the Blood Oxygen App to determine your levels. 
But, how exactly does this work? Well, the LED lights on the sensors shine light into the blood vessels in your wrist and measure the amount of light reflected back.
The Series 4 Apple Watch and above can also give you an ECG reading with the touch of a button in just 30 seconds. You can check your reading in the ECG app which can indicate if there are any signs of irregular heart rhythm that need medical attention. 
When it comes to sleep and fitness, the motion sensors track your sleep patterns, tally up your daily steps and distance, and provide you with workout metrics. 
What's more, you can also share your activity with friends, listen to music and podcasts via your watch, call and text straight from your wrist and access Maps. 
However, these are just the starting point. The Apple Watch has thousands of apps available, that cover everything from menstrual cycle tracking to nutrition tips, and can be downloaded via the Apple Watch app on your iPhone.