Vegan protein: alternatives to meat for a balanced plant-based diet
Get acquainted with the best vegan protein options out there - these tasty meat-free alternatives will keep you feeling full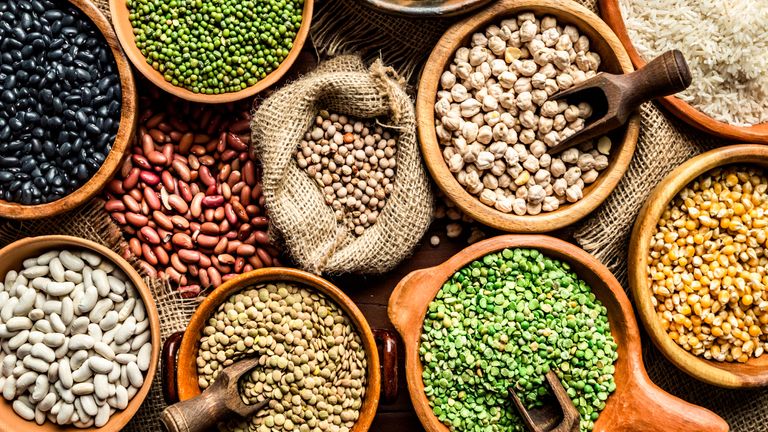 (Image credit: Getty Images)
These vegan protein sources can work in any meal where you would opt for a meat-based protein. Sliced, diced or whizzed in one of the best blenders, vegan protein is the base for an endless amount of tasty dishes, including vegan stews, curries, soups and salads.
We look at the best vegan protein sources if you're trying to cut down on meat, or eat a more plant-based diet - including some delicious vegan recipes to try them in. 
Protein - including vegan protein - is an essential part of a balanced diet and vital for growing and repairing cells. Many get the recommended daily intake or RDA (46g for women, 56g for men) from red meat, which is also rich in iron and vitamin B12. But what are the protein-rich alternatives to meat, if you're trying to cut down on meat or eat a more plant-based diet?
As it turns out, switching from animal-based protein to vegan protein could have a very positive affect on your health indeed. "Not only can we design a diet to provide plenty of plant protein, but studies consistently demonstrate increased longevity and reduced disease risk when protein comes from plants instead of animals," said Dr Reshma Shah, MD, a co-author of Nourish: The Definitive Plant-based Nutrition Guide for Families, as reported by Real Simple magazine. 
"It comes as a bit of a surprise to many consumers that essential amino acids are made by plants, not animals," Shah explained. "Animals provide essential amino acids because they acquired them from plants at some point along the food chain. So, it makes no sense to say we can't get essential amino acids from plants—it's where they come from."
The good news is that there are lot of protein-rich alternatives to meat out there to experiment with and we've got 14 of them for you to try...
Vegan protein: protein-rich alternatives to meat
1. Quinoa
Grains are a fantastic source of protein and relatively economical; a handful goes a long way! Trendy grain quinoa contains all eight essential amino acids, making it more nutritious than rice and couscous but just as filling. When cooked, it has a fluffy texture and nutty taste - the perfect accompaniment to curries and salads. Regarded by the Incas as the sacred "mother grain", gluten-free quinoa is a fully fledged foodie favourite.
Try it: Curried quinoa with apple and spinach
2. Tofu
Tofu, also known as bean curd, is made from soya bean milk. It is an extremely low-fat and nutritious alternative to meat, containing high amounts of protein, calcium and vitamin E. It's extremely versatile and flavoursome when you cook it well.
Try it: Tofu and peanut stir-fry with ramen noodles
3. Mushrooms
The mighty mushroom has twice the amount of protein than most vegetables, making it a great addition to pastas, pies and all sorts. The chewy texture gives you something to really sink your teeth into, making larger Portobello mushrooms a satisfying replacement for burgers! Combine with other protein-rich foods such as eggs, tofu and pulses for a super healthy meat-free meal.
Try it: Spinach and mushroom filo tart
4. Vegan cheese
While all types of cheese made from dairy contain good levels of protein, dairy-free vegan cheese can also provide a protein hit, depending on the brand/ingredients. Look for vegan cheeses made from protein-rich cashews, such as Kinda Co's garlic & herb (pictured above), or soya, such as Tofutti cheddar-style slices. But don't automatically assume that these plant-based cheeses are lower in fat, as ingredients such as coconut oil can drive up the saturated fat content. 
5. Tempeh
Tempeh, which actually has a higher protein content than tofu, is a soy product made from fermented soy beans that has a distinctive umami taste. Rich in B-vitamins - which play an important role in brain function, cell metabolism and more - add it to stir fry's, curries and more for extra bite, plus a nutritional boost.
6. Lentils
Lentils have one of the highest levels of protein by weight of all the pulses and only 1% fat, making them an excellent ingredient to bulk up meat-free curries and soups.
Try it: Lentil and red pepper soup
7. Quorn
As a leading brand of imitation meat, Quorn has a very similar taste and consistency, especially when mixed with your usual Bolognese sauce, curries and chilli con carne. It has all the essential amino acids found in beef or chicken, but has 75% less fat than even lean beef mince. Look for the vegan symbol on Quorn products, as the original Quorn isn't vegan.
Try it: Quorn and almond curry with spinach
8. Edamame beans
Edamame beans are a must-have snack for celebrities such as Victoria Beckham and Gwyneth Paltrow. Edamame beans are actually baby soya beans and are one of the only vegetables to contain virtually all the health benefits of meat. These nutty beans can be used to bulk up dishes such as stir fries and salads, eaten alone as a super snack, or whizzed in a food processor to make a guilt-free tortilla dip!
9. Nuts
Nuts are a fantastic everyday source of protein, which are ideal for health-conscious snacking or for boosting lacklustre salads. One cup of almonds provides more protein than an egg, while cashew nuts are high in antioxidants and promote good cardiovascular health.
Try it: Nut roast
10. Chickpeas
A staple of Mediterranean, Middle Eastern and Indian cuisine, chickpeas are a nutritious source of protein with a slightly heavier consistency than lentils. They are commonly used in veggie curries and are of course, the main ingredient in hummus. They can also be used to make burgers!
Try it: Chickpea burgers
11. Vegan yoghurt
Just like vegan cheese, vegan yoghurt can also be a great source of plant-based protein. Stick to no added sugar varieties, to keep things healthy. Alpro plain no sugars, as an example, has 4g of protein per 100g, as well as being naturally low in fat. Not a fan of soya? Other yoghurt alternatives include oat yoghurt and coconut yoghurt. Why not try using them in one of our dairy-free recipes? 
12. Seitan
Made from wheat gluten, so not one for those on a gluten-free diet, seitan has a surprisingly meaty texture, and is a great option for those who are transitioning into a vegan diet. There's a whopping 75g of protein per 100g of seitan, which pushes way past the RDA for protein. Use is to make mock burgers, steaks and more.   
13. Peas
The humble pea has an impressive 5g of protein per 100g as well as being a good source of vitamins C and E and minerals including zinc. Blitz it into a pea soup (a few tweaks will make it vegan) or add to a vegan shepherds pie. Fresh or frozen works equally as well. 
14. Shelled Hemp seeds
"Shelled hemp seeds are a rich source of essential omega-3 fat, which is important for helping to keep our cardiovascular and nervous systems healthy," says Vegan Society Dietitian, Andrea Rymer. "Our bodies are unable to produce this type of fat, so 30g or a quarter cup of shelled hemp seeds a day is a great way to make sure you are getting what you need. They are a good quality protein source with a delicious creamy texture, and taste great in porridge."