Can you reheat couscous and is it safe to do so?
It's a tasty, versatile grain - but can you reheat couscous safely?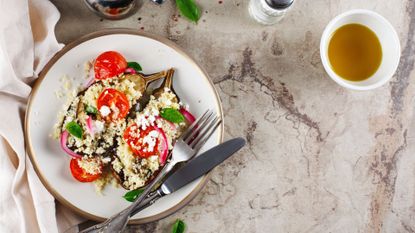 (Image credit: Getty)
Reheating last night's dinner is a great way to save money and cut down on waste, but can you reheat couscous, and is it always safe to do so?
It may be seafood, poultry, and eggs that initially spring to mind when considering the dangers of reheating, but other foods—such as couscous—also need to be treated with caution.
Whether it's accompanying a warming Moroccan stew or whizzed up with fresh herbs in a food processor in a tasty tabbouleh, we're big couscous fans. In fact, you'd be hard-pushed to find a more versatile grain.
But is it one of the things that you should never put in a microwave? And what's the best way to store it after cooking? We caught up with several chefs and foodies who know a thing or ten about couscous to find out.
Is it safe to reheat couscous?
Yes! It's perfectly fine to reheat couscous. "It is completely safe to re-heat couscous," confirms foodie and owner of Keeping it Simple, Melissa Oleary. Drawing on her 10 years of restaurant experience she explains, "Since it is a pasta, it re-heats the same way which is to add a slightly dampened cloth or paper towel over it and place it in the microwave for 1-2 minutes or until hot. Fluff it up with a fork before serving."
"Couscous is actually a pasta and not a rice as many people think and because of that, you would follow all the basic food storage and safety guidelines for pasta," Melissa continues. "Once you understand that couscous is a type of pasta and not rice (which rice has its own safety issues for storing and re-heating) then you can rest assured that you are merely heating up and storing pasta when working with couscous."
Chef and food writer, Norah Clark (Yummy Taste Food) agrees, adding that "reheating couscous is safe as long as you follow the proper guidelines for storage and handling."
Can reheating couscous give you food poisoning?
A resounding yes. When left at room temperature for a long time, the bugs present in couscous—and other grains and rice—will begin to multiply and produce poisonous toxins to humans. But this can be easily avoided by ensuring you store and handle it in the right way.
Tips for storing your leftover couscous safely
We spoke to Amanda, founder of Smartfreeze Containers about the best way to store couscous safely.
"I love batch cooking couscous or saving leftovers from a large meal as it makes a tasty and light side dish which I can then freeze into smaller portions for up to four months if it is in a sturdy air-tight container," she told woman&home.
"If you want to enjoy your couscous sooner, there are ways to store couscous in the fridge safely. It's important to ensure your couscous is stored in an airtight container and there is plenty of room for air to circulate.
"To store couscous safely, let it cool to room temperature within a two-hour window, then place it in a sealed container and refrigerate it. When stored correctly, leftover couscous should stay fresh for around three to five days," adds Norah.
Similar to storing cooked chicken in the fridge, storing it correctly is key to prolonging its shelf-life. If you want to eliminate the risk of food poisoning when reheating couscous, keeping to these timings is key:
Allow couscous to cool for at least one hour before refrigerating. Putting warm food in the fridge will raise the temperature inside, turning it into an incubator for bugs
But don't keep couscous at room temperature for any longer than two hours before refrigerating—as in this state the bugs are more likely to multiply
Eat leftovers within four days—rice and grains have a slightly longer shelf life than other foods such as chicken, which should be eaten within two days. And always make sure you store food in an airtight container
Expert-approved tips for storing couscous safely in the fridge:
Spread leftovers evenly to ensure that the cold air can reach more of the food
Space out food containers around your fridge so air can circulate evenly
Don't forget that it's there! Place your food containers at the front of the fridge
How to reheat couscous the safe way
As stated, the easiest way is simply to pop it in the microwave. "Put the couscous in a microwave-safe bowl and cover it with a moist paper towel. Microwave it for approximately 1-2 minutes, stirring occasionally to ensure even heating." recommends Norah.
"Alternatively, you can reheat the couscous on the stovetop. In a saucepan, add a small amount of water or broth to the couscous to keep it moist and heat it over low-medium heat, stirring occasionally, until it reaches the desired temperature."
Regardless of your method, "remember to only reheat the couscous once," cautions Norah, "as multiple cycles of heating and cooling may affect both its safety and taste."
Rosie Conroy is a food and drinks journalist with over a decade of experience working for big-name titles in both print and online. Formerly the Digital Food Editor of woman&home, Rosie went on to head up the team at SquareMeal, reviewing the best London restaurants and hunting out emerging culinary trends. With previous experience in food styling and recipe development, Rosie knows what to look for in a good piece of kitchenware and has extensive experience testing consumer goods—from kitchen electricalz and cooking accouterments through to new foodie treats.