Best mince pies 2020: The woman&home taste test
Our favourite mince pies for this year's festivities. You're in for a jolly good treat.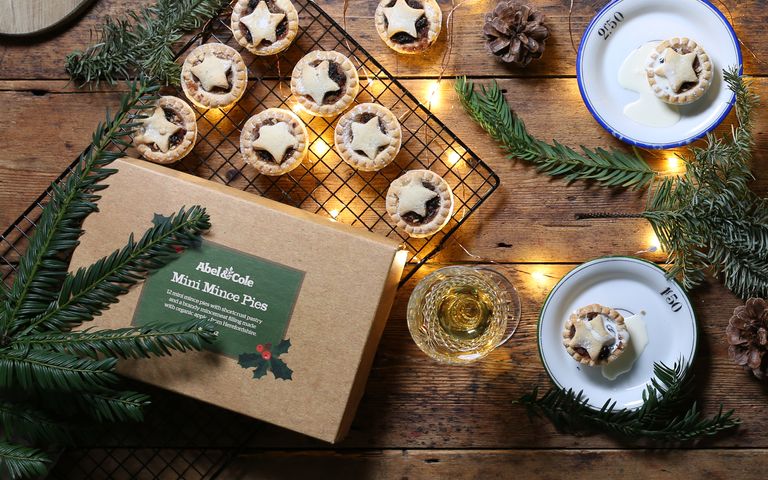 (Image credit: Able and Cole )
Mince pies are one of those festive foods that really divides people. But honestly, some of these are so delicious that even the mince pie haters will be going back for seconds! Certainly, our tasting panel was blown away with these exceptional winners. 
You could bake your own mince pies but if you would rather buy them then we have you covered with our round-up of the best.
At woman&home we have taste tested hundreds of Christmas foods and drinks to find the best products to make your festive table extra special. Discover all the winners in our Christmas Taste Tests.
Each winning product has been awarded a woman&home best buy award. So if you spot any products with the red woman&home taste test sticker you will know that they have our seal of approval.
What makes a great mince pie?
We scored the mince pies based on four main elements. 
Pastry: A great pastry is essential in any mince pie worth it's salt (or sugar). In our scoring, we were looking for a lovely buttery flavour, bonus points for a hint of almond. Texture-wise it's a delicate balance. We don't want a messy mincy that crumbles entirely. But a tough pastry won't cut it either. 
Filling: The heart of the mince pie is, of course, it's filling. For an outstanding mince pie, the mincemeat needed to contain plump fruit, be generously filled and taste exquisite. Anything excessively sweet and jammy was scored poorly.
Looks: As they say, you eat with your eyes, so looks are important when it comes to food. 
Flavours: We also took into account the marriage of flavours. The unique and unusual combos are often popular but we wanted the flavours to work together and give a luxurious festive feel. A lovely frangipane topped mince pie was a popular choice amongst our tasting panel.
All of these winners scored highly for pastry, filling, flavour and looks so you can trust us that these will impress at Christmas time. 
Best mince pies of 2020: The winners
The following were unanimously voted as the best of the best, so we think you will love them too. There was a real variety this year, with many of the traditional classic mince pies were overshadowed by new, fun and unusual flavours.
Waitrose Mini mince pie selection
Pack of 9, £3.00. There is a pie for all tastes in this box of joy: 3 almond topped mince pies, 3 orange & juniper flavoured mince pies and 3 caramelised hazelnut topped baklava pies. Each pie is a medium size, we just see that as an excuse to sample all three varieties in one sitting. The tasters loved all of these, but our soft spot is for the deliciously sweet and festive tasting halva and honey crumble topped variety.
Bettys Speciality mince pies
Pack of 12, £14.95. Bettys is a Yorkshire institution. Everything that comes out of their small bakery in Harrogate is of exquisite quality. They bake their mince pies freshly on a daily basis in the run-up to Christmas. Although they offer three varieties of mince pies the selection of Frangipane and Ricciarelli mince pies was our overall winner. The pastry and filling were both splendid and they are each topped with either an elegant Ricciarelli swirl or gorgeously nutty Frangipane top. Although on the pricey side they are well worth splashing out for. The all-butter pastry is pure perfection. And they are filled with a secret in house mincemeat recipe that is soaked in sherry.
The Authentic Bread Company Mini Mince Pies
Pack of 12, £6.45, Able & Cole. If parties are back on the agenda at Christmas we think that these perfect bite-sized pies would make an adorable canape. Alternatively teetering on the saucer with a cup of tea they would be equally as home. Our panel scored these highly as the mincemeat filling that contains Herefordshire apples dried fruit and cognac was fresh tasting and delicious. The pastry was satisfyingly crumbly and buttery. These mince pies are made in Gloucestershire by a family business who transformed their garage into a bakery. They go to great lengths to find the best quality organic ingredients.
Specially Selected Millionaires Mince Pies
Pack of 6, £1.99, Aldi (available in-store). Although sweet these proved are a real crowd-pleaser. Plus, despite the name, you do not need to be a millionaire to afford these as they have the very humble pricetag of £1.99. And are the cheapest of our winners by a whole pence. The millionaire element comes in the form of a decedent oozing caramel filling which is extremely moreish. The pastry was good too, we were really impressed with the texture and taste. We enjoyed that they look quite minimal - so the caramel was an unexpected joyous surprise.
Morrisons The Best Blackforest Crumble Topped Mince Pies
6 pack, £2.00. We learned during the tasting process that chocolate and mincemeat are truly a heavenly combination. A discovery these pies demonstrate handsomely. They were described by our tasters as "the perfect gateway pie". The chocolate and cherry will tempt those who are as yet unconvinced by the power of rich festive baking. And trust us they won't be disappointed.
Sainsbury's Taste the Difference Mince Pies
Pack of 6, £2.00. Sometimes you just fancy a really good traditional mince pie. For those moments these generously filled pies courtesy of Sainsbury's prevail. They are larger than others we tasted and are packed to the brim with luxurious brandy mincemeat which has a good balance of zest and spice. We couldn't fault the buttery pastry and we enjoyed the cute snowflake pattern on top. Warm them through in the oven and dust with a sprinkling of icing sugar snow for the perfect yuletide treat.
Best mince pies of 2020: The honourable mentions
Co-op Irresistible All Butter Mince Pies
Pack of 6, £2.00 (available in-store). Remarkably buttery tasting pastry with a nuttiness that our testers adored. These mince pies from Co-op are abundantly filled with a fresh fruity and boozy mincemeat. They very narrowly missed out on a place in the top spot. But they are another classic that you can trust is great.
OGGS® Luxury Handmade Mince Pies
Pack of 4, £2.50, Sainsbury's and WH Smith. These mince pies by OGGS® are suitable for vegans, but nobody will suspect these gorgeous sticky pies are egg and dairy-free as they and rich and full of flavour. They are beautifully hand-finished with a pretty pastry star atop each one. OGGS® is an ethical company, with the ambition to "positively change the future of the planet, animals and people with every, little, bite". All of OGGS® cakes and bakes are plant-based and cruelty-free. Plus all of the packaging that they use is environmentally friendly. For example, the plastic film displaying these mince pies is biodegradable, and the cardboard is recyclable.
Rose Fooks, Deputy Food Editor at Future plc, creates recipes, reviews products and writes food features for a range of lifestyle and homes titles including Goodto, Style at Home and woman&home. Since joining Future, Rose has had the pleasure of interviewing cookery royalty, Mary Berry, enjoyed the challenge of creating a home-based, lockdown baking shoot for woman&home, and had her work published in a range of online and print publications, including Feel Good Food.
Rose completed a degree in Art at Goldsmiths University and settled into a career in technology before deciding to take a plunge into the restaurant industry back in 2015. The realisation that cookery combined her two passions - creativity and love of food - inspired the move. Beginning as a commis chef at The Delaunay, Rose then worked at Zedel and went on to become a key member of the team that opened Islington's popular Bellanger restaurant. 
In order to hone her patissier skills, Rose joined the Diplome de Patisserie and Culinary Management course at Le Cordon Bleu. Rose ran a food market in Islington championing local producers and cooked for a catering company that used only surplus food to supply events, before finding her way into publishing and food styling. 
Other than cooking, writing and eating, Rose spends her time developing her photography skills, strolling around her neighbourhood with her small, feisty dog Mimi, and planning the renovation of a dilapidated 17th-century property in the South West of France.