Our Edit: The Top Trench Coats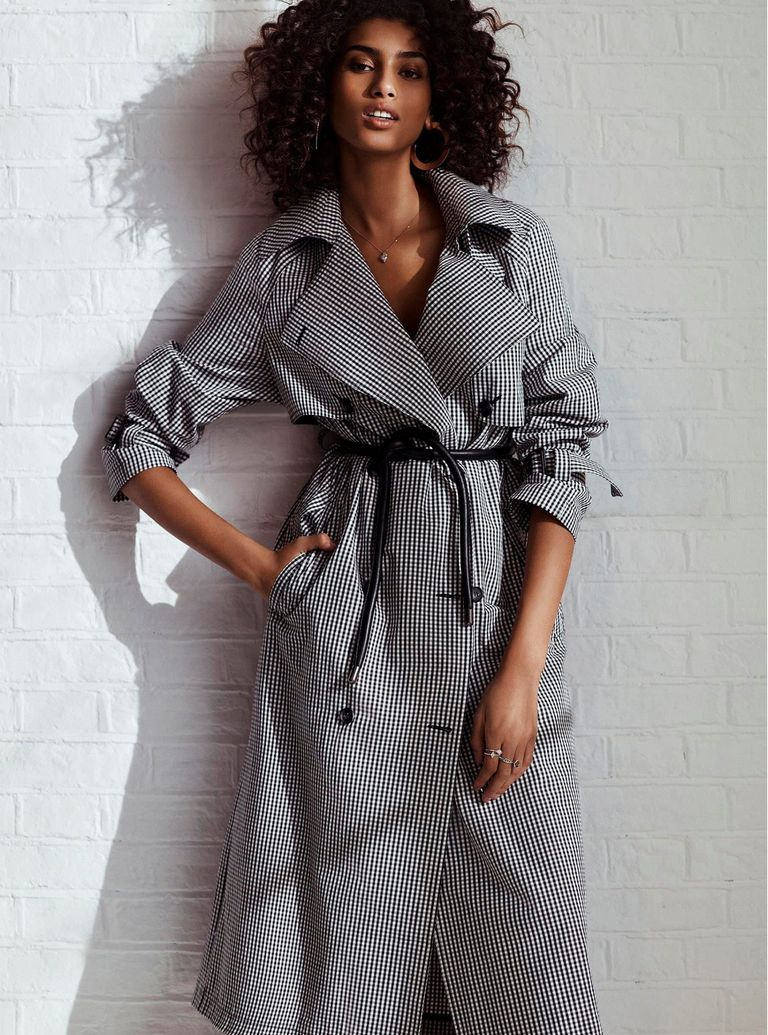 The humble trench coat pops up again, year after year. It's a timeless style never goes out of fashion. Here's our edit of the best trench coats on the high street right now...
Trench coats never go out of fashion. Timeless, chic and practical, of all the outwear available on the high street, this really is a piece that every woman should own. And not just because they're versatile and suit every body shape.
Between seasons weather calls for a light cover up. Enter the trench. A more feminine alternative to a rain mac or anorak, they're functional and essential kit with our unpredictable British weather.
They're also great for defining your shape, as many come with a waist-cinching belt to flatter your figure.
We've rounded up the best trench coats in shops right now, from bargain buys to something that's a bit more of an investment. Whatever your style, let these designs see you through spring in style...
11 Waist-Whittling Trench Coats To Get You Ready For Spring
Gia Single Breasted Trench, £290.00, Whistles Khaki is back. In a big way. Pair this stunning trench with black jeans and white trainers for a chic everyday look. BUY NOW from Whistles for £290.00 (opens in new tab)
11 Waist-Whittling Trench Coats To Get You Ready For Spring
Classic Trench Coat, £227.00, Jaeger This classic camel shade is timeless and makes the perfect addition to your wardrobe - and it's one that you can pull out year after year! Team it with a Breton t-shirt and red accessories (and lips), for a Parisian look. BUY NOW from Jaeger for £227.00 (opens in new tab)
11 Waist-Whittling Trench Coats To Get You Ready For Spring
Black And White Trench Coat, £90, Next Gingham is a huge trend for summer and this stunning tench coat is great for doing trying this trend the "grown-up" way. BUY NOW from Next for £90 (opens in new tab)
11 Waist-Whittling Trench Coats To Get You Ready For Spring
Saskia Trench, £199.00, Hobbs Yellow is having a moment thanks to people like Victoria Beckham. And this standout trench is a great way of injecting the colour into your everyday looks. A fresh take on the traditional stone shade. BUY NOW from Hobbs for £199.00 (opens in new tab)
11 Waist-Whittling Trench Coats To Get You Ready For Spring.jpg
Somerset Longline Trench, £285, Reiss Neutral coloured outerwear is incredibly versatile. It can be styled with a whole range of outfits and still look super chic. BUY NOW from Reiss for £285.00 (opens in new tab)
11 Waist-Whittling Trench Coats To Get You Ready For Spring
Classic Trench Coat, £55.00, ASOS Blush hues are big for summer. Pair this coat with a vibrant red top or skirt for a on-trend colour block ensemble. Pink and red shades (worn together) is set to be one of the biggest trends of this year. BUY NOW from ASOS for £55.00 (opens in new tab)
11 Waist-Whittling Trench Coats To Get You Ready For Spring
Transitional Trench, £40.00, Vero Moda This cropped cut is great if you're looking for more of a lightweight style. The cinched-in belt adds shape to the coat, to flatter your figure. BUY NOW from Vero Moda for £40.00 (opens in new tab)
11 Waist-Whittling Trench Coats To Get You Ready For Spring
Khaki Soft Belted Military Trench Coat, £34.99, New Look If you're looking for a twist on the traditional trench style, this military inspired coat is a great contemporary alternative. BUY NOW from New Look for £34.99 (opens in new tab)
11 Waist-Whittling Trench Coats To Get You Ready For Spring
Stone Trench Coat, £89.00, Warehouse A versatile shade and the perfect piece for transitioning into the warmer months. BUY NOW from Warehouse for £89.00 (opens in new tab)
11 Waist-Whittling Trench Coats To Get You Ready For Spring
Leather Trench, £149.00, Mango Vamp up your everyday looks with this unique leather trench. This coat also has a vintage feel to it, which we love! BUY NOW from Mango for £149.00 (opens in new tab)
11 Waist-Whittling Trench Coats To Get You Ready For Spring
Tie Belt Trench Coat, £119.88, H by Halston at QVC A different take on the traditional trench style. This stone colour looks fresh and the shape is feminine, with its knee-length cut and cinched-in waist. BUY NOW from QVC for £119.88 (opens in new tab)