Mindy Kaling shows she's 'getting cuter' with age as she rocks pretty crop top and matching skirt
Fans praise Mindy Kaling's top-notch coordinated summer look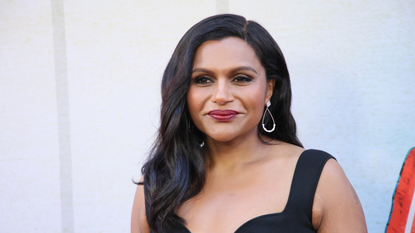 (Image credit: Robin L Marshall / Stringer)
Mindy Kaling always looks on point, but there is just something about the 43-year-old actor, writer, producer and director that has elevated her sense of style this summer and her fans have noticed.
Mindy, who recently opened up about her weight loss journey, astounded fans once more in a new Instagram post wearing a black-and-white crop top with a matching skirt. The star finished off her look with gold earrings and a bracelet, plus beautiful gold-studded, black sandals.
She captioned the post, "🎶 I didn't peak in high school, I'm still out here getting cuter 🎶."
Praises for Mindy's look started pouring in from fellow celebrities and fans as soon as she uploaded the shots.
Canadian actor Maitreyi Ramakrishnan, who stars in the Netflix show Never Have I Ever, which was created by Mindy, commented, "best line🙌."
America Ferrera opted for the use of two to-the-point emojis, "😍 👏," while Freida Pinto commented, "Insanely CUTE! ❤️❤️."
Reese Witherspoon also chimed into the comments section, noting, "Perfect caption 🔥perfect fit 🔥."
---
As she noted a few months ago while promoting the second season of her hilarious show The Sex Lives of College Girls, Mindy hasn't always looked and felt this confident.
"I eat what I like to eat," she said to Entertainment Tonight a while back while discussing her obvious weight loss journey. "If I do any kind of restrictive diet, it never really works for me. I just eat less of it. I wish there was something more juicy or dynamic about the way that I've lost a little bit of weight, but that's the way I've done it."
Her lifestyle change was sparked by the birth of her son, her second child, in September 2020. "I had my son in the first year of the pandemic," she said to the outlet back then. "It was this almost extended maternity leave. I wasn't going to be on camera, the studios were shut down."
The mother-of-two is clearly much busier these days, starting with the much-anticipated third installment of the Legally Blonde series, which she is set to co-write with Dan Goor. The film is scheduled to be released next year.
Mindy will also write and star alongside Priyanka Chopra in a comedy about an Indian-American wedding and executive produce and voice the titular character in a new adult-oriented Scooby-Doo spin-off series called Velma. The latter project will launch on HBO Max in the near future.
We have full confidence that Mindy will keep rocking her amazing looks while navigating her oh-so-busy professional and personal life, and we can't wait to see what other top-notch fashion choices she has in store for us.
Anna Rahmanan is a New York-based writer and editor who covers culture, entertainment, food, fashion and travel news. Anna's words have appeared on Time Out New York, the Huffington Post, Fortune, Forbes, Us Weekly, Bon Appetit and Brooklyn Magazine, among other outlets.