Mindy Kaling's new take on Scooby Doo's Velma is causing unnecessary controversy
We'll judge Mindy's version of the character when we see the show - and not before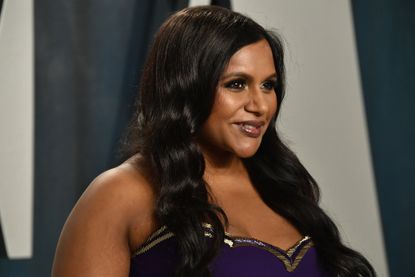 (Image credit: 2020 Vanity Fair Oscar Party Hosted By Radhika Jones : Getty)
Mindy Kaling has a new show in the works, an animated series focusing on Scooby Do character Velma.
This morning, it was revealed that the title character would be of East Asian descent.
"We have a not for children, Mindy Kaling project called Velma because she was excited to reimagine what Scooby-Doo would be like if Velma were of East Asian descent and lived in a different world," said Warner Brother's exec Tom Ascheim at the TV Kids Summer Festival 2021, an online industry event.
The news attracted praise from fans of both Mindy and Scooby, but was also criticised. "Well, it's not Velma then…" was a popular comment, suggesting that, if the Scooby sleuth wasn't white, then she just wouldn't be the same.
We love Velma for the essentials of her character. Velma stands for being sensible when those around you are losing it. Velma is for those of us who value being smart and funny. And Velma lives in the heart of every girl who's ever felt overlooked next to her glamorous friend.
Will that change because of her ethnicity? Of course not.
It won't even be the first time an Asian Velma has appeared. Asian-American actress Hayley Kiyoko played the character in the 2009 and 2019 Cartoon Network live-action films, Scooby-Doo! The Mystery Begins and Scooby-Doo! Curse of the Lake Monster.
It's also not unusual for spin-off series or reboots to change many things about well-loved characters. Disney's Cruella, starring Emma Stone, claims to tell the backstory of the 101 Dalmatians villain - but moves it to the 1970s, ignoring the 1958 setting of the original animated film and 1956 publication of the book it was based on. When Brie Larson was cast as Captain Marvel, men's rights activists tried to organise a boycott of the film, the first female-led movie in the Marvel Cinematic Universe - but the character of Captain Marvel has been many things previously, including an alien.
This time we know Mindy Kaling will be the voice of Velma and that, in the words of Ascheim, there will be "no dog and no van". Everything else is yet to play for, as no advance artwork has been released.
So, as fans of Mindy Kaling's writing and showrunning, as fans of the ever-underappreciated Velma, we're keen to see what will happen with the project. We'll judge it, on its merits as a fun series.
Velma, it's finally time for you to step into the spotlight.