Best workout leggings to help you run, jump and squat with confidence
The best workout leggings for all activities - guaranteed.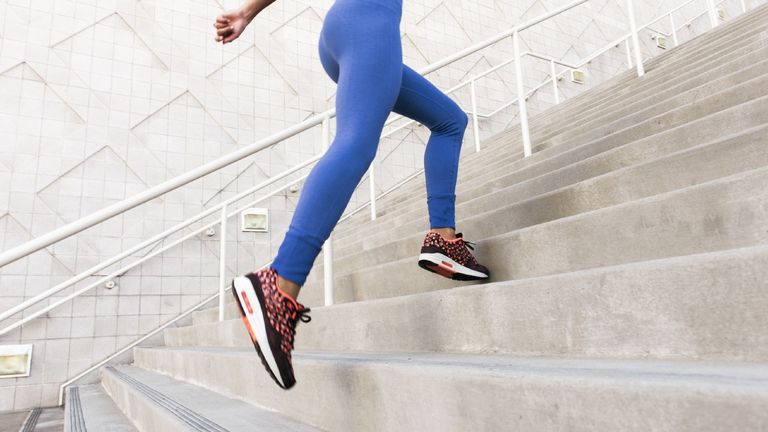 (Image credit: Getty)
If you're looking for the best workout leggings, it's not always as simple as choosing from the best leggings on the market and hoping that they'll hold up for your exercise session.
Many leggings have been designed specifically for fitness to make sure that you can get the most out of your workout. But while the athleisure wear boom has done wonders for our comfort levels (leggings all weekend, anyone?), a saturated market has made finding a great pair of workout leggings a daunting task. It's a needle in a haystack situation - much like finding the best jeans.
So we've put the very best workout leggings through their paces to make sure they meet the grade when it comes to performance, fit and comfort. Whether you're clocking up miles on your weekly runs, getting sweaty at Zumba or flowing into a downward dog, the mark of a good pair of leggings is that they work as hard as you do. Thanks to a winning combination of fabric and fit, they should enhance your performance – instead of holding you back.
Best workout leggings to shop now
Best workout leggings for everyone
Specifications
RRP: £75
Sizes: XXS-XXL
Fabrication: 62% polyamide, 38% elastane
Machine washable: Yes
Reasons to buy
+Flattering high waist+Inclusive size range
Reasons to avoid
-High-end price tag-Sell out quickly
Scoring an average of 4.6 stars over more than 2,000 online reviews, Sweaty Betty's Power Leggings tick all the boxes. We came for the vibrant range of colours, patterns and prints, but in the end it was the lightweight yet completely squat-proof fabric that won us over.
Whether you're a seasoned gym goer, prefer a solo jog or feel more at home, well, working out at home, Sweaty Betty's Power Leggings have got you covered.
The high-waisted, bum-boosting design not only creates a flattering shape, but will give you the confidence you need to bounce into your next set of burpees without the fear of a wardrobe malfunction.
Crafted from a lightweight yet super stretchy elastane blend, the fabric is also sweat-wicking, pulling moisture away from your body to keep you cool and comfortable. We put Sweaty Betty's '90% squat proof' promise to the test, and can confirm these leggings passed with flying colours.
See our full Sweaty Betty Power Leggings review
2. Perff Studio Intuition Leggings
Best premium workout leggings
Specifications
RRP: £80
Sizes: XS-XL
Fabrication: 65% recycled polyamide, 35% elastane
Machine washable: Yes
Reasons to buy
+Simple design+Made from recycled fabric
Reasons to avoid
-Comes up very small-Limited colour choice
The beauty of the Perff Studio Intuition Leggings is in their sleek, fuss-free design. The highwaist and shaping seams sculpt a smoother silhouette before you've even stepped foot inside the gym.
While the detailing might be minimal, these leggings are far from basic. Made from 65% recycled polyamide, they're the perfect choice for anyone looking to make more eco-friendly fashion choices. If that wasn't enough, they're moisture-wicking, fast-drying and won't bobble or pill as you wear them.
The high waist is completely budge-proof, so you can enjoy your workout safe in the knowledge these leggings won't escape you.
3. Tala Zinnia Leggings
Best budget workout leggings
Specifications
RRP: £40
Sizes: XS-XL
Fabrication: 92% upcycled polyamide, 8% elastane
Machine washable: Yes
Reasons to buy
+Eco-friendly credentials+Wide colour choice
Reasons to avoid
-Sell out quickly -Need to be washed separately
Don't be put off by the teeny-tiny size of these leggings – they've got plenty of stretch, rewarding you with a firm compression fit once you've wiggled your way into them.
Great for staying snug on chillier days or when exercising outside, the fabric is a little thicker than your average pair of workout leggings.
It's where the fabric comes from that's the real draw here. Tala currently make their leggings from 92% upcycled materials, aiming to eventually achieve 100%. By reusing fabrics as opposed to starting from scratch, each pair of leggings helps to save an eye-watering 40 litres of water and 2kg of CO2 emissions.
4. GapFit High Rise Blackout Leggings
Best high-street workout leggings
Specifications
RRP : £49.95
Sizes: XS-XL
Fabrication: 79% polyester, 21% elastane
Machine washable: Yes
Reasons to buy
+Handy side pockets+Gap runs regular discounts online List
Reasons to avoid
-Come up a little large -Hard to find a good fit if you have a small waist and large thighs
While Gap might not be the first place that springs to mind when shopping for workout leggings, their GapFit range is brimming with sports-ready buys. From the various types of leggings they make these are our top pick, made from a four-stretch fabric that moves with you, rather than restrict your movement.
Available in an array of different vibrant prints depending on the season, these patterns work in tandem with Gap's Blackout Technology to eradicate the risk of VPL. They passed our squat test with flying colours – even when wearing legging-unfriendly seamed black briefs.
The double-layered compression waistband is a thoughtful touch, working to smooth and hone your stomach.
5. Adidas Alphaskin Heat.RDY 7/8 Leggings
Best workout leggings for keeping you cool
Specifications
RRP: £54.95
Sizes: 2XS-2XL
Fabrication: 71% nylon, 29% elastane
Machine washable: Yes
Reasons to buy
+Keeps your legs cool and comfortable+Sweat patches fade fast
Reasons to avoid
-Limited shade range -Compression fit makes for slightly visible VPLEmpty List
What Adidas doesn't know about activewear isn't worth knowing, so it's no surprise these leggings are jam-packed with tech-driven features. First up, the compression fit. Not only does this offer full, spill-proof security when you're working out, experts believe compression leggings enhance performance and speed up recovery times by boosting blood flow to your legs.
Secondly, the HEAT.RDY technology works as hard as you do to keep your body cool and dry during your workout. Perforated dots along the backs of thighs work in hand-in-hand with mesh panelling down the sides to let cool air in and warm air out.
The moisture-wicking fabric is a big plus, too, helping you avoid sweat patches even after high-intensity classes.
6. Proskins SLIM High Waisted Compression Leggings
Best workout leggings for comfort
Specifications
RRP: £59.95
Sizes: 4-24
Fabrication: 82% nylon, 18% elastane Lycra
Machine washable: Yes
Reasons to buy
+Stretch fabric for full flexibility +Inclusive sizing
Reasons to avoid
-Long leg length not suitable for petites -Sell out quickly
Touchably soft with just the right amount of compression, these are leggings you could put on and forget you're wearing – exactly the kind of comfort-focused style we're after.
Setting them apart from other leggings we're tried, these Proskins leggings are made from a 'patented micro-encapsulated yarn' packed full of active skincare ingredients.
The aim of the game is to transfer all of these skin-loving goodies from the fabric to your skin as you wear them. The result? Smoother, softer legs without the need for additional products.
An impressive line-up, there's retinol to kick-start collagen production, vitamin E to nourish, aloe vera to calm, ceramides to soothe and even circulation-boosting caffeine. Follow the washing instructions carefully and these ingredients will stay in the fabric for up to 100 washes.
See our full Proskins SLIM High Waisted Compression Leggings review
Tips for choosing the best workout leggings
Whatever you're up to, the key components of the best workout leggings remain the same:
Fit: Your leggings should fit firmly – not so tight that they'd restrict your movement, but snug enough that they're not going to inch down as you drop into a squat. Remember, no matter the quality, the elastic of your leggings will start to give over time, so the closer they fit to begin with, the longer they'll last.
Fabric: To stay cool when working out, it's worth investing in a pair of leggings made from moisture-wicking fabric. They work by drawing sweat away from your skin, so you're not weighed down by soggy kit. Look out for mesh panels, too, helping your skin to breathe on clammy days. Arguably, one of the most important criteria for a pair of workout leggings is an opaque fabric that won't suddenly become see-through as soon as you bend. Frustratingly, most styles will pass the test in a dark changing room, so it's worth trying on at home in strong lighting to double check.
Design: It might sound silly, but check your leggings to make sure they have a gusset (an extra piece of fabric spanning the crotch area). Lots of 'standard' leggings don't have this, but a gusset will help to stop them uncomfortably riding up as you wear them. Flat seams across the inside of your leggings will help to minimise chafing – but that doesn't give you a free pass to skip the Vaseline for long runs. If you hate the bulk of a bag, look out for the best leggings with pockets. Zip-closures will keep your essentials safe, while larger pockets make space for even the biggest models of phone.
Frequently asked questions about workout leggings
What are compression leggings and do they make good workout leggings?
Noticed the term 'compression' cropping up when browsing for leggings? This refers to an extra-tight fit and aims to supercharge your performance by supporting your muscles. It'll increase blood flow to your legs, too, for speedier recovery time with fewer post-gym aches and pains.
Are all workout leggings machine washable?
Most sportswear leggings on the market are hand wash only, so it's worth thinking carefully before investing if you don't have the time (or inclination) to do this. Popping them in the machine may not cause any obvious or immediate issues but it is likely to speed up the rate at which the elastic breaks down.
Fabric softener can be a problem, too. It leaves your clothes smelling fresh by covering them in a scented coating, which can lessen the effectiveness of sweat-wicking fabrics. We'd recommend steering clear just to be on the safe side.