The best sunglasses for every budget, style and face shape—from Ray-Ban to Mango
Find your perfect pair with our expert round-up of the best sunglasses to shop now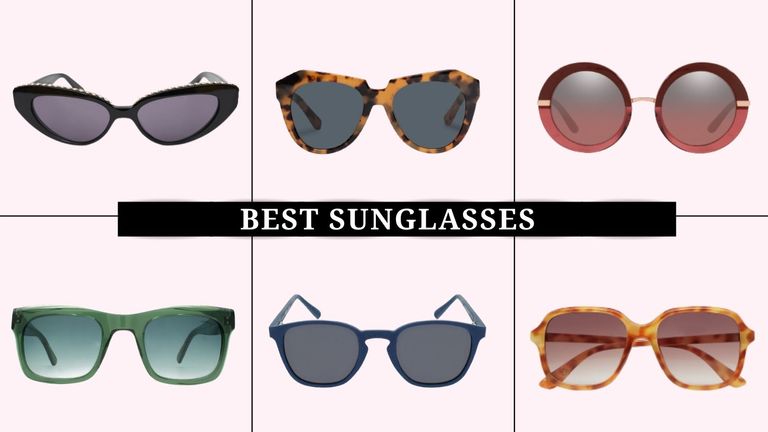 (Image credit: Future / Kimeze / Karen Walker / Dolce Gabbana / Blackeyewear / Coral / Mango)
The best sunglasses offer both unrivaled protection and great style. An important part of maintaining eye health, the best sunglasses are much more than just a style statement.
While they're often associated with sunny summer months, sunglasses really should be worn all year round—from spring days with bright blue skies to dull, grey days.
As we move towards spring the sunglasses trends 2022 has to offer come to the fore. Of course, sunglasses are more than just about style. Giles Edmonds, Specsavers clinical services director, warns, "UV rays can damage our vision as well as our skin—even in winter. Prolonged UV exposure has been linked to cataracts, macular degeneration, and even some types of eye cancer. Sunglasses are not just fashion accessories—it's particularly important that you wear a good pair that offer high levels of UV protection."
When it comes to buying the best sunglasses style for you, consider the frequency you'll wear them (if you do indeed own multiple pairs). A classic shape will complement a capsule wardrobe and look glam with your best winter coat. While a fabulous statement pair will make a stylish impact with your bathing suit on holiday—whatever you're after, there's a perfect pair for everyone out there.
The best sunglasses for women as chosen by our fashion experts
1. Maui Jim KINI KINI Polarized Fashion Sunglasses
Best Polarized Sunglasses
Specifications
RRP: $329.99 / £293
Protection: 100% UV Protection
Material: Italian Acetate
Extra: Extras SuperThin Glass lenses—20% to 32% thinner and lighter than standard glass
Reasons to buy
+
Unique PolarizedPlus2 Technology
+
Stylish
+
Lightweight
Polarized Sunglasses may be an expensive option but the protection they offer your eyes is worth every penny. Maui Jim's PolarizePlus2 lens not only helps to reduce vision strain but also prevent excessive wrinkling round the eyes from squinting by reducing reflective glare. Maui Jim have taken all of this knowledge and packed it into a collection of seriously stylish sunglasses, proving that you don't have to compromise on fashion for technology with styles ranging from chic cat's eyes—a major eyeglasses trend 2022—to stylish oversized frames.
---
2. Mango Acetate Frame Sunglasses
Best Budget Sunglasses
Specifications
RRP: $39.99 / £19.99
Protection: 100% UV Protection
Material: Recycled polycarbonate
Extras: Part of the Committed Collection
Reasons to buy
+
On-trend style
+
Sustainable
+
Won't break the bank
Reasons to avoid
-
Light-colored lenses may not offer as much light blocking
If you're looking for style and UV protection on a budget, look no further than Mango. The Spanish clothing brand's sunglasses are not only seriously on-trend but many of their styles offer 100% UV protection factor 3 (the maximum for regular use). That means that not only is this tortoiseshell pair super stylish, but they'll also protect your eyes when you're outside. And did we mention they're part of the brand's Committed range? That means they're made from recycled materials, making them sustainable.
---
3. Quay Australia Cat-Eye Sunglasses
Best for small faces
Specifications
RRP: $85 / £65
Protection: 100% UV protection
Material: Acetate
Extras: Polarized lenses
Reasons to buy
+
Fashion-forward shape
+
Polarized lenses reduce glare
+
Warm pink tone will suit virtually every skin tone
Reasons to avoid
-
Chunky arm detail on the design may restrict peripheral vision
The most flattering sunglasses for small faces are typically timeless styles—oval, rectangular and cat's eye frames all work well. If you're struggling to find frames that fit, look for lenses that are 50-55mm in width and avoid styles that are oversized. This narrow pair of cat's eye sunglasses from Quay Australia is a stylish option for small faces.
---
4. Polaroid PLD 2116/S Sunglasses
Best for Sun Protection
Specifications
RRP: £50 (international shipping available)
Protection: 100% UV Protection
Material: Eco polyamide
Extra: Sustainable materials used in production
Reasons to buy
+
Polarized lenses as standard
+
Made with over 40% renewal materials
+
Wide range of designs
Reasons to avoid
-
Quirky details may not be to everyone's taste
When it comes to sun protection, it's important to look at the level of UV protection offered by each pair of sunglasses. Anything less than 99% will not fully protect your eyes against UV rays. Look for darker colored lenses too such as dark grey, deep green and brown shades as they will also help cut down glare. If you have sensitive eyes, polarized lenses are also a welcome addition to a pair of sunglasses as they'll further reduce glare, particularly on very bright days. Polaroid's sunglasses all come with polarized lenses as standard, meaning they're great for additional sun protection.
---
5. Black Eyewear Bailey Sunglasses
Best for Round Faces
Specifications
RRP: $261 / £197
Protection: Not specified
Materials: High quality cellulose acetate
Extras: Graduated sun lenses
Reasons to buy
+
Specifically designed for wide and round faces
+
Available in ten colorways
+
Stylish design
Reasons to avoid
-
Not suitable for those with narrower faces
If you're looking for the best sunglasses for round faces, the most flattering shape is a square oversized frame as it will create the illusion of definition. Luckily, this frame shape is one of the key sunglasses trends so there's a wealth of options. Black Eyewear's Bailey style is specifically designed for wider faces with an extra-wide bridge fitting and long sidearms for the perfect fit.
---
6. ASOS Oversized '70s Sunglasses
Best for Trend Led Sunglasses
Specifications
RRP: $17.50 / £12
Protection: Some UV protection
Materials: Recycled plastic
Extras: Cloth sunglasses pouch can be used as a lens wipe
Reasons to buy
+
Fashion-forward
+
Budget-friendly
+
Fun vintage-inspired design
Reasons to avoid
-
Low UV protection/fashion frames rather than sunglasses
If you're looking to try a new style, you may find it's worth going for a cheaper pair first to find out if the style suits you and fits in with your existing wardrobe. Online retailer ASOS is the perfect place to try a new style without breaking the bank—their edit of sunglasses shapes covers every trend as well as classic shapes, making them the perfect port of call for testing the trend waters. However be careful to read the product description as a number of them will be more fashion frame than high level UV protection.
---
7. Le Specs Tortoiseshell Sunglasses
Best Sunglasses for Long Faces
Specifications
RRP: $59 / £40
Protection: 100% UV Protection
Material: Acetate
Extras: Comes with a protective pouch
Reasons to buy
+
Designer look
+
Supermodel approved
+
Budget-friendly
Reasons to avoid
-
Strictly for those with a long or narrow face
If you're looking to complement a long face, the best shape of sunglasses for you is rectangular as these will balance against your face shape. If you're worried about the style being too angular, look for elongated oval styles that will soften the appearance such as this Outta Love pair from celebrity favorite Le Specs. Bella Hadid, who has a long face, has been spotted wearing this pair in every color.
---
8. Ray Ban Wayfarer Sunglasses
Best Sunglasses for Wide Faces
Specifications
RRP: $163 / £137
Protection: 100% UV Protection
Material: Acetate
Extras: Extras comes with case and cleaning cloth
Reasons to buy
+
Timeless style
+
Fully customizable design
+
Prescription lens options
Reasons to avoid
-
Ubiquitous and often copied
While it might be tempting to simply reach for an oversized style if you have a wide face, there are plenty of brands that offer multiple frame sizes or allow you to shop by fit. Quay Australia marks each pair of sunglasses with the fit while market leader Ray-Ban offers many of their styles in multiple frame sizes. The brand also offers customizing options on popular styles such as the Wayfarer, meaning you can find the perfect pair for your face.
---
9. SunGod Sierras Mirrored Sunglasses
Best Sunglasses for Running
Specifications
RRP: $80 / £55
Protection: 100% UV Protection
Material: TR90 Memory Polymer
Extras: Pop-Lock screwless hinges
Reasons to buy
+
Carbon Neutral
+
Scratch-resistant
+
Lifetime guarantee
Reasons to avoid
-
Mirrored lenses aren't for everyone
Just like finding the best workout leggings, it's important to wear the correct eyewear as you run in order to make your run enjoyable, whether you're pounding the pavements or dashing through fields. SunGod's sunglasses are specifically designed for sports such as running, biking and skiing while also remaining stylish. Their TR90 Polymer frame is ideal as lightweight frames will bounce less as you bounce along your route.
---
10. Oakley Wrap Around Sunglasses
Best Sunglasses for Hiking
Specifications
RRP: $185 / £161
Protection: High
Material: O Matter™ frame
Extras: Prizm deep water polarized lenses,
Reasons to buy
+
Polarized lenses
+
Impact protection
+
Replacement lenses available
While it might be tempting to simply slip on your favorite fashion sunglasses when it comes to exploring the great outdoors, it's worth considering a pair specifically for the occasion. A lightweight, wrap-around style that fits close to the face is best as it will shield your eyes from the elements. Oakley has long held the gold standard when it comes to sporty eyewear and their Fuel Cell wraparound style is ideal for adventures.
---
11. Dolce Gabbana Half-Print Sunglasses
Best Designer Sunglasses
Specifications
RRP: $348 / £253
Protection: 100% UV protection
Material: Acetate and metal
Extras: Case included
Reasons to buy
+
Signature style
+
Cool round design
+
Burgundy is a great alternative to black frames
Reasons to avoid
-
Mirrored lenses can scratch easily
Just like the best designer handbags, when it comes to the best designer sunglasses there are many contenders. Some of our favourites include Prada, Miu Miu and Gucci but there's something truly special about Italian clothing brand, Dolce & Gabbana's sunglasses. Their classic half print collection has had a color update for 2022, meaning you can now get the best of both design worlds with a mix of opaque acetate and either quirky prints or sheer styles. We love this oversized round pair in an on-trend combination of pink and burgundy.
---
12. Loewe Aviator Sunglasses
Best Aviator Sunglasses
Specifications
RRP: $370 / £290
Protection: 100% UV Protection
Materials: Gold-tone metal
Extras: Engraved LOEWE on arm
Reasons to buy
+
Cool, oversized fit
+
Minimal, clean lines
+
Style classic with a twist
Reasons to avoid
-
Oversized styles do not suit all faces
One of the most iconic and easily recognizable sunglasses shapes, Aviator sunglasses were first designed by Ray-Ban for the US Military in 1935. Since their inception, the combination of gold wire frames with a green teardrop-shaped lens have proved popular with the style set. Many top designer brands regularly create their own version. If you're looking for a style update on the original style, Loewe's version offers an oversized, minimalist fashion take on a design classic.
---
13. Coral Eyewear Classic Sunglasses
Best Sustainable Sunglasses
Specifications
RRP: $202 / £149
Protection: 100% UV protection
Material: ECONYL® regenerated nylon
Extras: prescription lenses available
Reasons to buy
+
UK design, handcrafted in Italy
+
Carbon neutral
+
Plastic-free packaging
Made from recycled plastic and rescued fishing nets, Coral sunglasses are possibly the most planet-friendly around. Packaged in a cool cork box and with carbon-neutral shipping, their eco-credentials are second to none with no compromise on design either, with a host of super cool styles. Designed in the UK and crafted in Italy, the frames are lightweight but surprisingly sturdy.
---
14. Liberty x Specsavers Sunglasses
Best Prescription Sunglasses
Specifications
RRP: £129 (UK only)
Protection: 100% UV protection
Material: Metal
Extras: Choose from three fashionable colors for your lenses
Reasons to buy
+
Lightweight frame
+
Modern take on a classic vintage style
+
Suitable for single vision, varifocals and bifocals
Reasons to avoid
-
Not suitable for those who don't like nose pads
Looking for the best prescription sunglasses? Liberty London have teamed up with leading high street optician Specsavers to create a capsule collection of super stylish eyeglasses and sunglasses. This oversized hexagonal frame is an elegant, modern take on vintage styles from the 1970s and can be fitted with prescription lenses, meaning you don't have to compromise on cool if you don't have 20/20 vision.
---
15. Gucci Rectangular Sunglasses
Best Statement Sunglasses
Specifications
RRP: $1230 / £770
Protection: 100% UV protection
Material: Acetate and crystals
Extras: Case included
Reasons to buy
+
Super cool crystal embellishment
+
Unrivalled style
+
Instant outfit update
For those who love to make a statement with their sunglasses, Italian fashion house Gucci is unrivaled. Their scene-stealing styles are not for the faint of heart, but they are the perfect way to jazz up even the simplest of outfits. If you're wearing a simple outfit comprised of your best t-shirt, jeans and your best blazer, these crystal-encrusted sunglasses will automatically pull together your outfit and add serious style points, even if they don't come cheap.
---
16. Kimeze Damba Sunglasses
Best Handcrafted Sunglasses
Specifications
RRP: $405 / £285
Protection: 100% UV Protection
Material: Mazzuchelli acetate
Extras: Acetate nosepads
Reasons to buy
+
Handmade
+
Stylish design
+
High-end materials for a luxury finish
A newcomer on the block, Kimeze only launched in 2021 but are already making waves with their beautiful, handcrafted sunglasses and opticals. Made in Italy from bio acetates—which makes them biodegradable and kinder to the environment, the brand gives both a nod to trends as well as creating, exciting, statement styles. The glasses are unisex and created in small batches, making them feel extra special.
---
17. Karen Walker Crazy Tort Sunglasses
Best Oversized Sunglasses
Specifications
RRP: $170.99 / £156.90
Protection: Good UV protection
Material: Bio acetate
Extras: Can be fitted with prescription lenses
Reasons to buy
+
Higher nose pads stop slipping
+
Cult design
+
Crafted in premium bio-acetate to phase out chemical additives and optimize biodegradability at end of life.
Sometimes, you just need a pair of sunglasses to hide behind and there is no better style than a pair of oversized frames. Never underestimate the power of the perfect pair—they will turn those days where you're stepping out in your best joggers and a hoodie for the school run into a chic off-duty model look.
As Fashion Channel Editor Rivkie Baum confirms: "Oversized sunglasses not only offer excellent protection from the sun (if they have a high UV rating too), but they offer instant A-lister style. Whether you've paired them with jeans, a dress or are donning a pair poolside whilst sipping a cocktail, they up style any look instantly and are accessible whatever your budget."
Karen Walker continues to serve up the chicest oversized styles—their Number One Crazy Tort frame is sure to sell out, so snap it up while you can. Not only does it tick the oversized trend, but the light mock tortoiseshell is super flattering on every skin tone.
---
The best sunglasses brands
The best sunglasses brands combine top-notch UV protection and super stylish frames and there are an array of brands out there that do just that.
When it comes to designer frames that last, one brand that always remains top of their game is Ray-Ban. Crafting stylish sunnies since the 1930s, Ray-Ban sunglasses have been worn by everyone from Jennifer Aniston to the Duchess of Cambridge with their iconic wayfarers and aviators being the most recognizable around the world.
Sunglasses Hut offer a great selection of high-end designer shades that steal the limelight, including Prada, Tom Ford, Miu Miu and Le Specs.
For more budget-friendly options, Quay Australia has a collection of trendy and timeless frames with a festival aesthetic and Mango has a cool and classic collection that are very affordable.
What to look for when buying sunglasses
What to look for when buying the best sunglasses? Edmonds offers this advice: "Sunglasses don't need to be expensive, but they should always conform to agreed safety standards. Look out for a CE (European Community Standard), BSEN1836 (British Standard) or UV400 markings and aim for a pair that offer 80% light reduction." 
What sunglasses suit me? How to pick a style for your face shape
When it comes to your chosen style, it's worth considering the latest sunglasses trends for inspiration—while some styles never fall out of fashion such as oversized shapes, tortoiseshell and timeless frames, you may find yourself drawn to a pair you've previously not considered. If you find yourself asking what sunglasses suit me?—the general rule is to go for a shape that balances out your facial features.
For example, square faces should opt for softer shapes such as round and oval styles. Whereas the best sunglasses for round faces are square and rectangular frames.
If you have a heart-shaped face, then bottom-heavy, rounded or cat-eye styles will be your go-to. Diamond face shapes should veer towards oval and rectangle frames. And finally, lucky oval faces can pretty much wear any frame with aviators and bold shapes looking particularly chic.
How should sunglasses fit?
When you're trying on sunglasses, a well-fitted pair should distribute pressure evenly to the nose, head width, and ears to avoid any aches behind the ears and red marks on the nose.
"The top of your frames should be no higher than the line of your eyebrows, and the bottom edge of the frames shouldn't sit on your cheeks; otherwise, they will start to rub against your skin and cause irritation," explains Dan McGhee, director of professional services at Vision Express.
How to choose the best sunglasses?
With a plethora of styles out there, it can be quite the style challenge to shop for sunglasses. Our advice is to get out there and try on as many as you can. Finding the best sunglasses for you is dependent on a number of factors, with three key things to consider:
Color: If you're looking to splash out on some sunnies that will last from one year to the next, it's better to stick with a simple color palette rather than going for a bold red pair that won't necessarily go with every outfit. Neutral hues such as brown, black, gold, and silver are fail-proof options that are easy to coordinate with your look. Classic and timeless, tortoiseshell frames are also a safe bet.
Material: Most sunglasses use acetate or metal. Acetate frames are lightweight and hypoallergenic, so perfect for sensitive skin. They are a lot more durable than regular plastic and flexible, too, making them an ideal choice for frames. Metal frames are typically made from stainless steel, titanium, and aluminium, all of which are lightweight and robust. If you have allergies, look for titanium as it's hypoallergenic so that it won't irritate the skin. Metal frames tend to be thinner than acetate ones and are generally used for styles such as aviators. This also means that some metal frames might not be able to accommodate stronger prescription lenses. Metal frames have nose pads that can be adjusted to fit, whereas acetate frames don't. Both materials are comfy to wear, so it generally comes down to personal preference and style choice.
Lenses: Most importantly, they need to offer 100% UV protection. The frame should have the CE UV400 mark to show that it conforms to the EU standards. Lenses also come in a range of different categories, depending on how dark they are–0 being the lightest and 4 being the darkest. Category 4 is ideal for skiing and snowboarding but not recommended for driving. Category 3 is the most commonly used in everyday sunglasses. Another aspect to consider is polarised sunglasses. They eliminate glare with super clear visibility, so excellent for driving. They are often more expensive but totally worth it.
Antonia Kraskowski is a freelance fashion editor with over 15 years of experience in the industry.
Having started her career at Conde Nast working for titles including Easy Living, Glamour and Vogue New Markets, Antonia went on to work in the fast-paced world of newspapers and weekly magazines, becoming Fashion Editor at Express Newspapers and Magazines in 2014, a role she held for five years before going freelance.
Her career has seen Antonia travel the world, shooting in 18 countries and styling campaigns for brands ranging from Ben Sherman and DKNY to Wallis.