10 Pieces That Flatter Tummies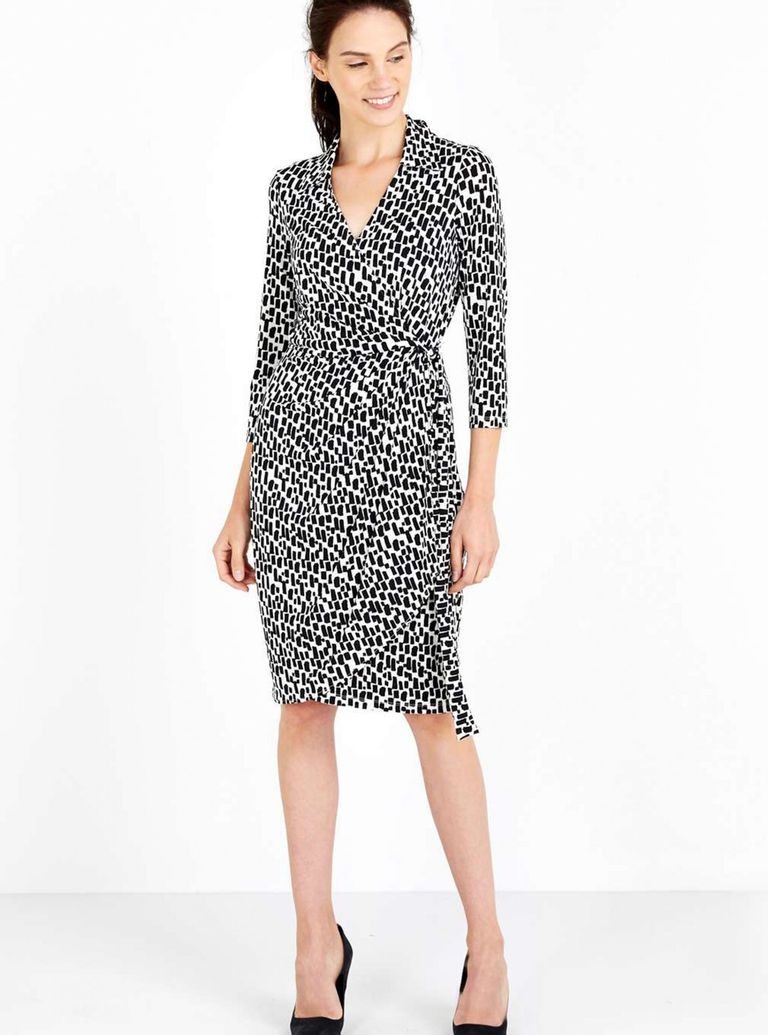 For many of us, our mid-section is a problem area that we want to tackle and finding clothes that flatter a tummy can be pretty tricky. However dressing to suit your shape is easier than ever with such a great selection of clothes avaliable in the shops at the moment.
Wrap dresses are perfect for hiding a tummy, as the v-neck style and waist-tie details are great for tackling the problem area. This monochrome wrap dress from Wallis, £40.50, has 3/4 length sleeves which will flatter your figure, alongside the beautiful patterned fabric which drapes nicely over your stomach and hips and doesn't cling. This dress is perfect for workwear and evening wear so why not experiment in styling it.
Follow our simple style tips and check out some of these great pieces perfect for flattering tummies..
When trying to disguise a tummy opt for good tailoring and structure rather than a dress that is baggy or clings to you. This black dress from Hobbs is perfect for any occasion and the v-neck detail is great for drawing attention away from the tummy area.
Nightingale Lace and Jersey Dress, £59.00, JD Williams
Monochrome is great for flattering a stomach and this beautiful dress from JD Williams has a scalloped lace top and plain black bottom. The pencil skirt shape of the dress looks great on the body as it comes in at your waist rather than on your stomach. The ruched side detail is also a great flattering addition to the dress. Saskia Evergreen Dress, £225.00, LK Bennett
Structured dresses are great for disguising a tummy area and this stunning dress uses simple seam detail, an asymmetrical collar and cap sleeves to create a sleek and elegant effect that flatters the silhouette. Heavy Jersey Wrap Dress, £66.75, Pure Collection
This gorgeous blackcurrent wrap dress will make your feel incredibly confident with its flattering design and neckline. Wear this dress with tights and boots for a daytime look or with black heels for a sophisticated evening look.
This flowing cape top from Zara is great teamed with high waisted jeans or a pencil skirt. The material skims over the stomach and the draping sleeves add a great piece of detail to this simple but effective top.
Peplum Top by Oasis at House of Fraser, £36.00
A peplum style is a great cut for tummies as it cuts in just above the stomach - at your smallest part. The wide peplum also skims over the stomach and hips, without clinging, for a more flattering fit. Pair this gorgeous lace top with culottes and heels for a great day and night look.
Pleat Midi Dress, £50.00, Oasis
This gorgeous dress is perfect for a formal occasion or party, the pleated skirt falls nicely over your bottom half in a flattering way that doesn't cling. The lace detailing and v-neck also draws attention to the top half of the dress rather than the stomach and hips.
Pinstripe Dress, £180.00, Karen Millenat House of Fraser
This tailored dress is great for focussing on different areas, the neck detailing is perfect for drawing attention to the upper half of the body. Likewise the asymmetrical panels cut into the middle of the dress, flattering the stomach area.
Mono Octavia Burnout Dress, £150.00, Coast
This fit and flare style dress is incredibly flattering on the stomach as the tulle under skirt creates exaggerated fullness, flaring over problem tummies. This beautiful dress is perfect for occasionwear and the pleats at the waist give it a modern twist.