17 Zara new in hits that will set pulses racing
We've found the best Zara new in buys, so you don't have to.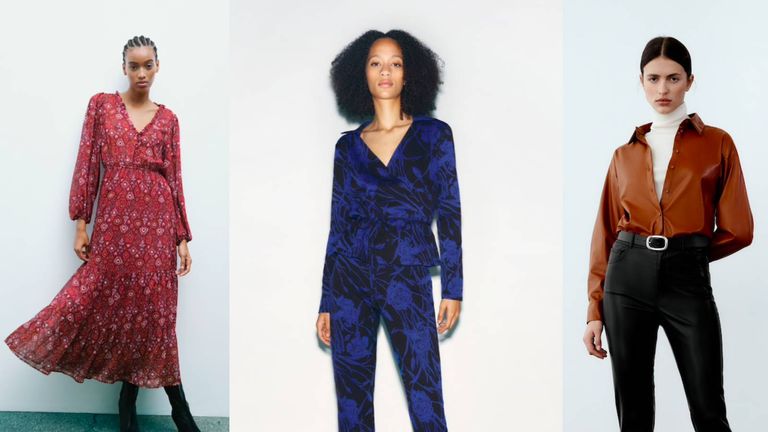 (Image credit: Zara )
Zara, Zara, Zara, we can't get enough of the high street brand and luckily for us all, the fall collection has dropped. Want to know what to invest in? We've made a carefully curated edit of the best Zara new in bits to buy.
If we're not heading to the high street hero to find some of the best winter coats or to pick up a great pair of winter boots (we've found a £55/$80 style that looks exactly like a designer dupe), we're perusing the new in section for Christmas party outfit ideas.
Of course, there are many brands like Zara, but that doesn't stop us heading there every time we're in need of a new season hit that reflects the big clothing trends and doesn't break the bank.
How to find bargains at Zara
And we're also here to let you in on a secret. Have you heard about the 'special prices' section?
Zara doesn't have an all-year-round sale, instead, it has this section of bargain pieces you can snap up at all times. With discounts on everything from day dresses to tops and jeans. And you can find it in the drop-down menu highlighted in bright pink. Trust us, it's one not to miss.
Now, back to the Zara new in section. We've taken the time to go through pages and pages of Zara goodness to bring you the very best pieces that'll update your existing closet. From the water-repellant puffer coat and comfy flat knee-high boots to the velvet slip dress and embellished could-be-designer heels. These are the 17 pieces that'll see you through every upcoming occasion and have the potential to become your new wardrobe essentials. Enjoy!
17 Zara new in pieces we love
1. Zara Block Color Limited Edition Sweater
Specifications
RRP: $129/£89.99
Sizes: S-L
Reasons to buy
+Super cosy+Can be dressed down with jeans and up with a slip skirt
Swaddle up in style with this statement sweater. The color block print will liven up any look with minimal effort needed. From jeans and trainers to a slip skirt and knee high boots, there are so many ways to wear this cozy knit. It's made with wool and alpaca so while it's not a contender for one of the best cashmere sweaters, it's a lovely luxe-feeling piece of knitwear.
---
2. Zara Structured Checkered Pants
Specifications
RRP: $49.90/£29.99
Sizes: XS-XXL
Reasons to buy
+High-waisted fit+Cropped style to show off a great pair of shoes
Party pants you can also wear for day? We're sold. These high-waisted trousers with slight kick flare are perfect for glamorous occasions with a silky cami or shirt. And they look just as good for daytime with a chunky sweater and heeled ankle boots.
---
3. Zara Animal Print Coat
Specifications
RRP : $119/£79.99
: XS-XXL
Reasons to buy
+Cropped length+Love-forever animal print
Animal print will never date and this leopard coat is here for you to let out your wild side this fall. The cropped length makes it easier to wear for day and the double-breasted cut is super flattering. Try it out over a fancy knit with wide-leg trousers.
---
4. Zara Pleated Velvet Dress
Specifications
RRP: $49.90/£29.99
Sizes: XS-XXL
Reasons to buy
+Flattering ruched detail+Luxe fabric for party season
For all those upcoming holiday plans, we've found the dress to be your plus one in Zara new in. The glossy red velvet style with flattering side ruching is the midi style that's bound to make an entrance. For after-dark, team it with a slick of red lipstick and mule heels.
---
5. Zara Jacquard Animal Pattern Cardigan
Specifications
RRP: $69.99/£49.99
Sizes: S-L
Reasons to buy
+Easy layering piece+Cozy style
Hands up who loves a cardigan? That's everyone then. And this tiger print style has upped the game of the humble grey cardie. Add it over a roll neck top and jeans for a fall look that'll never fail in the outfit department.
---
6. Zara Belted Jacquard Top
Specifications
RRP: $29.99/£19.99
Sizes : XS-L
Reasons to buy
+Universally flattering wrap style+Matching trousers available
A wrap top isn't only universally flattering, it's also the 'nice' top to pair with any type of jean. Want to step it up beyond your best jeans and make it dressy? Try teaming it with the matching printed trousers to create a cool co-ord.
---
7. Zara Pareo Midi Dress
Specifications
RRP: $49.90/£29.99
Sizes: S-L
Reasons to buy
+Tie belt to highlight the waist+Three quarter sleeves to flatter arms
Meet the best midi dress we've seen in a while. The gorgeous green shade will go with silver or gold jewels, the midi length is easy to style and the wrap tie is a great way to highlight the waist. It also has flattering three quarter sleeves and it's super affordable. Sold.
---
8. Zara Water Repellant Puffer Coat
Specifications
RRP: $149/£99
Sizes: XS-XXL
Reasons to buy
+Water-repellant style +Cosy pocket lining and stretch cuffs
Fashion meets function, the puffer coat is this season's most welcomed coat style. Not only do they look effortless layered over any outfit, they also keep you cozy thanks to the quilted material. This one has fleecy pockets, elasticated cuffs to keep out the wind and it's water repellant, too.
---
9. Zara Plaid Blazer
Specifications
RRP: $89.90/£59.99
Sizes : XS-XL
Reasons to buy
+Oversized loose fit style+Matching trousers available to make a suit
When it comes to fashion, there's nothing better than an oversized blazer. As versatile as they are stylish—they look just as good with the matching suit trousers for day (with trainers) as they do for after-dark with a cami dress and heels.
---
10. Zara Fleece Tote Bag
Reasons to buy
+Mini bag inside for make up or valuables+Also available in khaki
Fleecy fabrics are key this season and they'll make you feel warm and fuzzy, literally. Zara's cosy tote bags are ones you'll want to grab hold out and they also come with a mini pouch inside—perfect for storing make up.
---
11. Zara Faux Leather Shirt
Specifications
RRP: $49.90/£27.99
Sizes: XS-XL
Reasons to buy
+Great for layering+Also available in black
Adding a bit of leather to your fall outfits is an instant way to make it feel fresh. This faux leather iteration in tan will look amazing layered over a high neck printed top with jeans.
---
12. Zara Striped Knit Sweater
Specifications
RRP: $49.90/£29.99
Sizes: S-XL
Reasons to buy
+A jumper you'll want to wear every fall +Cosy high neck style
If you invest in one new sweater this season, make it a striped jumper style. Selling out all over the high street, we predict this monochrome Zara version will be next to go. Be quick, you'll want to wear this on repeat.
---
13. Zara Riding Boots
Specifications
RRP: $79.90/£55.99
Sizes : US: 5-11/ UK: 2-9
Reasons to buy
+Great size range+Comfortable heel height
Whether you're a fan of knee-high boots or find it tricky to get the right pair—heel height can be a problem—you'll be glad to know this season's key shoe trends are all flat, or nearly flat. Zara has nailed the trend with these wearable rider boots.
---
14. Zara Printed Midi Skirt
Specifications
RRP: $39.90/£25.99
Sizes: XS-XL
Reasons to buy
+Chic side split+Perfect for layering with tights and boots for day and heels for evening
Think you have to ditch skirts now the weather is colder? Think again. A midi skirt will be a hero style you can layer with warm tights, chunky boots, and a snuggly sweater. Add your best parka and your outfit will be complete.
---
15. Zara Printed Midi Dress
Specifications
RRP: $69.90/£49.99
Sizes: XS-XL
Reasons to buy
+Round-the-clock style to dress up or down+Flattering V-neck design
How dreamy is this dress? The gorgeous print with V-neck cuff and flattering floaty sleeves is one you'll want to wear knee-high boots, sleek heeled ankle boots or box-fresh trainers.
---
16. Zara Jewel Trim Heeled Shoes
Specifications
RRP: $129/£79.99
Sizes : US: 6-10/ UK: 3-8
Reasons to buy
+Designer-esque style+Party season ready
Is your diary getting jam-packed? For all those Xmas parties and upcoming soirées, these black jewel embellished heels will be you go-to. They look strikingly similar to the Manolos favored by Carrie in SATC—timely with the And Just Like That reboot dropping next month. Teamed with a black dress or a pair of jeans and a fancy top for evening, you'll find so many excuses to wear them.
---
17. Zara Long Knit Dress
Specifications
RRP: $49.90/£29.99
Sizes: S-L
Reasons to buy
+Warm and comfy knit fabric+Flattering midi length
Knitted dresses have already shown they're worth being part of our capsule wardrobes. Easy to style across all seasons, wear for now over a printed roll neck top, chunky boots and a tailored coat and take it through to next year with sandals.