The best eye cream for wrinkles
Smooth the skin around your eyes, with the best eye cream for wrinkles and lines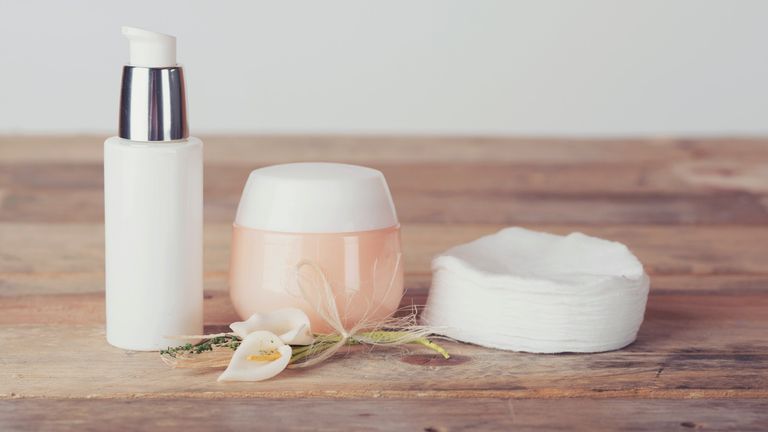 (Image credit: Getty Images)
The skin around our eyes can be one of the first things to show the signs of environmental wear and tear, an unhealthy lifestyle or a bad night's sleep. This is because it's especially thin (around four times thinner than elsewhere on the body) and has fewer oil glands, making it more vulnerable to dryness, dehydration and external stressors. That means, you've guessed it, the appearance of wrinkles and premature ageing. The difference in the structure of this particular area means a more targeted approach, which makes shopping around for the best eye cream worth the extra effort and investment.
That being said, some dermatologists highlight that it isn't necessarily something that you need. If other products in your skincare routine are well-formulated and (preferably) fragrance-free – and provided that it doesn't say otherwise on the packaging – it can be taken up to the eye area. However, if it causes stinging or sensitivity, incorporating a dedicated eye cream into your routine might be a better option.
These products have, after all, been formulated with the delicate nature and specific demands of the under-eye and eyelid areas in mind. What's more, they are also likely to have a thinner texture than the moisturisers and serums that you may be using on the rest of your face – something that's especially useful if you're prone to puffy eyes.
What should you look for in an eye cream for wrinkles?
A good first port of call is to look for a product that hydrates skin and strengthens its natural barrier. Not only will this reduce the appearance of existing fine lines, but also make skin less susceptible to developing further wrinkles in the future.
On ingredients lists, keep an eye open for skin-replenishing ingredients such as ceramides, glycerin, squalane, fatty acids and niacinamide. Hyaluronic acid can also be a useful addition (especially in humid conditions) as it temporarily plumps up skin and smoothes out wrinkles due to its claimed ability to hold up to a thousand times its weight in water.
Secondly, look for eye creams that can stimulate collagen production; as this process slows as we get older, a product that can boost collagen can help skin appear smoother, firmer and more supple. Vitamin C is great in this regard – it's also a fantastic antioxidant – as are peptides and retinol. When choosing a product that focuses on this function, avoid jar packaging; this not only side-steps the hygiene issues created by repeatedly dipping your finger into the cream, but also reduces exposure to air, which could cause certain ingredients to deteriorate.
Ingredients aside, it's important to maintain realistic expectations: an eye cream works alongside other factors, and cannot solely be responsible for fixing wrinkles around the eyes. It's worth bearing in mind that everything from sun damage and smoking, to poor sleep, dehydration and certain dietary choices (think salt, caffeine and alcohol) could be contributing to changes in the texture and tone of the skin around the eye.
In order to see optimal results from your eye cream, it's best to also make lifestyle modifications where you can and to wear sunglasses and a broad spectrum SPF 30/50 sunscreen to protect eyes from the elements.
The best eye creams for wrinkles
La Roche-Posay Redermic [R] Retinol Eye Cream
The best eye cream for wrinkles and dark circles
Specifications
RRP: £27
Size: 15ml
Key ingredients: retinol, caffeine, sodium hyaluronate (hyaluronic acid)
Texture: lightweight cream
Reasons to buy
+low-irritation retinol for under-eye areas and eyelids+Also contains caffeine to tone down dark circles
Reasons to avoid
-Particularly sensitive skin may still require a little time to get used to it -If you're looking for a daytime product
The benefits of retinol at slowing down the ageing process are well-documented – it stimulates collagen and elastin production and cell turnover leading to firmer, more evenly toned skin. However, the potential side-effects are also widely publicised; if used at too high a concentration, too soon, retinol can lead to dryness and redness, neither of which is appealing, especially for the delicate skin around the eye. This is where a specialist nightly retinol eye cream, such as this one from La Roche-Posay, can be useful.
Formulated with sensitive skin in mind, it contains 0.1% retinol making it gentle yet effective. Plus, its inclusion of 0.2% caffeine works to decongest puffy eyes and constrict blood vessels so that they appear less visible too (ideal if you have blue-tinged dark circles). Start slowly by applying it two nights a week to build up tolerance.
Biossance Squalane + Peptide Eye Gel
The best lightweight eye cream for wrinkles
Specifications
RRP: £46
Size: 15ml
Key ingredients: squalane, niacinamide, peptides, sodium hyaluronate (hyaluronic acid), caffeine
Texture: lightweight gel
Fragrance-free:
Reasons to buy
+Extremely hydrating without being heavy+Effective on fine lines
Reasons to avoid
-High price tag
This lightweight, refreshing eye gel is fast-absorbing and suitably formulated to deal with a range of eye skin needs. Enriched with sustainably sourced hydrating squalane, brightening niacinamide and a healthy cohort of skin-firming peptides, it dials down signs of tiredness (such as dark circles and puffiness), while also providing smoothing and hydrating benefits.
CeraVe Eye Repair Cream
The best cheap eye cream for wrinkles and dryness
Specifications
RRP: £12
Size: 14ml
Key ingredients: niacinamide, ceramides, hyaluronic acid Texture: lightweight cream
Fragrance-free:
Reasons to buy
+Affordable+Helps reduce existing fine lines and the appearance of future ones
Reasons to avoid
-Less effective on deep-set wrinkles
If you have sensitive or dry skin, this one's for you. Ceramides – that is, lipids that are also found naturally in the skin – and niacinamide work as a soothing combo for supporting the skin's natural barrier, while hydrators such as hyaluronic acid and glycerin keep texture smooth and moisturised. Ideal for both reducing the appearance of current wrinkles and increasing skin's resilience against future ones, it's easy to see why this also made our list of the best eye creams from drugstores under £20.
Hado Labo Tokyo Deep Wrinkle Corrector Eye & Mouth Area Cream
The best eye cream for plumping out wrinkles
Specifications
RRP: £16.95
Size: 15ml
Key ingredients : squalane, four types of hyaluronic acid, hydrolyzed collagen
Texture: lightweight gel
Fragrance-free:
Reasons to buy
+Affordable+Instantly plumps, hydrates and smoothes
Reasons to avoid
-If dark circles are also a priority-For a longer-term solution for wrinkles
Hyaluronic acid is a particularly effective ingredient when it comes to plumping out (albeit, temporarily) fine lines around the eye, thanks to its ability to hold up to 1000 times its weight in water. Containing four different types of the active ingredient – as well as hydrating squalane – this high-street find reaches and works deep below the skin's surface. Handily, it can be applied to other wrinkles around the face to take the edge off those, too.
No7 Protect & Perfect Intense Advanced Eye Cream
The best mid-range eye cream for wrinkles
Specifications
RRP: £18
Size: 15ml
Key ingredients: sodium hyaluronate, ascorbyl glucoside, retinyl palmitate, Matrixyl 3000+
Texture: lightweight cream
Fragrance is not listed on ingredients list, but it does have a pleasant, subtle scent:
Reasons to buy
+Multi-faceted formula that also brightens+Helps to prevent future wrinkles
Reasons to avoid
-A bit of a tacky texture
No7's Matrixyl 3000+, the brand's popular peptide tech, is what gives this milky textured eye cream its wide-ranging appeal. Retinyl palmitate (the less potent but less irritative cousin of retinol) further enhances its fine line-busting prowess, while antioxidant ascorbyl glucoside (a more stable type of vitamin C) brightens and hydrating sodium hyaluronate helps tackle annoying eye skin dryness.
Drunk Elephant C-Tango Multivitamin Eye Cream
The best multitasking eye cream
Specifications
RRP: £54
Key ingredients: ceramides, peptides, vitamin C, cucumber extrac
Texture: lightweight cream
Fragrance-free:
Reasons to buy
+Improves skin's overall firmness+Hydrating +Brightening
Reasons to avoid
-Expensive
If you've got wrinkles paired with dark circles caused by hyperpigmentation (often characterised by a brown rather than blue colour), this eye cream could help. Its formula is impressive. Ingredients of note include: vitamin C (a potent antioxidant that helps even out skin tone), a cocktail of eight peptides to stimulate collagen production, soothing cucumber extract and a bevy of ceramides and plant oils to keep the eye area smooth and hydrated.
Murad Retinol Youth Renewal Eye Serum
The best eye cream for softening deep-set wrinkles
Specifications
RRP: £70
Size: 15ml
Key ingredients: retinol, retinyl propionate, cotton wool grass extract, marine kelp complex
Texture: lightweight gel-cream
Contains a small amount of fragrance:
Reasons to buy
+Helps tone down crow's feet+Evens skin tone+Firms
Reasons to avoid
-Expensive
The most expensive pick in our edit, this eye cream's plethora of benefits and glowing online reviews hopefully go some way towards justifying its eye-watering price. What sets it apart is its retinol complex – a fast-acting retinoid, time-released retinol and a retinol booster – which works to increase its efficacy and also minimise irritation. Hydrating cotton wool grass extract and a firming marine kelp complex are other key components that help to soften lines. Thanks to its gel-like texture, a little goes a long way too.