The best pore minimizers that unclog, refine and smooth skin texture
Our tried-and-tested guide to the best pore minimizers that actually work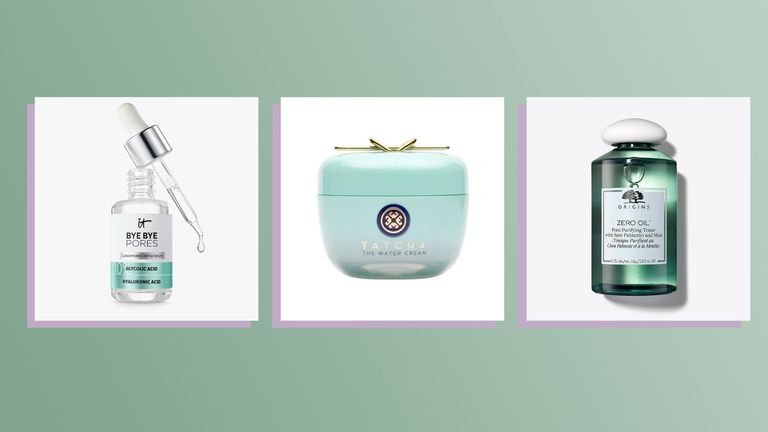 (Image credit: Future)
Pores. We've all got them, and while some experience larger-looking ones than others, most people would rather have a smooth complexion. Enter: the best pore minimizers.
Unlike learning how to get rid of acne, pores aren't something that can simply go away, no matter how much TLC you give them. Rather, pores are an essential part of the skin that live on the upper part of the hair follicle and control how sebum, or oil, releases on the skin. There may not be a way to get rid of them completely, but there are products you can use to minimize their appearance.
The best pore minimizers come in a variety of different forms—toners, moisturizers, masks, and serums included. The product you choose will depend on what you're looking to accomplish, whether you want to unclog your pores, refine them, or minimize their appearance with the best primers for smoothing effects. To help you out on your pore-minimizing journey, we've tried, tested, and rounded up the top products to incorporate into your routine.
How to pick the best pore minimizers for you
A lot goes into choosing the best pore minimizers for your skin, but here are the two most common factors, according to experts:
Consider the ingredients: There are several possible benefits to the best pore minimizers. Makeup products designed to minimize pores give the skin a smoother finish, which makes for a great pre-makeup base. These types of products typically use silicones to blur the skin and create a smoother canvas. According to makeup artist Victoria Stiles, enlarged pores and oily skin typically go hand in hand. So, to combat both, she recommends looking for cleansers that contain retinol and vitamin E. "Retinol will help to gently exfoliate the skin while Vitamin E will nourish," she says. Finally, Stiles notes that you can minimize the appearance of your pores with ingredients such as alpha hydroxy acids (AHAs) and beta hydroxy acids (BHAs). "These ingredients are essential for cleaning out pores, resulting in a smoother skin finish," she says.
Consider your skin type: Maura LaEardonn, an esthetician at Face Haus Santa Monica, says that while there's no such thing as perfect skin, we can work on bettering our pore care to fit what's going on with it. "Maintenance and pore care should include a thorough cleansing, exfoliation, and a time put aside for extractions," she says. "The key is to control oil but still nourish with hydration." If your skin is dry or sensitive, LaEardonn suggests looking for the best cleansers that are milky or cream-like as well as rich, thicker moisturizers. Have oily skin? "Niacinamide helps to reduce and control oil, while those with combination skin will benefit from using salicylic acid once a week with a build-up to every other day."
The best pore minimizers, chosen by our beauty team
1. It Cosmetics Bye Bye Pores 10% Glycolic Acid Serum
Best pore minimizer overall
Specifications
RRP:: $29
Best for: Dullness, uneven texture
Ingredient callouts: Glycolic acid, hyaluronic acid
Reasons to buy
+
Easy dropper application
+
Exfoliates skin for cell turnover
+
Good for all skin types
Reasons to avoid
-
Takes weeks to see results
The It Cosmetics Bye Bye Pores 10% Glycolic Acid Serum has won the title of the best pore minimizer overall because it reduces the look of pores but keeps skin hydrated at the same time. That's all thanks to the fusion of exfoliating and cell-rejuvenating glycolic acid and ultra-hydrating hyaluronic acid in its formula. The two, when combined, make for an effective treatment for pores that leaves skin feeling smooth and supple.
We love that it's suitable for all skin types, whether you're dry, combination, or oily, and that its dropper applicator dispenses the right amount of product to ensure you don't over-or under-use. As with most things in skincare, results take time to see, and we found the same to be true when testing this product. While results were not immediate, we did notice less visible pores after a few weeks of consistent nighttime use.
2. Clarins Pore Minimizing Serum
Best luxury pore minimizer
Specifications
RRP: $58
Best for: Clogged pores
Ingredient callouts: Vine flower cells, strawberry tree extract, tamarind pulp acid
Reasons to buy
+
Refines pores
+
Gives a blurring texture to the skin
+
Mattifies skin
Reasons to avoid
-
Can feel drying for some
If you're looking to control your pores and mattify your skin, this serum from Clarins is a winner. It uses a number of skin-benefitting ingredients, including vine flower cells to firm, organic strawberry fruit tree extract to mattify and tighten pores, and tamarind pulp acid to naturally exfoliate the skin and encourage cell turnover. After using it consistently twice a day, we found our skin looked radiant, blurred, and pores appeared less visible.
While the formula enhances texture and finish, it can leave the skin feeling a bit dry, especially if you're really looking for skincare for dry skin or your face is feeling dehydrated after, say, consuming alcoholic beverages. But, we learned that layering on one of the best face moisturizers helped to combat the formula's somewhat drying effects.
3. CoverGirl Trublend Skin Primer
Best budget pore minimizer
Specifications
RRP: $8
Best for: Pre-makeup
Ingredient callouts: Glycerin
Reasons to buy
+
Gives pores a blurring effect
+
Good for acne-prone skin
+
Weightless, long-lasting feel
+
Clean at Target
Whether you're a heavy makeup wearer or prefer to go for a natural makeup look CoverGirl proves you can't go wrong with a blurring formula like this. When used under makeup, it creates a smooth canvas for foundation and powders to sit on top of. When used alone, it blurs imperfections and makes for a more even complexion. Beyond its pore-minimizing properties, we love that this line from CoverGirl also includes formulas to target different concerns, whether it be green to neutralize redness or peach to increase skin's radiance.
For the under-$10 price tag, we found this primer to be worth it. However, during our testing, we found it had the tendency to feel sticky upon application. This feeling disappeared once our foundation was applied on top, but bear this in mind if you plan to wear the product alone.
4. Biossance Squalane + BHA Pore Minimizing Toner
Best pore minimizing toner
Specifications
RRP: $28
Best for: Tightening pores
Ingredient callouts: White willow bark extract, caviar lime extract, squalane
Reasons to buy
+
Clarifies pores
+
Hydrates skin
+
Vegan formula
Reasons to avoid
-
Glass bottle not travel-friendly
You heard it here first: Biossance's Squalane + BHA Pore Minimizing Toner is a hit! Particularly so if you're looking to provide your skin with gentle exfoliation all while controlling sebum production. The formula relies on white willow bark extract to regulate oil as well as sugarcane-derived squalane to keep skin hydrated. As for the exfoliation aspect, the caviar lime extract in the toner helps clarify skin to reveal a smoother, brighter appearance.
During testing we tried pressing the toner into the skin with a cotton round as well as bare hands, and found that both methods were enjoyable. One caveat: the bottle is glass, so it may not be the best for taking with you in your travel makeup kit.
5. Tatcha The Water Cream Oil-Free Pore Minimizing Moisturizer
Best pore minimizing moisturizer
Specifications
RRP: $69
Best for: Anti-aging, hydrating
Ingredient callouts: Japanese wild rose, Japanese leopard lily, green tea, rice, and algae
Reasons to buy
+
Oil-free formula
+
Ultra-hydrating
+
Comes with spatula applicator
Reasons to avoid
-
Pricey for a moisturizer
Is the Tatcha The Water Cream Oil-Free Pore Minimizing Moisturizer worth the price? According to the over 2,000 5-star reviews on Sephora, the answer is yes, and after our testing of the product, we couldn't agree more.
The Japanese skincare brand is known for its uniquely formulated, gentle yet effective skincare products. This moisturizer is ideal for those looking to make their pores less visible, skin less oily, and complexion youthful and radiant. It uses the brand's signature blend of nourishing and skin-calming green tea, rice, and algae, along with Japanese botanicals to combat dullness, uneven skin texture, and visible pores. Plus, we love the fact that the moisturizer comes with a tiny spatula applicator (and that the lid stores said applicator beautifully on top!)
6. Peach & Lily Glass Skin Refining Serum
Best pore minimizing serum
Specifications
RRP: $39
Best for: Dry patches, acne, anti-aging
Ingredient callouts: Peach extract, niacinamide, East Asian mountain yam, madecassoside, peptides, and hyaluronic acid
Reasons to buy
+
Easy-to-use pump applicator
+
Hydrating formula
+
Has multifaceted skin-improving benefits
Reasons to avoid
-
Can cause redness in sensitive skin types
Glass skin and refined pores? That's exactly what this serum from K-beauty brand Peach and Lily aims to deliver, with ingredients like vitamin-rich peach extract, East Asian mountain yam extract, and hyaluronic acid to boot. The formula also makes use of niacinamide, which can help curb redness in inflamed breakouts and douse your skin with antioxidant benefits. If you're into multipurpose products, you, like us, will love the fact that this includes a collagen-boosting peptide complex to smooth out fine lines and wrinkles.
Those with sensitive skin may find that the formula causes redness and a tingling sensation upon application, so you may want to apply this every few days to build up a tolerance to it before bumping it up to nightly use.
7. Pur See No More Blemish and Pore Clearing Cleanser
Best pore minimizing cleanser
Specifications
RRP: $24
Best for: Anti-aging, brightening
Ingredient callouts: Lactic acid, salicylic acid, green tea, ginseng, vitamin B
Reasons to buy
+
Unclogs pores
+
Plumping formula
+
Reduces the look of blemishes
+
Sulfate-free
If you're dealing with enlarged pores and blemishes, this gel cleanser from Pur is a great one to add to your routine. It's chock-full of skin-boosting ingredients like lactic acid and salicylic acid to exfoliate and ward off breakouts as well as Indian ginseng and fructose, which protect the skin against blue light damage (perfect for those addicted to their electronic devices).
This formula is infused with peppermint oil, which for some makes for an invigorating, spa-like scent but for others can be off-putting, so bear this in mind if you're sensitive to scents in your products. Overall, we found this to be a gentle exfoliating cleanser that's a great first step in any pore-minimizing skincare routine.
8. Innisfree Pore Clearing Clay Mask
Best pore minimizing mask
Specifications
RRP: $15
Best for: Dullness, uneven texture, oiliness
Ingredient callouts: Lactic acid, volcanic clusters
Reasons to buy
+
Affordable price point
+
Deeply exfoliating
+
Draws out impurities from pores
Face masks are often known for only providing temporary solutions—be it dousing your skin with hydration or soothing redness for sensitive skin. But, this option from Innisfree proves that you can reap both instant and long-term benefits. During testing, we found that it did a great job of mopping up excess oil on the skin. Over time, it also helped to refine pores, promote skin radiance, and even out rough skin texture on the odd dry patch. Not to mention, the price is accessible and a little goes a long way, which means the jar is likely to last you a while.
9. Dr. Brandt Skincare Pores No More Pore Refiner Primer
Best pore minimizing primer
Specifications
RRP: $45
Best for: Pre-makeup
Ingredient callouts: Red clover flower extract, salicylic acid derivative
Reasons to buy
+
Preps skin for makeup
+
Mattifying formula
+
Convenient pump applicator
Not only is this one of the best pore minimizing primers to reduce shine and mattify the skin, but it makes whatever makeup product you apply on top glide on and appear as smooth as butter. And, because it's slightly tinted, we found it to be the perfect pre-makeup step for creating an even skin tone. Although the product is scented, it's not overpowering and the scent tends to disappear once you apply your other products. During our testing, we loved the fact that we only needed less than a pea-sized amount to cover the skin, which makes the near $50 price tag worth it for such a hefty tube. Pick this up if you're looking to (temporarily) send your pores packing.
10. Origins Pore Purifying Toner With Saw Palmetto & Mint
Best pore minimizer for acne
Specifications
RRP: $25
Best for: Oiliness, blemishes
Ingredient callouts: Saw palmetto, mint, salicylic acid
Reasons to buy
+
Mattifies skin
+
Gets rid of excess oil
+
Vegan formula
Reasons to avoid
-
Opening of bottle is too big
-
Strong scent
Vanity-worthy aesthetics aside, we love that this formula targets blemishes, oiliness, and pores all at once. It's enriched with ingredients like salicylic acid to clear pore-clogging bacteria that would otherwise lead to a blemish. And, it boasts a seriously clean scent that we found quite refreshing. While the formula feels clean and mattifying on the skin, it didn't leave our skin feeling parched afterward. One thing to note is that the opening of the bottle is too big and deposits more product than needed, which can lead to waste. But, a little bit of care is all that's required. All in all, if your skin is in major need of decongesting, add this toner to your cart stat.
---
woman&home thanks Maura LaEardonn and Victoria Stiles for their time and expertise
Michelle Rostamian is a Los Angeles-based beauty writer with 10 years of experience in the beauty industry. She began her career as a publicist, content writer, and social media manager, representing beauty brands and industry professionals. Currently, she is an editor and writer on all things makeup, beauty, skincare, and lifestyle. Michelle graduated from the University of California, Los Angeles with a B.A. in Communications. She has bylines at Cosmopolitan, Elle, Marie Claire, Allure, The Zoe Report, HelloGiggles, Yahoo, Byrdie, Well+Good, Reviewed, Women's Health, Runner's World, The Girlfriend, and more.