The best eyeliner liquids, pencils, and gels for enhancing your peepers
The best eyeliner can come in many different forms, as our selection of top picks shows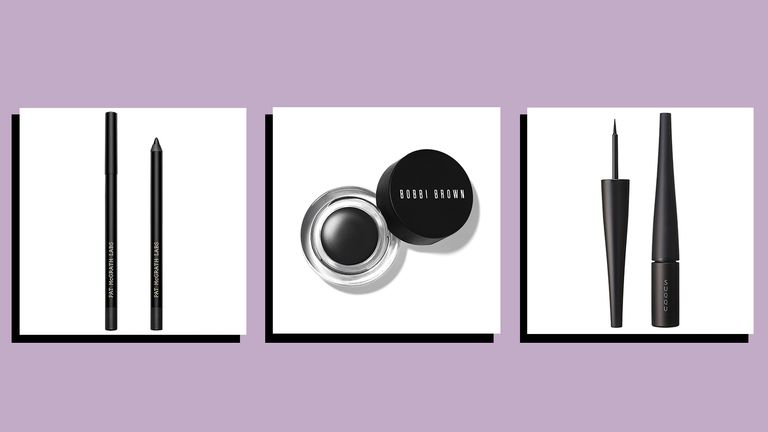 (Image credit: Future)
Pinning down the best eyeliner for you has the potential to take your makeup look to a whole new level.
While the best mascaras give our eyes a boost by adding length, lift, and impact to lashes, eyeliner enhances eyes in an entirely different way. Whether it's the sultry smokiness of a smudged pencil liner, the drama of a sharp wing, or the bright-eyed finish of a light-colored tightline, there are so many different ways in which eyeliner can finish off your look.
We love the Benefit BADgal BANG Pencil for adding a subtle impact to our eyes when dotted between the lashes, while the Suqqu Color Ink Liquid Eyeliner takes our top spot for liquid liner, thanks to its stellar staying power and strong-but-silky pigment. If your hand takes better to an eyeliner pen, then we love the KVD Beauty Tattoo Eyeliner for its smooth application and robust formula—and it really does live up to its tattoo-worthy name.
How to choose the best eyeliner for you
When it comes to choosing the best eyeliner for you, the first thing to think about is what type of eyeliner you actually want to go for. One of the most versatile products in the makeup bag, eyeliner can come in three different forms—pencil, liquid, and gel—and the type you choose really depends on what you want from the product.
It's also important to consider what you get from the formula: is it waterproof? How pigmented is the color? Is it smooth enough to create seamless looks on the often loose and crease-ridden skin around the eye? And just as there are different types of mascara wands to choose from when deciding which mascara to buy, the same goes for eyeliner applicators. Here are the main differences you need to know:
Pencil: Apply these if you're aiming for subtle enhancement or a touch of smokiness. Pencil eyeliners are also travel-friendly. Usually, it's better to opt for something with a plastic casing; as they start to blunt, traditional wooden pencils can scratch and irritate the eye when not sharpened properly. Pencils also tend to have the most "drag" when applied, which is something to consider particularly on more delicate or crepey eye areas.
Liquid (also comes in pen form): Choose this if you're looking to achieve sleek lines, graphic looks, or bold flicks. First, look at whether the nib is a felt pen or a traditional brush: pens work well for those planning to apply eyeliner when on the go (or in a rush) or for anyone not fortunate enough to have a steady hand. More traditional liquid nibs tend to give you a sharper, sleeker finish, as well as a more pigmented, longer-lasting formula.
Gel: A hybrid between pencil and liquid, this type of eyeliner allows you to create the looks associated with both, but won't match their results perfectly. They are, however, great for those who are just delving into the world of eyeliner, as they are pliable and more forgiving. Gel is generally applied from a pot with a separate brush, which allows you to play around a bit more to get your look right—but there are also gel pencil options that give you a slightly smoother finish.
The best eyeliners, as chosen by our experts
1. KVD Vegan Beauty Tattoo Liner
Best eyeliner pen
Specifications
RRP: $21/£18
Formula type: Liquid
Applicator type: Pen
Waterproof: Yes
Colors available: Black, brown
Reasons to buy
+Short and sharp nib+Well saturated+Stays well without transferring or smudging+No bleeding
Reasons to avoid
-Thin-ish formula-Difficult to create thick wings
If you're looking for a simple, straightforward liquid eyeliner pen that performs well, this is the one for you. With a short, sharp nib that's easy to control—even if you apply your makeup on the go or on your daily commute—the eyeliner produces an impactful line that doesn't bleed at all. The formula is thin enough to glide onto lids smoothly without catching the skin, although this may mean you need to apply an extra layer to achieve a heavier, more saturated color.
If you're looking to create a thick, winged line in an instant, this eyeliner probably wouldn't work for you, though; the sharp nib and thin formula mean it takes longer draw and fill in thicker, more dramatic lines. That said, for quick and easy flicks that last all day, we do love this product.
2. Benefit BADgal BANG! 24 Hour Eye Pencil
Best eyeliner pencil
Specifications
RRP: $22/£18.50
Formula type: Pencil
Applicator type: Pencil, plastic casing
Waterproof: Yes
Colors available: Black, brown, blue, purple
Reasons to buy
+Creamy texture+Non-irritating formula+Long-lasting and waterproof+Strong pigment+Plastic twist-up casing+Built-in smudger for creating smokey eye effect
As long-time fans of the Benefit BADgal BANG! mascara, we couldn't ignore this product when hunting out the best eyeliner on the beauty counters right now.
A pencil eyeliner with a creamy formula, this is a versatile piece of kit for your makeup bag. It's capable of working in a range of ways: glide color onto the waterline (the line of skin between the lashes and the eye itself) to create definition without irritation, or use the automatic no-sharpen tip can to dot pigment between lashes, creating subtle impact in place of a heavy line. At the other end of the scale, those of you wanting to create a smoky eye look are in luck too; this eyeliner's formula glides onto lids seamlessly and can be blended and softened using the pencil's built-in smudger (rather than your finger tips!).
Whatever way you apply your eyeliner, one thing's for sure: it's going nowhere. The strong, water-resistant pigment stays put all day and all night—hence its name—which is a major selling point in our books.
3. Suqqu Color Ink Liquid Eyeliner
Best liquid eyeliner
Specifications
RRP: $30.50/£25
Formula type: Liquid
Applicator type: Traditional brush
Waterproof: Yes
Colors available: Black, brown, red, navy blue
Reasons to buy
+Silky texture+Pigmented formula+Strong staying power
Reasons to avoid
-Needs a precise hand
This liquid eyeliner has everything you'd want—a silky formula, a precise and easy-to-use nib, and all-day staying power. That's the top-line information, but we can be more specific.
Designed to give you the best qualities of traditional brush applicators combined with more contemporary felt pen-style tips, this sophisticated eyeliner creates a bold, elegant stroke. Its highly pigmented formula glides on easily and dries quickly, making it ideal for quick touch-ups or on-the-go application.
Another note on the formula: it's sturdy. By which we mean once it's on, the stretch fit polymer-infused eyeliner is there for the duration. No flaking, smudging, or cracking. The downside of that is that it can take a bit more effort to remove it—we suggest treating it much like one does when learning how to remove waterproof mascara and using a makeup remover that dissolves it, rather than trying to scrub at the delicate skin around the eye.
While it might not be the most forgiving or simple-to-master eyeliner for beginners, in the right hands it can achieve a sleek finish that's resilient throughout the day.
4. NYX Epic Wear Liquid Liner
Best drugstore eyeliner
Specifications
RRP: $10/£9
Formula type: Liquid
Applicator type: Traditional brush
Waterproof: Yes
Colors available: Thirteen shades, including black, brown, blue, grey, and white
Reasons to buy
+Fine brush for precision+Pigmented formula+Lasts well
Reasons to avoid
-Color bleeding can occur-Formula does sometimes transfer
Epic in name, and epic by nature, this budget liner really does make an impact on your peepers. The traditional brush nib applies a dark, saturated finish, whether it's used to create fine flicks or bold wings, and it's fine enough to get right into the lashline—a level of precision and coverage that's not always possible with every type of eyeliner.
While the rich, pigmented formula is more liquid than viscous, meaning it glides on easily, it's not the fastest-drying, which means it can transfer to the skin around the lashes during application. We also noticed that, on occasion the color can bleed at little. If you can get past the odd touch-up, in general it's a well-priced eyeliner that can achieve bold-looking eyes.
5. Charlotte Tilbury Rock 'N' Kohl in Eye Cheat
Best eyeliner for the waterline
Specifications
RRP: $23/£19
Formula type: Pencil
Applicator type: Pencil, plastic casing
Waterproof: Yes
Colors available: Nude, black, brown, blue, grey, and violet
Reasons to buy
+Creamy formula+Pigmented color+Amazing staying power+Non-irritating
Reasons to avoid
-Needs regular sharpening
When it comes to brightening out peepers, and achieving an almost doll-like '60s makeup look, we don't think there's anything better than the Charlotte Tilbury Rock 'N' Kohl in Eye Cheat. Using white liner on the waterline to make your eyes look bigger and brighter has long been a makeup industry trick, but we have to say, we prefer the subtler finish you get with a nude pencil, like this one. Essentially, it offers the same impact without the stark, shock of a bright white line.
The creamy, waterproof formula is packed with pigment so, even when applied with the lightest of touches, this pencil delivers a good amount of color. A soft kohl texture makes it easy to smooth onto the waterline, although the drawback of this is that the nib breaks down more easily than other pencils we tried—meaning more frequent sharpening to maintain a fine line. With all-day resilience (it's designed to stay put for 14 hours) there's no need for top ups though, so the occasional need to whip out a pencil sharpener is a point we can let slide. We like matching this with the best mascara for sensitive eyes for less chance of irritation.
6. Urban Decay Perversion Waterproof Fine-Point Eye Pen
Best waterproof eyeliner
Specifications
RRP: $22/£19
Formula type: Liquid
Applicator type: Pen
Waterproof: Yes
Colors available: Black
Reasons to buy
+Resilient staying power+No smudging+Sharp and thin nib
Reasons to avoid
-Formula is a little dry
Finding a good waterproof eyeliner can be harder than you'd think. While many of the products on our best eyeliner list do have waterproof features, this is the one that really stands out for its water-resistant abilities; even in hot, humid weather this Urban Decay essential has some serious staying power. When we tested this felt pen-style eyeliner, we didn't notice any smudging, fading, or transferring. And its powers aren't limited by skin types, either—it works just as well with oilier skin as it does with other types.
There are positives to discuss beyond the aforementioned staying power, too: it has a fine nib that gets right into the lash line, and the sharpness of the tip lets you create neat, precise flicks. While the formula is a little drier than we would usually like, it does create lines with a nice semi-matte finish.
7. Pat Mcgrath Permagel Ultra Glide Eye Pencil
Best gel eyeliner
Specifications
RRP: $28/£25
Formula type: Gel
Applicator type: Pencil
Waterproof: Yes
Colors available: Black, brown, taupe, glittery brown, glittery blue
Reasons to buy
+Comfortable to wear+Easy to apply+Well-pigmented+Stays put all day
Reasons to avoid
-Dries quickly so have to blend fast
Traditionally, gel eyeliner comes packaged in a pot and is applied with a separate eye-liner brush, but nowadays we're seeing more hybrid formulas on the beauty aisles. This is one such example: a gel-pencil hybrid that offer you the benefits of gel's forgiving formula, but that comes packaged in an easy-to-use pencil form.
Created by renowned makeup artist Pat McGrath, this silky gel liner is packed with pigment, meaning it creates defined, dramatic eyes. And, not only is it effective visually, but it's also comfortable to wear—even when used on the waterline, there wasn't the slightest hint of irritation.
We also love the variety of shades that this eyeliner comes in—there's a host of fun, glittery options as well as the more traditional colors, meaning you can be more playful and experiment with your look for different times of day or to suit special occasions. Whatever color you choose to apply, however, you'll have to work fast; like many gel liners it does dry very quickly. This factor does, however, have an upside—it contributes to the long-lasting finish that just. doesn't. budge.
8. Bobbi Brown Long-Wear Gel Eyeliner
Best eyeliner for beginners
Specifications
RRP: $28/£21
Formula type: Gel
Applicator type: Pot and brush
Waterproof: Yes
Colors available: Jet black, deep black-brown, black-brown, rich brown, chocolate brown, shimmering chocolate, mauve, dark blue, and violet
Reasons to buy
+Forgiving formula easy to correct+Long-lasting+Versatile+Doesn't transfer
Reasons to avoid
-The liner brush is sold separately-Can't create sharp or defined flicks-Fades slightly throughout day
A cult product on the eyeliner market, this stretchy gel is more forgiving than a traditional brush or felt-tip pen formula, giving you the flexibility to wipe and correct your handiwork if you need to. Saturation isn't an issue here, because the separate pot and brush allows you to customize your look and decide how much product you want to apply with each stroke—and thus, how heavy a line you create.
The texture of the gel also means that you can mimic both a sleek liquid-liner finish and a softer pencil eyeliner look, although you won't get quite the same finish; flicks won't be as sharp as those slicked on with a liquid liner, and a blended, smoky-eye smudge is likely to be a little denser and more defined than that achieved with a pencil. All things considered though, it's a brilliant product for beginners as it allows you to experiment with different looks without having to crack out the double cleansing kit.
9. Marc Jacobs Highliner Gel Eye Crayon
Best colored eyeliner
Specifications
RRP: $26/£15
Formula type: Gel
Applicator type: Pencil, plastic casing
Waterproof: Yes
Colors available: 22, including black, brown, blue, purple, and pink
Reasons to buy
+Bold colors+Pigmented formula+Comfortable texture+Strong staying power+Built-in sharpener+Glam packaging
Reasons to avoid
-Dries very quickly so have to blend fast
The luxe packaging of this eyeliner makes for an eye-catching makeup look… before you've even begun to apply it! Better still, once you do remove the lid and get to work, it doesn't disappoint; the gel formula can be applied smoothly, without catching along the delicate skin around the eye or drying too quickly. It's also comfortable throughout the day, and doesn't cause any irritation on sensitive eyes—glittery shades included.
The waterproof finish means that this liner really does stay put—yes, even when it's used on the waterline—and, no matter what style of eye makeup you've oprted for, every shade of pigment is saturated enough to stand out.
Do note that while this formula is incredibly resilient, it does fix in place fast, so you have to blend it pretty quickly once it's applied. On balance though, when you factor in all its benefits, including the clever built-in sharpener that comes in very handy when you're out and about, this range of eyeliners is a bright way to boost your eyes, and your makeup bag.
Aleesha is digital shopping writer at woman&home - so whether you're looking for beauty, fashion, health or home buys, she knows all the best places to splash your cash. She earned an MA in Magazine Journalism from City, University of London in 2017 after graduating from University of Leeds in 2014 with a BA in English and Spanish (which took her to Madrid for a fun Rioja and tapas-packed year). Aleesha has worked for woman&home since 2019, when she joined the team as their digital news writer. A year on the news team gained her quick and reactive writing skills and a love for breaking stories, invaluable insight into where to get the best lifestyle releases first, an AOP awards nomination and the nickname 'crazy watch lady' after she became so obsessed with the royals that she followed breaking news alerts on her Apple Watch.


Before joining the woman&home team, Aleesha wrote for their sister site GoodtoKnow, where she covered celebrity news, health advice and where to snap up the cheapest lifestyle buys. With a background in beauty, Aleesha has also written for Stylist and Women's Health where she developed an understanding into what makes a stellar product and which brands are worth paying attention to. She never leaves the house without a slick of lip balm and a good slathering of SPF, cannot live without an eyelash curler by her side and is always on the hunt for new lipsticks to add to her 'Lipstick of the Day' Instagram story highlight (and color-coordinated collection).


But it's not just beauty buys Aleesha can help you with. Social media savviness, strong PR relationships and a need to stay in the know mean she's all about the latest fashions, clever gadgets and reliable lifestyle buys too. She loves indulging in an interior craze (with a bedroom drowned in prints, plants and pink), is a regular visitor to the Missoma and Edge of Ember 'New In' pages and can't resist the allure of a kitchen gadget—just ask her three coffee machines.


When she's not playing around with new products and testing anything she can get her hands on, Aleesha spends most of her time with her head in a current bestseller, catching up on the latest Netflix craze with her sister, trying out new recipes, drinking wine with her bestie and (in non-COVID times) has been known to be a bit of a jetsetter amongst her friendship group. Oh and she makes the most of her Disney+ subscription by watching the Marvel films on repeat (definitely not just for Chris Evans...).


Follow her latest shopping & lifestyle advice, beauty insights and social antics on Instagram at @aleeshabadkar.


Twitter: @aleeshabadkar
LinkedIn: aleesha-badkar
Email: aleesha.badkar@futurenet.com