This sunscreen mist sold out in five minutes and is perfect for SPF coverage on-the-go
Preorder it now—while you still can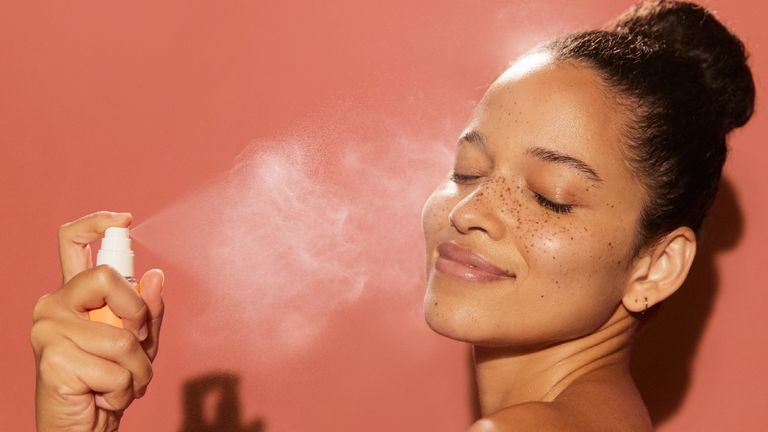 (Image credit: Habit)
Sunscreen is fundamental to any beauty routine, especially during the summer months. Not only does SPF protect our skin from damaging UV rays, but it also helps prevent skin discoloration, like dark spots.
Even if the best foundation contains some SPF, at some point, we need to reapply it throughout the day. Rather than risk messing up our makeup look, Habit's No. 41 Sunscreen Mist is the perfect solution for spritzing on some SPF without the risk of smudging your favorite mascara.
Sunscreen typically comes in the form of a spray or a cream and typically leaves behind a white residue you need to rub in. This isn't ideal for going out with a fresh new look you don't want to mess up. The sunscreen mist, though, was made with broad-spectrum 41 and aims to get rid of these worries using a lightweight mist formula that doesn't require any rubbing in. Simply spray and go—no need to touch your face.
The brand also designed the sunscreen mist with clean materials, including rose geranium, lavender, and rosemary, deeming it "Clean at Sephora's" standards. When used as directed, Habit also claims that this sunscreen will help prevent early skin aging.
To use, Habit recommends pulling your hair back, closing your eyes and mouth, then spraying the mist evenly in a circular motion over your face, neck, and chest. Use at least seven spritzes for full coverage, and once you're done, you should keep your eyes and mouth closed while the mist settles—no rubbing in is required!
After being released, the sunscreen mist quickly became a shopper favorite, even selling out within five minutes. Habit can barely keep the mist in stock, and back in April, the sunscreen sold out so fast they put out a waitlist that quickly racked up 2,000 people.
Reviewers are in awe over how well it works, claiming the sunscreen claiming it's "so easy to apply" and "love that [they] can use this on top of [their] makeup."
For those with sensitive skin, one shopper claimed this mist was gentle on their skin.
"I am super pale with extremely dry, sensitive skin. I KNOW I should be wearing SPF daily, but I really struggled with actually doing it because most SPFs left me cracking and rashy," they wrote. "I experience no side effects at all. I also think it's improved my skin after applying it each day! I'm SO excited to finally have found a daily solution that works for me."
Another shopper claims they have "no excuses for skipping sunscreen now" because of how portable and easy it is to apply.
SPF is essential no matter the type of skin you have, so if you've always struggled to keep up with applying sunscreen, this mist will help make it more easy and convenient for you.
Rylee is a digital news writer for woman&home and My Imperfect Life. She covers everything from beauty and fashion trends to celebrity and entertainment news.