Celeb-loved brand Kérastase has launched a new range for all curly hair types
The new Kérastase Curl Manifesto range promises to hydrate, define and strengthen curly, very curly and coily hair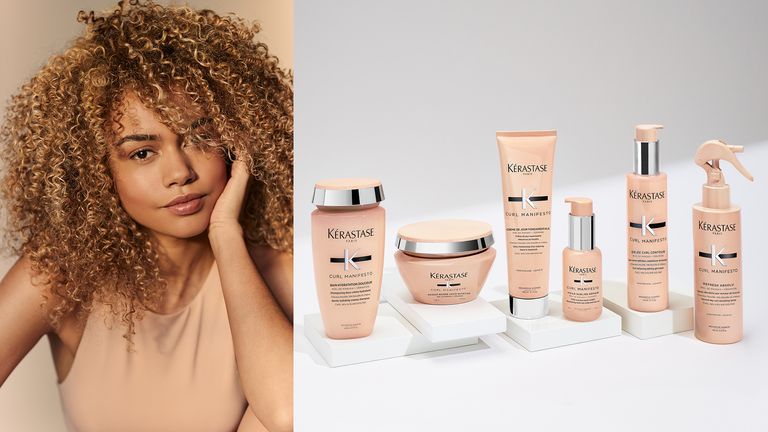 (Image credit: Ocean Lewis for Kérastase Curl Manifesto)
The Kérastase Curl Manifesto range is here to transform curly and coily hair—and we're seriously excited about it.
A salon-quality brand that's loved by celebrities all over the world, their fanbase is one of the go-to names in professional haircare. So, naturally, curly and coily-haired women are very excited about the launch.
Followers of the curly girl method will know that curls come with their own unique needs, varying between curl types. Thanks to its structure, it's naturally drier and more at risk of breakage than straight hair. It needs a lot of moisture, but too moisturized and your curls can be weighed down and lose their natural volume, while some are prone to shrinkage. Sound familiar? Kérastase Curl Manifesto is here to maximize your curl power.
There are eight products in the range—one of which is an in-salon treatment—that cover everything from washing to conditioning and styling. The Curl Manifesto formula contains a patented ceramide that took four years to develop to improve curls' strength and elasticity. Meanwhile Manuka honey moisturizes and improves resistance to breakage, while glycerin helps to hydrate and distribute moisture more evenly. Bouncy hair, ahoy!
---
More from woman&home:
• The best hair dryer for all hair types, including curly hair
• How to plop hair: the hack that stops curls frizzing
• How to use a diffuser on curly hair: your easy-to-follow guide
---
"It all started with a clear analysis: two-thirds of the worldwide population don't have straight hair," Diane Leger, Kerastase's Marketing VP, explained in a Q&A. "Curls are everywhere in the world and all around us, and women are embracing their curls and wearing them proudly. We wanted to support this personal journey by listening to their desires."
Case in point: as well as scientists, curl experts and hairdressers, the brand sought the insight of 60 curly-haired women to ensure their needs were listened to and that the range delivered. They tested more than 50 formulas before landing on the final Curl Manifesto products you can shop today.
Thankfully, you don't have to wait to get your hands (and your curls) on the range: it's available now in the UK and available to pre-order at Sephora in the US.
Shop the Kérastase Curl Manifesto products
On top of formulas that are loved by professional hairstylists across the land, Kérastase is known for having great-smelling products. Curl Manifesto is no exception; think manuka honey and nougat with top notes of tuberose. Not only does the range deliver on definition and bounce, but your hair will be wafting for days.
It's safe to say we think this range will be your curls' new best friend. Happy shopping! (Or should that be happy plopping?)