Chrissy Teigen's face mask hack is brilliant - have you tried it?
Chrissy Teigen's face mask hack gives spots the heave ho.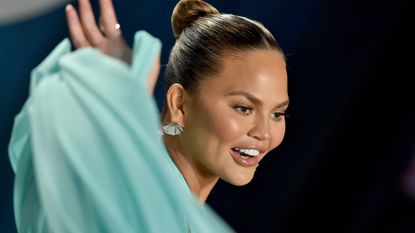 (Image credit: Axelle/Bauer-Griffin /Getty Images)
Chrissy Teigen (opens in new tab)'s face mask hack is nothing short of brilliant if you suffer from mask-induced acne (opens in new tab).
While face coverings are undoubtedly a necessity to prevent the spread of Covid 19, the occlusivity of a mask (even the best reusable face masks (opens in new tab)) isn't great news for your skin. First, sweat from breathing into a closed-off space clogs pores. Then friction from the mask adds to the problem by rubbing grime into the skin.
But Teigen has revealed that, on the flipside, a face covering allows you to multi-task with beauty treatments underneath. Plus they hide any that maybe don't look so pretty.
In an Instagram post with John Legend and their kids, Luna and Miles, during a recent trip to St. Barts, Teigen used her face mask to cover up a pore strip - a quick fix beauty treatment that could itself help to alleviate the effects of mask-wearing on the skin.
"Life hack: nose strip under your mask," she captioned the photo.
"Keep safe AND get those rent free blackheads out."
The strip in question appears to be the purse-friendly Bioré Deep Cleansing Pore Strip (opens in new tab).
Much like a Band Aid, pore strips (also known as 'nose strips') sit on the skin courtesy of a strong adhesive. They then whip away all the pore-clogging dirt and the top layer of dead skin cells when ripped off - something strangely satisfying as you can see the grime (and other unmentionables) on the strip.
Simply apply to freshly cleansed, damp skin and wait 10-15 minutes before peeling the strip at the edges.
Thanks to special bonding ingredients, Bioré Deep Cleansing Pore Strips instantly latch onto, and remove, deep-down dirt that can cause blackheads. Plus astringent witch hazel helps to minimise the look of enlarged pores by temporarily constricting the skin.
Dermatologists confirm that the ageing effects of face coverings (opens in new tab) include fine lines and inflammation.
So if Teigen's life hack has whet your appetite for ramping up your beauty routine underneath your mask, sheet masks (both under-eye and cheek-to-chin versions) are another option if the abrasive nature of your sheet mask is leaving skin parched.
You might also consider doubling-down on the soothing effects of a silk face mask with a niacinamide serum (opens in new tab)of 5% or above. "Niacinamide is a known anti-inflammatory" says dermatologist Dr Anjali Mahto (opens in new tab), and proven to strengthen the skin barrier, keeping nasties out and moisture in.
Pretty clever, no?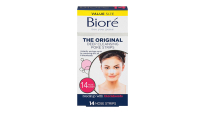 (opens in new tab)
Fiona Embleton is a beauty writer who is now Acting Beauty Editor at Stylist. She is obsessed with Isabel Marant and cats.