Will Camilla be crowned Queen at King Charles's coronation?
King Charles's Coronation is fast approaching, but will Camilla be crowned too?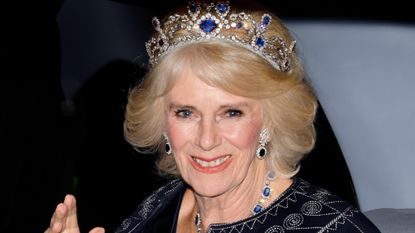 (Image credit: Getty)
King Charles' coronation day is fast approaching and anticipation is growing for the historic day, which takes place on May 6 at Westminster Abbey.
But while we're slowly learning more and more details about the event, such as Prince George's role, who the Pages of Honour are and details about the Coronation Concert the following day, many royal fans are asking, will Camilla be crowned Queen at King Charles's coronation?
Camilla became the Queen consort following the death of Queen Elizabeth II in September last year, after her husband, the then-Prince Charles inherited the throne.
The title was originally known as the "Princess consort," but Queen Elizabeth II announced that it was her "sincere wish" that the Duchess of Cornwall will be known as Queen consort when Charles becomes King.
So will Camilla be crowned as Queen when King Charles is crowned as King? Here's everything you need to know.
Will Camilla be crowned Queen at King Charles's coronation?
Yes, Camilla will be crowned Queen at King Charles's coronation. This was confirmed by the official invitations, which were sent out to 2,000 guests this week. Camilla will become Queen after the coronation, dropping the 'Consort' part of her title.
The invitations read, "The coronation of Their Majesties King Charles III and Queen Camilla. By Command of The King, the Earl Marshall is directed to invite" and leaving space for the invitee's name.
It has been confirmed that the ceremony will involve the coronation of both Charles and Camilla, who will be crowned alongside each other.
Upon Charles' ascension to the throne, Buckingham Palace updated its website to read, "Unless decided otherwise, a queen consort is crowned with the king, in a similar but simpler ceremony. If the new sovereign is a queen, her consort is not crowned or anointed at the coronation ceremony."
Following the King's six-part coronation ceremony, the Queen Consort will have her own one. And once Camilla is crowned by the Archbishop of Canterbury, she will officially be Queen Camilla.
What will Camilla be called after the coronation?
Given that the official invitations name her Queen Camilla, it's likely that Camilla will simply drop Consort from her title and therefore be known as Queen Camilla.
Dropping Consort from Camilla's title is a huge honor and moment for her to become Queen Camilla. The "Consort" part of her original official title made it clear that she was Queen because she was the wife of a reigning King - she was his consort.
In contrast, the late Queen Elizabeth was a Queen Regnant which meant she was a Queen who reigned in her own right and not because she was a King's wife. Given that Queen Elizabeth was for many people the only Queen they had known in their lives and had been a reigning Queen for 70 years when she passed away at Balmoral in 2022 it perhaps made sense that Queen Camilla would initially be known as Queen Consort.
But now that fans are more accustomed to this difference, it's a heartfelt gesture to officially refer to her as Queen, just like other Queen Consorts like the Queen Mother were.
What crown will Camilla wear at the coronation?
Queen Camilla will wear Queen Mary's Crown for the Coronation, which has already been removed from the Tower of London ready to be re-sized ahead of the ceremony. As revealed by the Royal Family website, this marks the first time in "recent history" that an existing crown will be used for the coronation of a Queen Consort instead of a new crown being made.
This has been done in the "interests of sustainability and efficiency", according to the Buckingham Palace announcement. The last time a Queen Consort's crown has been re-used was by Queen Caroline, the wife of King George II, in the 18th century when she wore Queen Mary of Modena's crown.
However, some changes will be made other than the re-sizing, in keeping with another tradition that involves the insertion of jewels that are unique to the occasion and which showcase the Queen Consort's personal style. The alterations will also pay tribute to the late Queen Elizabeth, with the Cullinan III, IV, and V diamonds being added to Queen Camilla's coronation crown.
Robyn is a celebrity and entertainment journalist and editor with over eight years experience in the industry. As well as contributing regular to woman&home, she also often writes for Woman, Woman's Own, Woman's Weekly and The Sun.