Princess Beatrice and Princess Eugenie's special coronation roles despite lack of working royal status
Princess Beatrice and Princess Eugenie have their roles to play over the coronation weekend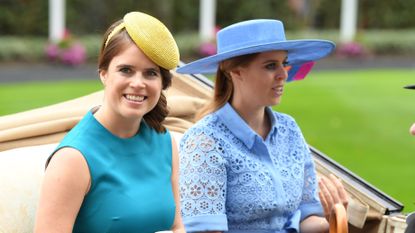 (Image credit: Getty Images)
Princess Eugenie and Princess Beatrice have special roles to take on over the coronation weekend, despite not being working members of the Royal Family.
---
With hundreds of royal fans preparing to watch the coronation from all over the world, the coronation timings planned to perfection and hundreds of guests, including royals from across Europe, set to be in attendance, the big day is almost here.
As King Charles III is officially crowned, key members of his monarchy will join him for the procession and take on pivotal roles.
However, non-working members of the family are expected to only attend as guests, with The Times reporting that the procession is "confined to working members of the Royal Family" such as the Prince and Princess of Wales and Princess Anne - meaning Princess Beatrice and Princess Eugenie, who is pregnant with her second child, won't be part of it.
Despite this, the sisters, who are daughters of Prince Andrew and Duchess Sarah Ferguson, will be involved in the events taking place on the Sunday that follows the coronation, as royals step out to attend Big Help Out and Big Lunch events, as part of a "a nationwide act of celebration and friendship".
Princess Beatrice and Princess Eugenie are scheduled to attend a Big Lunch in Windsor, while Prince Edward and Sophie the Duchess of Edinburgh will attend one in Surrey and Princess Anne will appear at a street party in Wiltshire.
This comes after it was revealed that Eugenie and Beatrice's mother, Sarah Ferguson, will not be in attendance, even as a guest, at the coronation.
When asked about her lack of invitation to the coronation, Sarah told Good Morning Britain, "I'm not [going], it's a state occasion, and being divorced I don't think you can have it both ways."
Meanwhile, the Duchess, who will attend the star-studded coronation concert on Sunday, shared her plans for watching the coronation ceremony, telling the Loose Women panel, "I will be having a little tea room and putting out the bunting. I love to watch it on the telly because the commentators are always good."