Meghan Markle's favorite exercise class burns 700 calories a session
Meghan Markle relies on this one exercise to keep fit - and it burns a whopping 700 calories a session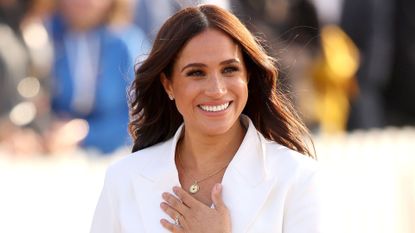 (Image credit: Chris Jackson/Getty Images for the Invictus Games Foundation)
There's no denying Meghan Markle always looks good, and in a resurfaced old interview, the former actress revealed the one exercise class she relies on to stay fit.
Meghan Markle relies on an unusual fitness class to keep her fit.
In the interview, Meghan revealed that she didn't have a personal trainer and that motivating herself is "half the battle."
---
It's well known that Meghan Markle is a fan of yoga - she even introduced Prince Harry to yoga for beginners - and in a resurfaced interview, the then-Suits actress revealed that hot yoga is her go-to exercise class for keeping in shape.
Back in 2013, Meghan sat down with Shape Magazine for its Fit and Famous video series, where she was asked about her diet and exercise routine.
When the interviewer asked Meghan, "What do you do to stay in such fantastic shape?" she replied, "Thank you for saying that. I love the benefits of running but I think you have to find a workout routine that really speaks to you beyond trying to get goals for your body."
"So for me, running is I need it as much for my head and to clear my head as for keeping in shape. I love to jog. I do a lot of hot yoga, Moksha yoga specifically, and then Pilates at Pilates Platinum in LA."
Moksha yoga is a form of hot yoga that was founded in 2004 by two Canadian yoga instructors, Ted Grand, and Jessica Robertson. Hot yoga is a vigorous form of yoga that is practiced in a heated studio.
Moksha yoga includes more than 40 different poses with its foundation in traditional yoga. It offers a cardiovascular workout, yet reduces stress by calming the mind. The heated room is believed to detoxify the body through sweat and relaxes the muscles for safe stretching. Those participating in a 90-minute Moksha yoga class can burn up to 700 calories.
Meghan was also asked if she has a personal trainer, to which she admitted she doesn't. "I do it all on my own," she said, adding, "I do [fitness] DVDs at home or I go for a run by myself, I think if you can self-motivate that's half the battle."
Meghan also opened up about her diet, confessing that she likes to eat as "clean" as possible and avoids foods that make her feel "sluggish."
She said, "I definitely try to eat as clean as possible. I try to avoid the things that are going to make me feel lethargic and sluggish. I eat mostly veggies and fish, but I am also a foodie! So on the weekend, all bets are off."
"I think if you deprive yourself of anything you're just going to crave it more. For me, it's finding that balance, eating really good in the week, and then treating yourself to whatever it is you want over the weekend."
However, Meghan gave up fish following the interview as by the time she met Prince Harry in 2016, she was following a vegan diet.
Robyn is a celebrity and entertainment journalist and editor with over eight years experience in the industry. As well as contributing regular to woman&home, she also often writes for Woman, Woman's Own, Woman's Weekly and The Sun.