Meghan Markle is one of the world's most famous faces—this is her journey from child campaigner to Duchess of Sussex
Meghan Markle made her name before marrying Prince Harry and has never stopped standing up for what she believes in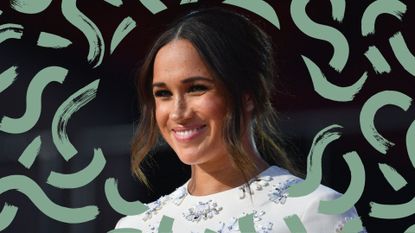 (Image credit: Future// Background image credit: Angela Weiss/AFP via Getty Images)
We shine a spotlight on powerful and inspiring women like Meghan Markle to tell you more about their daily lives and most relatable moments. Our in-depth profiles cover everything from how these women balance work and family lives, to their most important relationships, and the pearls of wisdom they have to offer other women.
---
Meghan Markle is one of the most famous women in the world and even early on she showed signs of becoming an inspirational figure. In just a few years, Meghan went from getting her big break in Suits to capturing Prince Harry's heart and handling intense scrutiny as she became Duchess of Sussex.
The Duchess was catapulted into the spotlight like never before back in 2016 when the news broke that she was dating one of the Queen's grandchildren. Following this the media and public scrutiny she was under only intensified, leading Prince Harry to urge the "wave of abuse and harassment" against her to cease.
Despite this, there was no denying that Meghan and Prince Harry's wedding day at St George's Chapel at Windsor Castle in 2018 was a wonderful moment in history. And whilst it might seem like only yesterday, the Sussexes will celebrate their 4th wedding anniversary in a matter of months.
Meghan Markle and Prince Harry have since moved to their Santa Barbara home, announced the birth of their first daughter, Lilibet Diana Mountbatten-Windsor and made it their mission to address "mistruths" in their shocking Oprah Winfrey interview. But despite so much being known and talked about when it comes to the Duchess of Sussex, there are still aspects of her life that many fans might be wondering about.
After all, what is Meghan Markle's real name, who are her parents and is she a Princess? We reveal what you need to know about the iconic Duchess of Sussex.
What is Meghan Markle's real name?
Believe it or not, 'Meghan' isn't actually the senior royal's first name, but her middle name. When she was born the future Duchess of Sussex's parents Thomas Markle and Doria Ragland named their daughter Rachel Meghan Markle. Ultimately, Meghan chose to go by her middle name and the alliterative moniker of Meghan Markle is the name known by fans throughout the world.
Oddly enough her original first-time, Rachel, was also the name of her character in Suits. Meghan played the paralegal on the hit show until season seven when Meghan quit Suits just before she went on to tie the knot with Prince Harry.
Despite not going by the name 'Rachel' anymore, it has continued to be used on certain official documents and announcements. That was the name used during the royal wedding ceremony back in 2018 and it was also used by the Queen in the official letter giving consent to the marriage of her grandson and Meghan.
Rachel is also listed on Meghan's daughter Lilibet's birth certificate. It's unclear why Meghan stopped going by Rachel, but from previous interviews, it seems she's always been a Meg or Meghan to her parents.
And if that wasn't confusing enough, Meghan now has an even longer name thanks to all her titles. Officially, she's Her Royal Highness Meghan, The Duchess of Sussex, Countess of Dumbarton, and Baroness Kilkeel. Though since Prince Harry and Meghan Markle "stepped back" as senior royals in 2020, the couple generally refrain from using their HRH titles.
How old is Meghan Markle?
Meghan was born on 4 August 1981, making her 40 years old. Throughout her 40 years, her support for important causes and charities has been hugely inspiring whilst Meghan Markle's most stylish moments have also consistently wowed fans. Last year the Duchess is understood to have marked her milestone birthday with a low-key party and launched a special new project.
Her cousin-in-law Princess Eugenie joined Meghan's 40x40 initiative, which saw the Duchess ask 40 of her friends to volunteer 40 minutes of their time to help others re-entering the workforce. In doing so, she expressed her hope that a knock-on effect could see millions of women get back on their feet after the Covid-19 pandemic.
"Amongst the most valuable gifts of time is also time spent in service to others knowing that it can contribute to incredible change," she revealed.
"To that last point, and with my 40th lap around the sun in mind, it made me wonder: what would happen if we all committed 40 minutes to helping someone else or to mentoring someone in need? And then what would happen if we asked our friends to do the same?"
Meghan continued, "I believe mentorship is one way to help women regain confidence and rebuild their economic strength, and for my birthday, I have asked 40 friends, activists, athletes, artists, and world leaders to help kick-off a global effort by contributing 40 minutes of mentorship to support women re-entering the workforce."
How tall is Meghan Markle?
Meghan is 5ft 6in, according to a previous acting resume that re-surfaced after she became part of the extended Royal Family. This height is 2 inches taller than the average British woman at around 5ft 4in. To put Meghan's height into royal context, Prince Harry is just above 6ft and the Duchess of Cambridge is 5ft 9in—meaning she's taller than Meghan by around five inches.
Who are Meghan Markle's parents?
Meghan was born in Los Angeles to Thomas Markle and Doria Ragland, two years after the couple tied the knot after meeting at a television studio, where Thomas worked as a lighting director. The couple split up when Meghan was just six years old. After the split, Meghan spent most of her time with her mother, but regularly saw her father on the weekends. Thomas went on to live in Mexico and Doria—a yoga instructor and psychotherapist—remained in Los Angeles.
Meghan Markle and her father were believed to be on good terms with each other right up until the royal wedding in 2018. He was forced to pull out of the ceremony at the last minute after undergoing heart surgery and Meghan's heartbreaking last text to him before her wedding reflected concern after paparazzi photos of him emerged.
Ultimately, Meghan's new father-in-law Prince Charles stepped in to walk Meghan down the aisle in his place. Meghan Markle's wedding dress was designed by acclaimed British designer Clare Waight Keller, the first female artistic director at Givenchy. The Duchess wore the stunning gown with a delicately embroidered veil featuring 53 flower decorations and a tiara loaned to her by the Queen herself.
Since the wedding, Meghan's relationship with her father has continued to deteriorate and it's currently believed she's no longer in contact with him. In December last year Meghan Markle won her court case against the Mail on Sunday after they published a private letter from the Duchess to Thomas in August 2018.
Following the ruling, an official statement from Meghan read, "This is a victory not just for me, but for anyone who has ever felt scared to stand up for what's right."
"While this win is precedent-setting," she explained, "What matters most is that we are now collectively brave enough to reshape a tabloid industry that conditions people to be cruel, and profits from the lies and pain that they create."
Meanwhile, some have suggested Thomas Markle could sue Meghan Markle for access to see his Sussex grandchildren, Archie and Lilibet Mountbatten-Windsor.
'She's pretty much ghosted all of her family on both sides.' Thomas Markle says Meghan isolated herself from her family and left no one to reach out to. He talks about how upset he was hearing Meghan has suicidal thoughts. pic.twitter.com/nrjzgNCWDNMarch 9, 2021
See more
Meanwhile, whilst others have suggested that Thomas is still hopeful for a reconciliation, palace insiders say the relationship is beyond repair.
"Meghan was understandably devastated when her father began giving interviews and their relationship has clearly suffered," a source reportedly alleged to new! magazine. "But she has learned to rise above the comments. She has to. Too much has been said and Meghan wants to focus on the future rather than dwell on the past. It's all been very hard."
It is thought to be unlikely that Thomas Markle will meet Meghan's two children in the near future, given the reported distance between them.
Although Meghan Markle's relationship with her father is strained, she's still very close with her mother.
Opening up about her incredible bond with Doria, Meghan previously said, "My mum's a yoga instructor, but she does social work, as well, and she works specifically with the geriatric community. For me to watch this level of life-long sensitivity to nurturing and caregiving, but at the same time, my mum has always been a free spirit."
"She's got dreadlocks and a nose ring. She just ran the LA Marathon. We can just have so much fun together, and yet, I'll still find so much solace in her support. That duality coexists the same way it would in a best friend," she added.
Since Prince Harry and Meghan settled in their Santa Barbara mansion in Montecito, they've been just a few hours' drive from Doria's LA property, meaning she's in close proximity when it comes to childcare. Doria Ragland was even honored by Meghan in Lilibet Diana's name as she paid a sweet tribute to her childhood in America.
On their blossoming relationship, royal commentator Jennie Bond previously claimed, "Harry seems to have an absolutely brilliant relationship with Doria, there's no doubt that Meghan and Doria are closer geographically, physically and perhaps emotionally as well than they ever have been."
"Doria apparently enjoys feeding wee Archie organic food and she's also a trained yoga instructor as well. I have these visions of them doing baby yoga together, so I think he's definitely a very cool, Californian baby," she reportedly added.
Who are Meghan Markle's siblings?
Meghan has two older half-siblings—Thomas Jr and Samantha. Meghan's father Thomas Markle had previously been married to Roslyn Markle and the pair had two children together. However, none of the extended family were invited to the royal wedding and relations have been tense ever since.
Despite having not seen her sister since 2008, Samantha has spoken openly about her disgust for Meghan. She previously told Radar, "The Royal Family would be appalled by what she's done to her own family. The truth would kill her relationship with Prince Harry, he wouldn't want to date her anymore because it puts her in a bad public light."
Meghan's brother also claimed he "warned" Prince Harry about his sister ahead of his appearance on Big Brother Australia VIP in 2021.
Thankfully palace insiders say the Duchess "doesn't care" what her estranged sister has to say, despite her regular public outbursts.
"Meghan doesn't care about what Samantha says. She truly tries to rise above it and not let it bother her, as they haven't had a relationship for years," a source told new! magazine. "Meghan doesn't read or pay attention to anything her father or half-sister says to the press, nor does her team."
Is Meghan Markle a Princess?
In light of Prince Harry and Meghan's confirmation they were never coming back to the Royal Family as working royals last year, many fans might be wondering whether Meghan is actually a princess. The answer is technically, yes, she is, although it's not quite that simple.
Meghan is rarely referred to as a princess, which is why it caused confusion among royal fans when her occupation was listed as "Princess of the United Kingdom" on the birth certificate of her children. Officially she is a Princess, although since she is a Princess by marriage and not because she was born into the Royal Family she isn't Princess Meghan (or even, technically Princess Rachel) in her own right.
Just like when Kate Middleton married Prince William, Meghan instead took on the female equivalent of her husband's senior title and became Duchess of Sussex. However, it's understood that she could also technically be called Princess Henry, just as Kate could be called Princess William.
This is similar to how the Queen's cousin, Prince Michael of Kent's wife is known as Princess Michael of Kent. This is because traditionally, all wives of male members of the British Royal Family take the style and title of their husbands.
Is Meghan Markle still a Duchess?
Many people ask are Prince Harry and Meghan Markle still royal? And the answer, once again, is yes. Although Prince Harry and Meghan Markle made the controversial decision to step back as senior royals back in 2020, the pair remain the Duke and Duchess of Sussex. Despite much conversation since they "stepped back", it's thought that the Queen is "very unlikely" to strip their titles.
Back in February 2021, they did, however, lose their right to use their HRH titles. A statement from the Palace said, "Following conversations with The Duke, The Queen has written confirming that in stepping away from the work of The Royal Family it is not possible to continue with the responsibilities and duties that come with a life of public service."
"The honorary military appointments and Royal patronages held by The Duke and Duchess will therefore be returned to Her Majesty, before being redistributed among working members of The Royal Family", it concluded.
Even if Meghan and Harry split up in the future, Meghan would still be entitled to use the Duchess of Sussex title up until the day she remarried, in a similar way that Princess Diana remained the Princess of Wales and Sarah Ferguson remains the Duchess of York.
What is Meghan Markle's net worth?
Back in 2019 Forbes estimated Meghan Markle's net worth to be approximately $2.2 million (£1.6 million) following her success on Suits. It is thought the Duchess earned an average of $57,500 (£42,000) per episode. Since breaking away from the royal family and aiming to become financially independent, the Duke and Duchess of Sussex are thought to be worth approximately $60 million (£44 million) thanks to their recent deals with Netflix, as well as Harry and Meghan's Spotify podcast.
Having quit royal life to pursue a more private life in America, the royals raised eyebrows with their decision to pursue deals with Netflix and Spotify. Prince Harry later claimed he was "cut off" financially following their decision to quit royal life and said he had no other choice but to invest in their new celebrity status in order to protect the savings he has from his late mother.
In that bombshell interview with Oprah Winfrey, Prince Harry said, "We didn't have a plan. [The Netflix deal] was suggested by somebody else by the point of where my family literally cut me off financially, and I had to afford security for us. [They cut me off] In the first quarter of 2020. But I've got what my mum left me, and, without that, we would not have been able to do this."
A Clarence House spokesperson responded to the claims with a statement that referenced the Sussexes' original intention to become "financially independent" from the rest of the Royal Family.
"As we'll all remember in January 2020 when the Duke and Duchess announced that they were going to move away from the working royal family, the Duke said that they would work towards becoming financially independent," it declared. "The Prince of Wales allocated a substantial sum to support them with this transition. That funding ceased in the summer of last year, and the couple are now financially independent."
Was Meghan Markle on Deal or No Deal?
Before landing the role of Rachel Zane on Suits, Meghan was a briefcase girl on the US version of Deal or No Deal from 2006-2007. Unlike the UK version of Deal or No Deal, previously hosted by Noel Edmonds, the amounts of money are stored in briefcases, each held by a model. Meghan held box number 24 during her time on Deal or No Deal. Other celebrities to have appeared on the show include John Legend's wife Chrissy Teigen, Selling Sunset star Amanza Smith and America's Next Top Model star Anchal Joseph.
What films has Meghan Markle been in?
Prior to her life-changing role on Suits, Meghan had small roles in some very well-known movies. So small, you may not remember seeing her. In 2005, Meghan played Natalie in A Lot Like Love—a romantic comedy with Ashton Kutcher. She is listed as "Hot Girl" on IMDB. Fast forward to 2011 and Meghan starred alongside Jennifer Aniston and Jason Bateman in Horrible Bosses—in which she played a courier girl.
What did Meghan Markle do when she was younger?
As well as pursuing her career in acting from a young age, Meghan has always been an advocate for female rights and was fighting for gender equality at the age of just 11. After seeing an advert that portrayed doing the dishes as a female-only job, Meghan wrote to Hilary Clinton, Linda Ellerby, Gloria Allred, and Proctor & Gamble—the people behind the advert.
Linda Ellerby, the host of the show Ellerby, explained, "It was absolutely clear that this young woman was strong in her beliefs. It didn't matter that she was 11 years old. She believed in women, she believed in her own power, and she wasn't afraid to reach out and say, 'I want my power, I want my rights.'"
Meghan was later invited onto Nickelodeon to call out the sexist advert when she was just 12 years old.
What is Meghan Markle's book about?
Meghan Markle recently followed in the footsteps of Sarah Ferguson and turned her hand to writing. Meghan penned a children's book named The Bench, which explores father-son relationships through the eyes of mothers. The Bench wasn't the first book written by Meghan, whose book titled, A Face Without Freckles… is a Night Without Stars, was published in 1996.
The Bench "explores another side of masculinity" and was inspired by a poem Meghan had written about the bond Prince Harry shares with their son, Archie.
Revealing details behind the book, Meghan said, "The Bench started as a poem I wrote for my husband on Father's Day, the month after Archie was born. That poem became this story."
She added, "My hope is that The Bench resonates with every family, no matter the make-up, as much as it does with mine."
Does Meghan Markle have Instagram?
Although Meghan Markle used to have a personal social media presence, she went on to close down her Facebook, Instagram and Twitter accounts in 2018. It is thought her previously-shared content didn't go hand-in-hand with life as a senior royal and wife of one of the Queen's grandchildren.
Whilst the Sussex Royal Instagram account previously used by Prince Harry and Meghan Markle in their former capacity as working royals has also since ceased to post. Sadly, despite leaving social media all those years ago, Meghan Markle was the victim of a toxic social media campaign, according to research last year.
Having been a victim of trolling online, Meghan has previously spoken a lot about social media and the impact it is having on our society as a whole.
"For my own self-preservation, I have not been on social media for a very long time," she once said. "I had a personal account years ago, which I closed down, and then we had one through the institution and our office that was in the U.K. that wasn't managed by us—that was a whole team—and so I think that comes with the territory for the job you have."
Although it served a purpose for Meghan once, she now finds it easier to distance herself from the noise of the internet by not having social media. "I've made a personal choice to not have any account, so I don't know what's out there, and in many ways that's helpful for me."
What is Meghan Markle doing now?
Since Meghan Markle and Prince Harry left their lives as working royals behind them and settled in the US, they have gone on to launch multiple highly exciting ventures. This includes their Archewell Audio podcast, though recent reports have suggested that Spotify are revamping Meghan and Harry's podcast after over a year without a new episode as the busy couple focused on other projects.
Meanwhile in 2021, Meghan's new Netflix project was announced as she turns her hand to executive producing on a show with the working title Pearl. Drawing inspiration from influential women from history, Meghan's animated show is understood to be celebrating and introducing young viewers to exceptional role models on-screen.
Big news from Archewell Productions today, who have announced a new @netflix animated series following the adventures of a 12-year-old girl, who has been inspired by influential women from history. Pearl (working title) is executive produced by Duchess Meghan and David Furnish. pic.twitter.com/s2ecHpWWfbJuly 14, 2021
See more
Introducing the project, Duchess Meghan declared, "Like many girls her age, our heroine Pearl is on a journey of self-discovery as she tries to overcome life's daily challenges. I'm thrilled that Archewell Productions, partnered with the powerhouse platform of Netflix, and these incredible producers, will together bring you this new animated series, which celebrates extraordinary women throughout history. David Furnish and I have been eager to bring this special series to light, and I am delighted we are able to announce it today."
No official release date has yet been confirmed, though fans will no doubt be excitedly anticipating just what empowering stories Meghan will help bring to life on-screen in Pearl.
Meghan and Prince Harry have also been vocal about many urgent global issues throughout their time in the royal spotlight and beyond. Last year, the Sussexes wrote an open letter to G20 leaders asking for vaccine equality amid the Covid-19 pandemic and spoke at Global Citizen Live. Whilst on February 24th 2022 the couple issued a heartfelt message to the people of Ukraine following Russia's recent invasion. They are the first members of the Royal Family to speak out about this devastating crisis.
Meanwhile on a family level, it's thought the royals could reunite with the Sussexes later this year for the Queen's Platinum Jubilee. If so, this would mark the first time that Meghan Markle has returned to the UK since her and Harry's royal exit and would allow the Queen to meet baby Lilibet for the first time.
Sign up to our free daily email for the latest royal and entertainment news, interesting opinion, expert advice on styling and beauty trends, and no-nonsense guides to the health and wellness questions you want answered.
Georgia writes across Woman & Home and Good to Know and specialises in all things royal. Previously labelled the "Queen of the royals," Georgia knows the whose who and what's what when it comes to the monarchy. When she's not eagerly following the royal family, Georgia enjoys shopping and self-care. She lives with this motto in mind; "if your dreams don't scare you, they aren't big enough."