Meghan Markle's wedding dress held this secret significance—everything you need to know about her stand-out look
Meghan Markle's wedding dress and veil honored her new royal role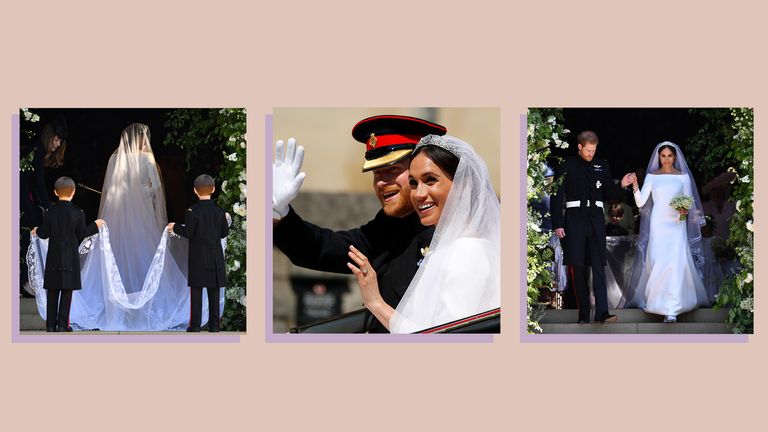 (Image credit: Future/Image 1: BEN STANSALL/AFP via Getty Images / Image 2: Photo by Phil Noble - WPA/Getty Images / Image 3: Photo by Ben STANSALL - WPA Pool/Getty Images)
Meghan Markle's wedding dress captured fans' imaginations across the world as millions of them watched her walk down the aisle of St George's Chapel to marry Prince Harry on May 19, 2018.
Meghan tied the knot with the Queen's grandson at the Windsor chapel, where Princess Eugenie's wedding to Jack Brooksbank was held just months later. In the lead-up to the historic event, there was a huge amount of speculation about which designer Meghan would choose to create her wedding dress. Whilst some royal fans predicted that Erdem, Ralph & Russo and Carolina Herrera could be involved, it seems that Sarah Burton of Alexander McQueen the most searched.
The British fashion designer crafted Kate Middleton's wedding dress, though for her own big day, Meghan instead opted for another deeply personal choice for her elegant ivory wedding dress and very meaningful veil. The look was finished to perfection with a tiara loaned to her by Her Majesty herself and the new Duchess of Sussex soon changed into an equally beautiful outfit for her wedding reception.
Here we reveal the significance behind Meghan Markle's wedding dress, veil and evening look...
Who designed Meghan Markle's wedding dress?
Meghan Markle's wedding dress was designed by acclaimed British designer Clare Waight Keller. Clare became the first female artistic director at historic French fashion house, Givenchy, in 2017 after previously working as creative head of Pringle of Scotland and Chloe.
She was a particularly perfect choice of designer for Meghan, who is well-known for championing fellow women and female causes, such as with her recent 40x40 initiative. For her 40th birthday, Meghan treated fans to a supposed first look at her daughter Lilibet in a surprise birthday video to launch 40x40, a mentorship program to support women re-entering the workforce.
And Meghan's passion for championing and supporting other women was also showcased in her choice of wedding dress.
At the time, Kensington Palace declared in a statement, "After meeting her earlier this year, Markle chose to work with [Waight-Keller] for her timeless and elegant aesthetic, impeccable tailoring and relaxed demeanour".
"Ms. Markle and Ms. Waight Keller worked closely together on the design. The dress epitomises a timeless minimal elegance referencing the codes of the iconic House of Givenchy and showcasing the expert craftsmanship of its world-renowned Parisian couture atelier founded in 1952," the statement added.
Whilst Meghan herself opened up about choosing Clare when she was filmed reuniting with her wedding dress in the 2018 ITV documentary, Queen of the World. Here the Duchess revealed that she always wanted a "delicate" look, but that she trusted Clare to create her perfect dress.
"We had two or three meetings talking about sketches and different ideas of how this could really come to life," Meghan explained.
"We knew we wanted it to be very delicate, but then after that point, I just said I trust her implicitly with what she did."
And not only did Clare's design wow fans around the world, Meghan Markle's wedding dress was made all the more meaningful given that Clare also sewed an extra special hidden detail into it. Speaking on the documentary, Meghan shared that some of the fabric from the dress she wore for her first date with Prince Harry was sewn into the final wedding gown as her "something blue".
Whilst Meghan's choice surprised the Queen, the dress certainly impressed all who saw her on her big day.
What was the meaning behind Meghan Markle's veil?
The five-metre long veil was the perfect finishing touch to her classic and elegant wedding dress, but, just as fans might have come to expect, it also holds a special significance. Made of silk tulle, it was embroidered with 53 individual flowers representing each of the countries of the Commonwealth.
Meghan's wedding dress designer Clare reportedly spent a lot of time researching the flora of each country and ensured that every flower was unique.
The Duchess of Sussex reflected on how important it was for her to include each of the 53 flowers as a new member of the Royal Family.
Speaking during ITV's Queen of the World, she declared, "It was important for me, especially now being part of the royal family, to have all 53 of the commonwealth countries incorporated."
Whilst Meghan shared that even Prince Harry didn't know about this poignant touch.
"I knew it would be a fun surprise for my now husband - he didn't know! He was really over the moon to find that I would make this choice for our day together, and I think the other members of the family had a similar reaction."
And that's not all, as Meghan also chose her two other favourite flowers to adorn the beautiful veil. Wintersweet found in Kensington Palace and the California poppy, a tribute to where she was born, also appeared on it.
The final effect of dress and veil together clearly impressed Meghan's new husband, with Prince Harry said to have whispered to her as she approached, "You look amazing, absolutely gorgeous."
How many wedding dresses did Meghan Markle have?
Meghan Markle's wedding dress was magnificent enough to capture the hearts of the nation, but it wasn't the only dress she wore on her big day. The Duchess of Sussex also had a second wedding dress, designed by British designer Stella McCartney. The stunning bespoke lily white crepe dress carried through a sense of elegance epitomised in her first dress, with a high, halter neck style.
Meghan Markle's stylish moments throughout her life have always captured fans' attention and for this occasion she wore satin Aquazzura shoes with nude mesh and baby blue soles. Meghan also accessorized the evening dress with a beautiful aquamarine ring that once belonged to her late mother-in-law Princess Diana.
Meghan wore this chic look to her and Prince Harry's wedding reception which was held at Frogmore House. The choice to wear Stella McCartney could also perhaps be seen as another nod to her and Prince Harry's union.
In another layer of potential meaning, Stella's father, musician Sir Paul McCartney, is British like Prince Harry, whilst Stella's mother Linda was American, like Meghan.
What did Meghan Markle's wedding dress cost?
Meghan Markle's wedding dress is estimated by some to have cost around $265,000 (£192,700), but it's not surprising it could have cost so much - the veil alone is said to have taken 3,900 hours to hand-embroider! Whilst the magnificent gown was certainly made from very costly materials, including double-bonded silk cady, cushioned by an underskirt in triple silk organza.
Meanwhile, her Stella McCartney second wedding dress which Meghan wore to her and Prince Harry's evening reception was estimated to have cost around $157,000 (£114,000).
However, a few months after the Sussexes' wedding in November 2018, replicas of the gown formed part of an exclusive Stella McCartney collection and came in at the more reasonable price of $4,813 (£3,500).
Meghan Markle's wedding tiara was loaned by the Queen
Whilst Meghan Markle's wedding dress worn for the ceremony was certainly magnificent in its own right, her wedding tiara really added the final touch to the outfit. And, just like all the other aspects of Meghan's wedding outfits, there was once again great meaning behind her choice.
Many people had speculated that the bride would opt for a tiara from the Spencer family collection. Prince Charles and Diana's relationship began in 1980 and blossomed into 15 years of marriage, with Princess Diana choosing to walk down the aisle wearing a Spencer tiara.
Princess Diana's jewelry was inherited by several key royals, with many pieces being worn by her daughters-in-law over the years, including the aquamarine ring Meghan wore with her evening wedding dress.
However, Meghan's wedding tiara belongs to the Queen and the decision to offer her precious items for Meghan to choose showcases their warm relationship.
The Queen reportedly presented Meghan with a selection of her favourite tiaras and asked her to choose one to wear on the big day. The dazzling piece of jewelry Meghan chose was originally owned by Prince Harry's great-great grandmother, Queen Mary.
The Queen Mary Diamond Bandeau Tiara is a delicate diamond head piece, passed onto Queen Elizabeth II by Queen Mary.
Queen Mary is understood to have had the piece constructed out of a brooch she had received as a gift from the County of Lincoln back in 1893 when she married King George V. The Bandeau Tiara has often been worn with a sapphire as the central stone, though Meghan was reportedly lent a diamond by the Queen for her wedding day.
As reported by Tatler, Meghan previously revealed why she chose this particular tiara in the audio recording for the royal wedding outfits exhibition at Windsor Castle in 2019.
"When it came to the tiara on the day I was very fortunate to be able to choose this very gorgeous Art Deco-style bandeau tiara," the Duchess of Sussex said.
"That was the one that I think as we tried them on stood out; I think it was just perfect because it was so clean and simple, and I think also at that point an extension to what Clare and I had been trying to do with the dress, which was have something that could be so incredibly timeless but still feel modern," she went on to explain.
Where did Meghan Markle get ready for her wedding?
Meghan Markle spent the night before her and Prince Harry's wedding at Cliveden House in Berkshire. It's understood that she and her mother Doria Ragland were the only ones to stay the night at the historic hotel. The best-selling Sussex biography by Omid Scobie and Carolyn Durand, Finding Freedom, has claimed that it was here that Meghan rose at 6am on the day of her wedding.
The biography, which will explore Prince Harry and Meghan's "heartbreak" at Prince Philip's death in a new epilogue, reportedly goes on to explain how Daniel Martin did the Meghan and Doria's makeup for the big day. This is something Daniel has reflected upon following the major event, revealing Prince Harry's sweet words about his wife at their fairytale wedding.
Now, three years later, the Duke and Duchess of Sussex have welcomed two children, Archie and Lilibet, and celebrated their third wedding anniversary in May.