Holly Willoughby—from TV presenter to national style icon
This Morning star Holly Willoughby is worth an estimated £11million, but how has she done it?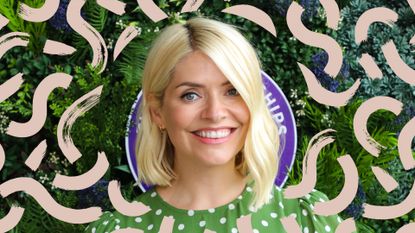 (Image credit: Getty Images/Future)
We shine a spotlight on powerful and inspiring women like Holly Willoughby to tell you more about their daily lives and most relatable moments. Our in-depth profiles cover everything from how these women juggle work and play, to their most important relationships, and the pearls of wisdom they have to offer other women—with no detail spared.
---
Holly Willoughby is one of the UK's biggest stars, much-loved by viewers across the country. After rising to fame alongside Philip Schofield on This Morning, Holly has gone on to become one of the country's most-loved presenters, TV personalities, and style icons.
As well as landing several hugely successful campaigns for Marks & Spencer, Holly has amassed a loyal army of followers who eagerly await details of her daily outfits, like where Holly Willoughby's dresses are from, otherwise known as #HWStyle.
But while you may know Holly's face and be familiar with her friendly and often tongue-in-cheek presenting style, there are a few things you might not know about the star...
Holly Willoughby's style evolution
Holly's style has certainly evolved over the years, with the star having blossomed from children's TV presenter to arguably one of the most fashionable women in the industry. When Holly's career began back in 2000, her uniform largely consisted of strappy vest tops and skirts to host S Club TV on CITV before moving on to Ministry of Mayhem.
Fast forward nine years to 2009 when This Morning re-launched and Holly Willoughby took over from Fern Britton, and Holly's style was much more conservative—often opting for longer hemlines, no doubt in a bid to break away from her children's TV persona.
With Holly fronting both This Morning and regular Saturday evening slots on the likes of Dancing on Ice, you'll notice how she adapted her style to suit the show—regularly playing it safe during daytime hours and pushing the boundaries at other points, sometimes dividing fashion fans and sparking complaints.
Now, 12 years later and a staple part of the This Morning team, Holly's style exudes personality and her transformation has been truly amazing. She's swapped the less adventurous colors such as black, greens, and blues for brighter colors now, with lots of florals, skirt and jumper combos, and pretty dresses.
The star enlisted a new stylist, Angie Smith, back in 2018, who people credit for her glow-up. Holly herself even praised her glam squad during an interview with Hello! (opens in new tab)
"I've got a really wonderful glam team who I've worked with for a long time now. I listen to literally everything they say," Holly explained."Angie has helped me step out of my comfort zone a million times and given me the confidence to be a bit braver with stuff."
But, since 2020 Holly has been working with another new stylist, Danielle Whiteman, as Angie is currently on maternity leave. Danielle used to work alongside Angie, so she no doubt picked up a lot of her inspiration from Holly's former stylist.
She's kept Holly looking super glam, whilst incorporating an element of sustainability as Holly often rents her outfits from sustainable fashion platforms such as Hurr.
As much as you might think Holly is a style icon, the star previously revealed she was "intimidated" by fashion.
"It's really weird. I like clothes — I've gone through a sort of rollercoaster with fashion really because I find fashion quite scary. I used to be quite intimidated by it," she told Hello! "But yeah, I've got more into it and I think as I've got older I've got used to what does work and what doesn't. I've also gotten a bit braver as well about trying different things."
Who is Holly Willoughby's husband?
Holly married TV producer Dan Baldwin back in 2007, three years after they met on the set of children's show Ministry of Mayhem. The pair were friends for six months before they started dating and kept their romance a secret for eight months before revealing it to anyone.
Holly previously admitted to woman&home that when she first met Dan, she didn't fancy him at all. "I didn't even think about it. I don't think he could have fancied me either because it was such a genuine friendship."
The couple got engaged in 2006, on the day they moved in together in London. And according to Holly, it was a total surprise. "I know a lot of people almost have to force their boyfriend to propose but with Dan, it was such a shock," she admitted. "I knew I'd be with him for the rest of my life if he'd have me, but nothing can ever prepare you for what it's like when someone asks you. I can't think of any other big decision you make in your life that quickly."
Holly and Dan tied the knot in August 2007, at Amberley Castle in West Sussex with famous faces such as Fearne Cotton and Dermot O'Leary by their sides. And Holly still fondly describes it as "one of the best days of my life."
But, even though the pair have been married for 14 years now, Holly recently confessed that a happy marriage is something you definitely have to work at.
"You're an idiot if you think you just get married and then you tick along happily ever after for the rest of your life. At the same time, it shouldn't be too difficult, but I do believe tiredness has a lot to answer for," she told Fabulous magazine (opens in new tab). Like many other couples up and down the country, the coronavirus pandemic meant Holly, 39, and her husband, Dan, spent a lot more time together than normal over the past 18 months.
With Holly still working at This Morning during the lockdown, Dan was left in charge of their three children. And the TV star admitted he did a wonderful job. "I also think that doing little nice things gives you a bit of leeway in other areas as well. Like, if I'm doing something and Dan will come and make me a cup of tea, or I'll come back and he'll have put the washing away and I haven't asked him," she admitted during a phone-in on This Morning. "Then I sort of turn a blind eye to all these other things, so I think doing little things to help makes a big difference."
Having been a TV producer for many years, Dan is now the managing director of Hungry Bear Media and it sounds like Holly is his biggest fan. "He's got his own production company, which is hugely successful, and he's doing brilliantly. We're very lucky, that's for sure," she told Fabulous magazine.
How many children does Holly Willoughby have?
Holly and her husband, Dan, share three children—Harry, 12, Belle, 10, and Chester, six—but try and keep their lives as private as possible. As well as updating fans regularly with her daily outfits on Instagram, Holly often posts glimpses into family life at home with her three children. Although Holly never shares their faces, the TV star often reveals snippets of her other life as a mum.
Juggling a hectic work schedule and a family has been something Holly has spoken at length about, claiming she feels mum guilt at the milestones she's missed over the years. Holly made the admission in an interview with Red Magazine (opens in new tab), saying she found balancing her career and motherhood a "challenge".
She confessed, "Becoming a mum was the only thing I knew I definitely wanted when I was growing up, but the image I had never involved me being a working mum. That's the biggest challenge. I've been riddled with guilt about getting that part wrong. You love them so much and you don't want to mess them up."
On missing some of her children's biggest moments, Holly admitted, "The truth is, I didn't do the drop-off on Harry's or Belle's first day of school because I was working. I hate that I wasn't there because those are memories you can't get back.
"But I've realised the only way that I can combat those feelings is to accept that sometimes I don't get it right – and that's fine."
Getting the balance wrong is something Holly has always feared and last year the star decided to cut ties with her showbiz agent, YMU, and launch her own all-female team to manage her busy schedule, allowing Holly more autonomy over her time.
Who is Holly Willoughby's sister?
Holly has just one sibling Kelly, 42, and the pair share an incredibly close bond, with Holly previously describing the pair as "more like friends than sisters".
The two siblings live just down the road from each other and regularly meet up with their children. In an interview with The Guardian (opens in new tab), she said, "We even bought a place together in Putney. You would expect some fireworks, but because we have the same friends and have different roles within that group, none of that ever came into it. I'm more likely to be the one to say, 'everyone back to mine' and cook for everyone, whereas she's much better at tidying up."
On their differences, Kelly—who also works in the TV industry—confessed, "I'm organized and regimented; Holly is messy. Like chalk and cheese, we excelled at different things at school. She loved drama and was really good at art. I loved English. Even to look at we're polar opposites. She's blonde and I'm dark."
And it turns out success runs in the Willoughby genes as Holly isn't the only one doing well in life. Kelly is a successful author and has co-written several children's books with Holly.
Holly Willoughby's sister previously said how writing children's books together have long been on the agenda for the pair. She admitted, "We used to make up stories all the time, so when the time was right we started writing books together."
What is Holly Willoughby's age?
Born in Brighton in 1981, Holly turned 40 on 10th February—making her an Aquarian. Women born under this sign are thought to be curious, affectionate, and frank—which certainly rings true for her kind, but straight-talking, manner, on This Morning.
Much like fellow style icon Meghan Markle who recently hit 40, turning 40 was a huge milestone for Holly. And her co-star and best friend, Philip Schofield certainly made sure she celebrated in style.
Despite covid-19 restrictions banning large get-togethers, the workmates managed to get around the rules by hosting a surprise party for Holly's 40th birthday at work. Her ITV family pulled out all the stops with balloons, light-up letters, and lots of singing, Holly was reduced to tears. Overwhelmed by the amazing gesture, Holly tearfully said, "Thank you. I'm just going to go in here and cry."
---
More from woman&home:
---
Are Holly Willoughby and Philip Schofield friends?
Yes, the pair are best friends both on and off camera. Having worked alongside each other for 14 years, both on This Morning and Dancing on Ice, it's no surprise Phil and Holly have formed a strong bond and regularly hang out with each other outside of work.
The duo are well-known for their boozy antics and even go on holidays together. Despite their obvious on-screen chemistry, Holly and Phil were hit by rumours of a feud back in 2020 after former Dancing on Ice judge, Jason Gardiner, labelled them "fake".
Hitting back at claims, Holly told Closer magazine, "There's nothing to defend. We ring each other and talk to each other all the time anyway, about this and other things. We know what we're like. It would be impossible for us to fake the giggles.
"I'm on the telly for two and a half hours - let me tell you, I'm not that good an actress. If I was, I'd be doing something else."
In 2020, any suggestion of a feud between Holly and Phil was forgotten as Phil described the mum-of-three as his rock when he came out as gay in 2020.
Speaking on The One Show, Phil, 59, said, "We'd had a big lead up to that moment and when I knew what I had to do Holly was one of the first people I told," he explained.
"She is such a wise person, she has got such a calm, sensitive aura to her. We had to figure out how we were going to do something like that, and that's the worst thing about it If you're going to do something in public, it had to be public."
What is Holly Willoughby's net worth?
Having carved an incredibly successful career for herself, Holly is now said to be the highest-paid female presenter in the UK and earns an estimated £30,000 a week.
The This Morning star has a huge range of different ventures under the belt, with presenting as just one of them, so it's no surprise that Holly Willoughby's net worth is now suspected to be around £11 million.
Although she primarily presents the award-winning daytime show, Holly works on Dancing on Ice, Take Off with Bradley & Holly and recently I'm A Celebrity...Get Me Out Of Here! during Ant McPartlin's hiatus.
In addition to all of that, the star has also co-written a series of children's books with her sister and owns a production company—Peaches Productions—which reportedly turns over around £1.5 million a year.
Endorsement deals are also a pretty lucrative area for Holly, who regularly works with companies such as M&S to front fashion collections. Her contract with Garnier as their brand ambassador is also a huge money-maker and a big contributor to her fortune.
What would Holly Willoughby bring with her on a desert island?
Apparently, the TV presenter is quite a fan of the royal family. In a video with The Sun, the presenter revealed she has a pretty big "fascination" with two younger members of the royal family and would love to get to know them more if stranded on a desert island.
When asked who she would take with her for a week (not including her own celebrity friends), she said, "I'm going to go for Kate Middleton, because I'm slightly obsessed with her anyway, so if I can get her on a desert island, I can ask her all the stuff I need to know."
Georgia writes across Woman & Home and Good to Know and specialises in all things royal. Previously labelled the "Queen of the royals," Georgia knows the whose who and what's what when it comes to the monarchy. When she's not eagerly following the royal family, Georgia enjoys shopping and self-care. She lives with this motto in mind; "if your dreams don't scare you, they aren't big enough."