Trinny Woodall's rise from fashion guru to makeup millionaire with a $250million empire
Trinny Woodall's a woman of many talents, and we're all ears when it comes to the secret of her success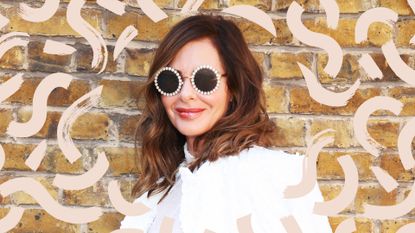 (Image credit: Getty Images)
We shine a spotlight on powerful and inspiring women like Trinny Woodall to tell you more about their daily lives and most relatable moments. Our in-depth profiles cover everything from how these women juggle work and play, to their most important relationships, and the pearls of wisdom they have to offer other women—with no detail spared.
---
When the name Trinny Woodall is mentioned, we inevitably think of her wider known moniker as part of the famous fashion duo—Trinny and Susannah. Trinny shot to fame, alongside Susannah Constantine, in the late '90s and early 2000s, following the success of their BBC TV show What Not To Wear, and later, on ITV, Trinny and Susannah Undress.
The pair went on to launch a series of successful books for women, full of styling tips and life hacks. What followed was a whirlwind of parties, money, and multiple guest stints on popular shows such as This Morning, Richard and Judy, and The Jonathan Ross Show.
But, when the pace slowed down for the duo and rumors of tension between the pals began to circulate, Trinny took her brand in a whole new direction. Making the jump from fashion to beauty, Trinny launched her own business, Trinny London—a solution-based makeup brand for midlifers—in 2017 and enjoyed instant success in the market. It is now estimated to be worth a staggering $250million.
So how has Trinny turned things around? Perhaps it's her honest take on what's needed from makeup for many women over 40? Or the relatable and approachable advice she offers on her hugely successful YouTube channel T R I N N Y? One thing is for sure though, Trinny's showing no signs of slowing down when it comes to building her empire.
The inspiration behind Trinny Woodall's makeup line
Trinny London (opens in new tab)—the "ultimate easy, modern, do-it-everywhere, premium beauty brand" that encourages women to "rethink your routine" has become a makeup line that women identify with. Trinny founded Trinny London in 2017 with the mission to give every individual the confidence to be their best. Since then it's developed a cult following, with fans swearing by hero products such as Trinny's legendary Miracle Blur Lip and Line Filler, a product that sells out time and time again.
Trinny noticed there was a gap in the market for a suitable make-up brand for middle-aged shoppers that were being "ignored" by the main market, so she created a solution to the problem. She explained to Forbes (opens in new tab), "When I first went to Unilever, pitching for funding, I remember Olivier [Garel], who is the lead of Unilever Ventures, saying 'Who's your target market?' and I said, 'it's more an attitude than an age thing'.
"I don't feel like people should be compartmentalized by age, because when I see a brand is selling menopausal creams—as a menopausal woman—it's the last thing I want to buy. There's a lot of women, 50 to 60, who grew up in an age of beauty where everything was so retouched and the words used were 'anti-aging, 'youth making, you know?' I want to [Trinny mock vomits] over these words. They're so patronizing."
The mum-of-one is a big believer that everyone should be different and there's not a one size fits all formula when it comes to beauty. "I don't feel we should all go down the path of life in the same way, because I've done Botox since I was 35. Everyone should be able to choose the way they go down it, with the tools they want."
This is why Trinny London's website currently uses a portfolio of 120 normal women, none of whom are models. Having specialized in fashion for so many years, many questioned Trinny's bold decision to switch paths. On what inspired her to move into beauty, Trinny told Forbes, "Whenever I've made over a woman, or she's been on one of our shows, the first thing she notices is her makeup.
"A makeover for a woman is not the clothing. It's everything together. It's her hair, her makeup, her new skincare routine, sometimes her clothing—how she perceives herself as a result of all those things coming together."
The business has gone from strength to strength in lockdown, becoming Europe's fastest-growing direct-to-consumer startup, with a $250 million [£180 million] valuation in 2021, according to reporting from Forbes.
What happens on Trinny Woodall's YouTube channel?
Trinny already had an impressive following on Instagram (opens in new tab), before utilizing her engaged audience and creating a YouTube channel filled with informative video content, named simply T R I N N Y (opens in new tab). Since its launch in March 2015, Trinny's insight into the fashion and beauty world through short, relatable lifestyle videos has earned her a huge 49million views (opens in new tab). The entrepreneur has also amassed a loyal legion of fans—310,000 subscribers to be precise—all of whom love her clever tips and styling advice.
She posts regular videos about her favorite British clothing brands and that will luxe up your wardrobe, achievable style, beauty products she's picked up, skincare hauls, and everyday adventures with her daughter, Lyla. It's heartwarming to see the mother-and-daughter duo in action.
Trinny's also previously treated fans to a sneak-peak of her wardrobe with a wardrobe tour and an insight into her exercise routine. You can expect real, relatable advice from Trinny on her YouTube platform that will help you make better choices on what to wear and what fashion and beauty buys are worth investing in.
What is Trinny Woodall's net worth?
While it's hard to calculate exactly how much the star is worth, one thing we know for sure is that business is booming for Trinny London, with the company reportedly worth $250million [£180million] as it stands, according to Forbes.
While lockdown hugely affected lots of businesses up and down the country, Trinny recently told Daily Telegraph (opens in new tab) that annual revenue jumped in the UK from £500,000 in 2016 to £26million this year. So what's the secret to her success? Trinny has pivoted accordingly. When popularity started to dwindle for her and Susannah's fashion format, Trinny looked for the next opportunity.
Another factor is her understanding of the women she's marketing to—and gaining their trust. "You know, purchasing is about trust," she says. "And building that trust is something I probably learned to do in the 2000s, because whenever you're filming you have to get to know somebody—to create that intimacy, to see what really makes them tick—very quickly. And you might have met them two minutes before."
And above all, Trinny has put the hours in. And thankfully has a boyfriend who understands that level of commitment. "I work hard. I've worked hard all my life. I work six days a week, and 12-hour days. You've got to do that when you start a business. That can be testing on a relationship, but he knows what it's like," Trinny told Daily Telegraph.
Why did Trinny and Susannah fall out?
Reportedly, the pair never actually got on like a house on fire when they first met, despite their natural chemistry on telly. Trinny and Susannah met at a dinner party hosted by David, Viscount Linley back in 1994. Apparently, the pair immediately dismissed each other—Trinny believed Susannah was a "stuck-up aristocrat," while Susannah thought of Trinny as "Eurotrash". Ouch.
However, the fashionable pair were soon able to put their differences aside and came together professionally to write a weekly style guide for the Daily Telegraph, called Ready To Wear, which went on to run for seven years.
Although their style column proved popular, the girl's careers seemed to take a bit of a nosedive with their next move. They went on to co-found Ready2shop.com, a fashion advice business, but shortly after its launch, the firm ceased trading.
Inspired by the name, Trinny and Susanna later penned a fashion advice book Ready 2 Dress, but sadly, the book again proved unsuccessful. 13,000 copies of their book were even destroyed! Thankfully, BBC Two took a chance on the fashionistas, offering them the show What Not To Wear and the pair went on to work together for a number of years before parting ways professionally in 2014.
The pair never officially 'fell out' but have spoken openly about how their relationship mirrored that of a marriage, with periods of love and hate between the two of them. "Our relationship was a marriage. I love you and hate you in total measures," Trinny explained on Susannah's podcast, My Wardrobe Malfunction (opens in new tab).
"You probably totally love me and I totally love you, but we know each other so well, and the ease of that now when you're not every day working together. When we were working together there were days when it would just kill you. That habit they have, like 'Why are you doing that again, why are you acting out again'." Both described the time after their split as a period of "mourning" and described how when they parted ways it was like going through a divorce.
Susanna—who has gone on to become an author—said, "I remember you [Trinny] saying that you had gone to see someone, and they said you were mourning two things—you were mourning Johnny [Trinny's late husband] and also the end of our partnership."
Susannah went as far as to say she had to find herself again after the pair stopped working together. "Now I look back, I went through the same thing, through a period of mourning and insecurity," she admitted. "It was literally like my right side had been taken away from me. It's taken a long time to find out who I am without you."
Thankfully now the pair are out the other side and pleased for one another's success. "I cannot tell you how proud I am of my friend. There are 50 people working for her in the most exquisite place," Susannah revealed. "If we had been still together this would never have happened."
---
More from woman&home:
---
Does Trinny Woodall have a husband?
Trinny Woodall was previously married to Johnny Elichaoff from 1999 to 2009, with whom she shares a daughter Lyla, now 17. The couple stayed close despite their split and amicably co-parented their daughter together.
However, their ten-year marriage was marred with struggles as Jonny suffered from addiction issues and the couple had difficulties conceiving. Trinny went through nine rounds of IVF and multiple miscarriages before their daughter was born.
Despite their ten-year marriage, Trinny previously described the "fear" that came with living with an addict. "He could be wonderful, but when you live with an addict you live with fear," she previously told You. "You dread the next phone call. When I decided to divorce him it was a big decision because he wasn't well, but there had been years of Johnny not being well."
In 2014, Trinny's ex-husband tragically fell to his death from the roof of a shopping center in London after he "lost everything" following a string of failed investments. He had suffered a long addiction to painkillers following a motorbike accident in his 30s. Trinny still regularly pays tribute to the father of her daughter on the anniversary of his death, most recently saying, "Forever in our hearts".
Trinny is now dating Nigella Lawson's ex, Charles Saatchi.
How long has Trinny Woodall been with Charles Saatchi?
Trinny, 57, and Charles, 78, have been in a relationship since 2013, and they currently live together in London.
The British businessman is thought to be worth an estimated $200million, and Trinny previously said it bothers her when people think he "bankrolls" her lifestyle.
Opening up on The Telegraph's Imposter podcast (opens in new tab), she said, "Any friend who's known me for years will know I'm the most self-sufficient person they've ever met. I know how hard I work. I know I pay for every single thing in my life, apart from the roof over my head because I live with Charles. Every single thing I pay for and every element of what I put against business expenses I'm careful of."
Does Trinny Woodall have any children?
Trinny has one daughter, Lyla Elichaoff, from her previous marriage to Johnny Elichaoff. Lyla is 17-years-old and has been studying her A-levels at boarding school. She chose drama, textiles, and photography and hopes to study film at the Tisch School of Arts in New York.
Having spent most of her education away at boarding school, Trinny and Lyla rarely spend too much time together—so lockdown proved to be a real test. On whether it brought them closer, Lyla told You (opens in new tab) magazine, "'Not at all. It was so annoying because, in my whole life, we'd never been together that long. I've been at boarding school. She's been working. And it was just too much. Nice at the beginning, but after a month, I'd had enough."
Thankfully the duo is able to bond over their shared passion for fashion. And, thanks to her track history as a fashion guru, Trinny is pretty great at buying gifts."She doesn't ever tell me not to wear stuff," Lyla explained. "I can choose. She doesn't really have much control over my clothes. She'll buy me things, but they'll be nice because she has good fashion sense."
In fact, the pair enjoy such a close bond, Lyla often borrows items from Trinny's wardrobe—except her designer Balenciaga jacket, which is officially off-limits. In traditional mother-and-daughter fashion, the pair bickered about it during a joint interview with the Daily Mail (opens in new tab). "I just feel it's an expensive item and I'd not want you to lose it," Trinny quipped.
Having spent years trying to fix women's relationships with their clothes and bodies during her time on What Not To Wear, it's no doubt a breath of fresh air to hear Lyla speak so freely about her own self-confidence.
On why she'd choose sportswear over designer clothing, Lyla said, "They look really cool, but there's no way I could ever afford them. They're so expensive, it's a joke. You can literally buy a car for the price of some things. It's comfy. Comfort is key." To which Trinny replied, "I love that she's doing this chilled, casual, comfy thing. It's not about obsessive body image, or about showing off. I think it's really refreshing."
Lyla regularly makes an appearance on Trinny's YouTube channel (opens in new tab) offering a candid take on clothes and style, as well as her relationship with her mum.
Who are Trinny Woodall's parents and sister?
Trinny was born on 8 February 1964 in Marylebone, London to her mother, Anne Woodall. Little is known about Trinny's father except that he was a banker and Anne was his second wife.
At the age of six, Trinny was sent to a boarding school. She remained in boarding school until the age of 16. She was the youngest of three children and also shares three half-siblings from her father's first marriage. But, despite having six siblings, Trinny said she felt quite alone growing up.
She previously told the Belfast Telegraph (opens in new tab), "I saw those other siblings half the time, as they were living in Canada. Also, my parents traveled a lot and when I was very young, I was at home while my siblings were at boarding school, so I was alone a lot. And then I was in boarding school from six and a half, so I did feel quite a solitary child."
Trinny enjoyed a fairly lavish upbringing as her wealthy family history dates back a long time. Although her father was wealthy as a banker, her grandfather also enjoyed an incredibly comfortable lifestyle as controller of the British steel industry. He was later made Managing Director of the British Iron and Steel Foundation.
Trinny enjoyed a close relationship with her mother before she sadly passed away in October 2020, following a battle with vascular dementia.
Documenting how difficult the last few months of her mother's life were, Trinny told the Daily Mail (opens in new tab), "When I visit her and she's just sitting in a chair unable to move independently, it makes me think about what will happen to me in the next 30 years. It seems as though you get to a stage where it's too late to make your own decisions because your body has done that for you. I want to be able to keep making those choices."
What has Trinny Woodall said about her alcohol addiction?
Before hitting TV stardom, at 26, Trinny went through a difficult time and struggled with both drug and alcohol addiction.
It started with drugs when she was just 16 and alcohol became a secondary addiction years later in her twenties. Opening up about her struggles at a recent debate on substance abuse for the No Filter Podcast with Mia Freedman, Trinny explained, "I had a bottle of vodka a night and I took cocaine and I started to get into trouble. It ended in me losing jobs, which I pretended were better than they were and I ended up feeling lonely and isolated."
On how she finally realized enough was enough, Trinny—who is now a patron for Hope House, a women-only rehabilitation center in London—told The Independent (opens in new tab), "I'd had enough. I felt so low. There was an exact moment when I just knew I didn't want to do it anymore. I was out with two very good friends of mine, who are now dead. They both died of alcoholism."
Looking back on the moment she realized things needed to change, she confessed, "It was about 3am and I thought, 'I don't want to do this. I have to stop'. I'd felt that before, a hundred times, but I woke up the next morning and I still didn't want to do it. And that was the first time in ten years I'd had that strength of feeling."
She has now been sober for 31 years. With her ex-husband and father of her daughter, Johnny Elichaoff, having also suffered from addiction issues, Trinny recently revealed it's something she fears for Lyla.
"It makes me question what I can do for my daughter," she said. "Her mother and her father both suffer from the disease of addiction. So what are her chances? She could grow up and be perfect. I do believe it's in her. I see elements in her behavior that are addictive with things. I want to make sure she is nurtured, a nurtured human being."
Georgia writes across Woman & Home and Good to Know and specialises in all things royal. Previously labelled the "Queen of the royals," Georgia knows the whose who and what's what when it comes to the monarchy. When she's not eagerly following the royal family, Georgia enjoys shopping and self-care. She lives with this motto in mind; "if your dreams don't scare you, they aren't big enough."