Legal expert explains how Thomas Markle could sue Meghan Markle to see grandchildren
Thomas Markle intensified ongoing feud with suggestions he can sue over access to his grandchildren—legal expert explains what this could mean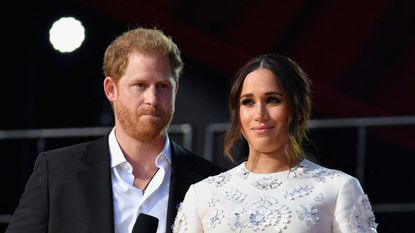 (Image credit: Getty)
Thomas Markle, who's been estranged from Meghan Markle since before her 2018 wedding to Prince Harry, made the claims while appearing, via video link, on UK morning show Good Morning Britain (GMB).
Thomas Markle claims 'several lawyers' have suggested he's able to sue over access to his grandchildren, but he doesn't want things to go that far.
Meghan Markle's father made the claims as he appeared on UK TV.
---
The claims come only months after the Sussexes welcomed Lilibet Diana Mountbatten-Windsor as he revealed that, "several lawyers," in California have told him he could win if he chooses to take legal action.
TV host Susanna Reid said to Thomas, "You have two new grandchildren, who you must be afraid you won't meet."
To which he replied, "I'm very concerned about that, I'd really love to see my grandchildren. People have suggested in California that I sue to see my kids and I think if I did that I'd be a hypocrite. I'd be doing the same thing as Meghan and Harry are doing."
He continued, "I don't want to include my grandchildren in this kind of situation. I want to see my grandchildren with friendly parents and friendship all around."
His latest public attack on Meghan garnered a backlash from viewers, including TV presenter Alex Beresford.
"I don't understand Thomas Markle's motivation?" he said. "He says he wants to make up with his daughter, which I'm sure he does, but each time he does an interview he slates her and 'reveals' something new, then expects Meghan to let him back in. It hasn't worked thus far."
Jennifer Curtis, Partner at Maguire Family Law (opens in new tab), spoke to woman&home about Thomas' claims. She explains that there's a lot to be considered if he were to take legal action and how she would advise him if he was her client.
To begin with, In the US, there are specific visitation rights for grandparents that can be applied for but these vary from state to state, so it's a difficult one to answer in a straightforward way.
As well as this, she's keen to highlight that the nature and extent of a grandparent's relationship with their grandchildren can vary significantly.
"At one end, you perhaps have grandparents who were providing a considerable amount of childcare during the parents' relationship, who have then been pushed aside due to relationship breakdown," she explains. "In those cases, the relationship between the grandparents and grandchildren may already be very strong and established, and what is needed is parental support of that."
Jennifer continues, "At the other end, you have cases such as Thomas Markle's where the issues between the adults have been there from the start of the children's lives. In those sorts of cases, it is important that any grandparent who is considering such an application makes sure their motivations center on the value to the children of a relationship with them, rather than just their own wish to assert what they see as their rights as a grandparent."
As well as the relationships themselves being considered, the family law expert reminds woman&home that there's a lot to think about in terms of Geography.
Jennifer says, "The first consideration when looking at court proceedings regarding children is to look at where the children are 'habitually resident'. It is recognized internationally that court cases regarding children should take place in the country in which they usually live, where they go to school, where they see their GP etc."
The reason for this is because the courts are concerned with the children's welfare and that can sometimes involve making inquiries with third parties (such as teachers, doctors) to establish le best possible outcome for the children.
"In this case, I would be advising Thomas that as things stand, Archie and Lilibet would appear, at face value, to be habitually resident in California," she continues.
However, considering the Sussexes could, in theory, relocate to the UK in the future. Although it's been revealed that the Queen will not be at Lilibet's christening, rather than Windsor Castle in England as was previously assumed—Meghan and Prince Harry maintain a close relationship with the head of the royal family. It also appears that they are reconnecting with the rest of the family too—so a move isn't entirely out of the question.
Jennifer adds that there are some other considerations she would highlight to him, in case a move should happen.
"If he has already obtained an order in the US to be able to spend time with the children, then he might want to explore whether he can apply for a mirror order here to ensure continuity of the arrangements and to avoid any difficulties with enforcement. A mirror order is one where the English court would make an English order which incorporates the terms of the US order so that it would be binding here too."
However, if he had not been able to start a case in the US, then she would advise him of his options which, if matters could not be agreed upon, would be to make an application to the English court for a Child Arrangements Order.
There are many steps and processes in seeking a Child Arrangements Order—which can be a lengthy and stressful experience for all involved. In light of this, before any court proceedings happen, mediation would be used as a way of coming to an agreement.
Aoife is Junior News Editor at woman&home.
She's an Irish journalist and writer with a background in creative writing, comedy, and TV production.
Formerly Aoife was a contributing writer at Bustle and her words can be found in the Metro, Huffpost, Delicious, Imperica, EVOKE and her poetry features in the Queer Life, Queer Love anthology.
Outside of work you might bump into her at a garden center, charity shop, yoga studio, lifting heavy weights, or (most likely) supping/eating some sort of delicious drink/meal.