This Aperol Spritz Black Friday deal is helping me pretend that lockdown didn't happen, and that really I'm sipping cocktails in the Tuscan sun
Excuse me while I pretend that it's 2019 and I'm drinking an Aperol Spritz in the Italian countryside.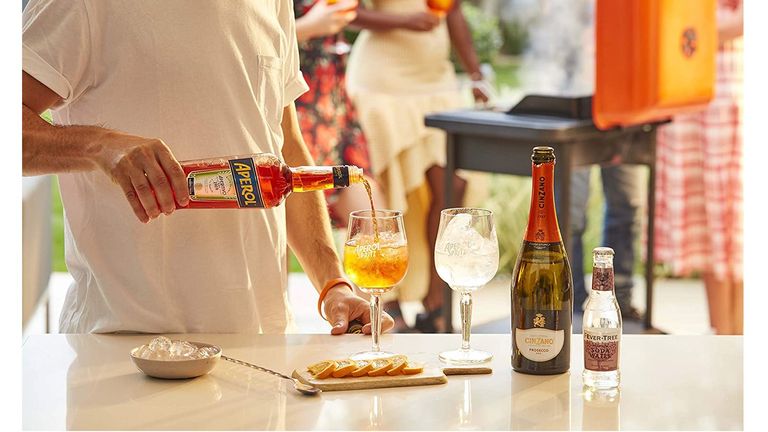 (Image credit: Amazon)
By Kate McCusker published
Oh, summer 2019: the year of countless glasses of Aperol Spritz, heatwaves and gratingly catchy pop music. What happened?
Summer 2019 was a magnum opus. Lizzo was on the radio, parks were packed with sunbathers and Aperol was on tap in all the bars worth going to. I'm still in denial that it's ended.
Needless to say the summers since have been decidedly less worth remembering.
And I think I've come up with an ingenious way to pretend it didn't happen at all: enter Amazon's amazing Black Friday deal on this Aperol Spritz Gift Pack – a throwback to much simpler times.
Containing a full-sized bottle of the classic Italian liqueur and two gorgeous glasses, I'm ringing in the new year early – by pretending this one didn't happen.
Shop Aperol Spritz Black Friday deals in the UK
Shop Aperol Spritz Black Friday deals in the US
Aperol Spritz Gift Pack including Aperol 70cl & 2 Aperol Spritz glasses: £25.00 £19.00 (save 24%) | Amazon
Throwback to summer (not this one, which categorically didn't count) with this brilliant 24% off Aperol Gift Pack deal at Amazon. Containing the iconic liqueur alongside two branded glasses, this would make the perfect Christmas gift for the Aperol lover in your life. (Yes, I'm counting myself in that category.) Just add your favourite prosecco, a dash of soda water, an orange slice and voilà – suddenly 2020 didn't happen.
Not only am I adding this to basket for myself, but I'm sending it to friends to remind them of better times past, and better times ahead. Even if we have to make do with pretending in the meantime.
(I'm also snapping up a summery fragrance and perhaps some fake tan in today's best Black Friday beauty deals, for full effect.)
Come New Year's Eve, expect to find me with the central heating blasting, Call Me By Your Name on the TV, every lamp I own pointing towards my face to simulate sunlight, and a huge Aperol Spritz in hand. (Would sunglasses be overdoing it?)
And I'd wholeheartedly recommend you do the same. 2020? I don't even know her.
Kate is a freelance contributor to woman&home, covering everything she loves most: fashion, fiction, and fancy face cream. If she's not working, she's probably reading, feeding her online shopping addiction, or judging the taste level of celebrity houses (10/10 for Dakota Johnson, 2/10 for Tan France).

She graduated from Central Saint Martins in 2020 with a BA in fashion journalism, and her byline has also appeared in British Vogue, The Times, and Marie Claire.