Tarotscope June 2023: What do the cards have in store for your star sign this month?
Your June tarotscope, read by expert Tree Carr, combines astrology and tarot cards to help you plan for the month ahead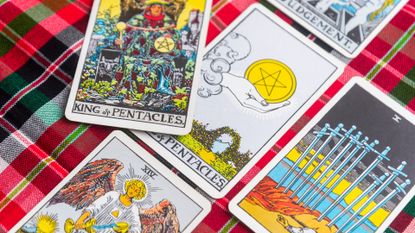 (Image credit: bigjom/Getty Images)
woman&home newsletter
Sign up to our free daily email for the latest royal and entertainment news, interesting opinion, expert advice on styling and beauty trends, and no-nonsense guides to the health and wellness questions you want answered.
Thank you for signing up to Woman & Home. You will receive a verification email shortly.
There was a problem. Please refresh the page and try again.
Happy June! Summer is on its way and all the world smells of roses, so will your tarotscope June 2023 smell quite so sweet?
The sixth month of the Gregorian calendar, June hits us in mt midst of Gemini season 2023. The origins of the month of June are connected to the Roman Goddess of Marriage, Juno. It's probably why so many people have their weddings during this lively and happy month.
Being the sixth month, it is also connected to the sixth archetype card of the tarot deck: The Lovers (ruled by Gemini), making it the most appropriate month for universal love, harmony, unions, and relationships.
Summer celebrations really begin with the Summer Solstice on or around June 21 in the Northern Hemisphere. This is when the Sun is at its highest in the sky and is the longest day and shortest night of the year. It's a traditional time for festivals, rituals, and celebrations to honor the sun, fertility, community, and the power of love and life.
Being sensitive to blossoming social energies can be helpful when navigating your life journey this month. The month of June can be embraced as a new chapter to celebrate love, friendships, sex, life, and fun. The joy of June can bring about a shift of positive energy, emotional healing, and new unions. Allow yourself to connect to the world around you and invite new energy into your life! Get that flower hair wreath on your head, get out to some music festivals, weddings, or nature celebrations and dance your way into the month of June with a lust for life!
Before you set off on your summer explorations, here is a heads up from my trusty Tarot deck on how to navigate specific areas of your life this month.
It can be helpful to lean into the guidance of Gemini season 2023 as well as the May 2023 Tarotscope to get an overview of what your soul is currently journeying through. Alongside this, is your June Tarotscope 2023 which will help to blend it altogether with some helpful insights, so I've pulled a card for your zodiac sign to help you along the way.
WHAT IS A TAROTSCOPE?
A tarotscope is simply a tarot reading with a card pulled for each astrological star sign. It's a bit like a horoscope but with tarot thrown in the mix. I will be pulling one tarot card from the legendary Rider-Waite deck for each and every one of you lovely zodiacal beings. This beautiful and concise deck has 78 cards, made up of minor and major arcana. Each card has a different meaning when it's upside down, or reversed as we say in tarot.
Here's your sign's tarotscope June 2023, read on for your star sign's forecast.
Your tarotscope June 2023
Aries
Tarot card: The Fool
Message: Take a leap of faith
Hey there Aries! You've been doing the inner work for the past couple of months and now there is a prompt from the universe to take a leap of faith. It's time to jump into the unknown with a sense of freedom and adventure. The month of June will activate your extraverted side. Allow yourself to hit the road, travel, attend festivals and embrace your free spirit. The Fool archetype is the true bohemian and invites you to go with the flow of the universe and follow the synchronicities. For some of you, it's an invitation to move directly into a new chapter - new job, new home, or new relationship.
Mantra: 'I am taking a leap of faith.'
Taurus
Tarot card: Reversed Knight of Wands
Message: Slow down
Hi Taurus! The theme of self-care at your place of work is still in full effect. Last month really highlighted this. It's important that you slow down a bit this month, especially around your projects and extra responsibilities. Be mindful to not act impulsively and end up taking on projects that you are unable to manage. For your current projects, be conscious to slow down and focus on the fine details and complete them thoroughly. Anything that is rushed could end up in a bit of a mess. Also, be mindful of your energy and not burn out with too much work. Put aside a weekend or two for relaxation, time in nature, and unwinding. It will do wonders for your mind, body, and spirit.
Mantra: 'I am being mindful to not take on too much. '
Gemini
Tarot card: Reversed Three of Swords
Message: Forgiveness
Hey Gemini! For many of you, it's your birthday month. Happy Solar Return! Similar to last month, there is a message of moving through a phase of transition. This month it's all about matters of the heart. The month of June could hold a lot of emotional purging for you around relationships, family dynamics, career, and home. The key here is to release yourself from the past, loss, grief, and repressed emotions. Set intentions for your happiness and joy. This is a great month for a therapy session, healing session, retreat, or self-care ritual. Set yourself free and move into a new zone of positivity.
Mantra: 'I am devoted to my happiness.
Cancer
Tarot card: Reversed Lovers
Message: Disharmony in relationships
Hey there Cancerians! You survived Mercury retrograde (April 21- May 14)! Well done to you. For some of you, it might have been a bit of an upheaval for all things related to relationships. This month, there is a focus on looking at which relationships align and which ones are in disharmony. Really feel into this with your intuition. Are certain relationships feeling like they take and they do not give? This is a chance to re-evaluate and re-set. Is your energy aligning, do you hold the same values or is there a lack of respect? These are the sort of questions you need to be asking about the relationships you are feeling the most friction with. Perhaps it's time to make some space, create healthy boundaries, and begin focusing on your own inner union with yourself.
Mantra: 'I am reassessing my relationships. '
Leo
Tarot card: Knight of Pentacles
Message: Make a plan
Hello Leo! The pragmatic responsibilities highlighted in last month's reading continue for the month of June. The King of Pentacles invites you to level up with a solid plan around your material world. Whether it's a course of action around career, home, or possessions, now is the time to put pen to paper and create your blueprint. Be mindful to be disciplined and devoted to your plan: put time aside, brainstorm, speak with a financial adviser, research ideas, or create your lists. This is not only about being organized, it is about being committed to reaching your goals. As a wise mystic, Terence McKennam once said, ''If you don't have a plan, you become part of somebody else's plan.'
Mantra: 'I am devoted to my plan. '
Virgo
Tarot card: Reversed Tower
Message: Transformation
Hello Virgo! What an amazing journey of personal transformation you've been on so far in 2023. For some of you, last month you may have made a decision to walk away from an emotionally challenging situation. Well, the transitions continue this month with an emphasis on upheaval, and you are totally instigating it - for the good! This is all about you doing an overhaul of your life: downsizing, decluttering, and deconstructing. This falls into all of life's categories - existential, spiritual, and practical. You are breaking down old models of thinking and ways of living and are now evolving into a new version of yourself. This is life-purpose territory! Keep going Virgo!
Mantra: 'I am transforming my life.'
Libra
Tarot card: Reversed Queen of Cups
Message: Self-love
Hello Libra! For the past few months, it's been all about LOVE for you. Last month highlighted potential romantic connections and new chapters of loving expression. There is a prompt this month to be mindful of the areas of codependency, healthy boundaries, and self-love. It's great to be in the zone of love and want to give give give, but be conscious to stay balanced and put time aside for personal self-care in the process. It's easy to lose ourselves in love, especially in a new romance, but it's so important to not neglect your own energy and needs. Check in with your emotional well-being either through journaling, speaking with a friend, or through meditation. Find ways to create healthy relationship boundaries and come back into balance within yourself.
Mantra: 'I am taking care of my emotional well-being.'
Scorpio
Tarot card: Reversed Eight of Cups
Message: Letting go
Hello Scorpio! The month of June could find some of you at the cusp of making very important and life-changing decisions. The reversed Eight of Cups is in the zone of shadow work. The shadow, in Jungian psychology, is the wounded or repressed version of ourselves. Your ruling planet, Pluto, is in retrograde until later this year. With Pluto retrograde 2023 lasting until Oct 2023, you've got some shadow aspects from your deep unconscious that is coming up to the surface for healing over these next few months. Perhaps it is time to walk away from a situation that is no longer in alignment with your higher good, with your values, and with your personal development. Ultimately, your intuition should be your guide. Feel into the decision whether or not it's time to let go or to give it another chance.
Mantra: 'I am making a decision that is in alignment with my higher good. '
Sagittarius
Tarot card: Reversed Devil
Message: Let go of unhealthy attachments
Hey there Sagittarius! Similar to the reading last month, you are moving into a chapter of inner work that involves personal transformation. The Devil card in reverse, invites you to let go of anything in your life that is an unhealthy attachment. Whether it's a toxic relationship or an unhealthy habit like smoking, this is a chance to re-set and step into a positive new chapter. Ruminate over what has become a destructive behavior in your life. These habit-forming behaviors will hold negative energy to them which can include feelings of anguish, shame, depression, addiction, codependency, or anxiety. Setting yourself free could require help from a trusted therapist or counselor to walk alongside you through your journey. Set yourself free!
Mantra: 'I am letting go of unhealthy attachments.'
Capricorn
Tarot card: Reversed Seven of Pentacles
Message: Organize your finances
Hi Capricorn! There is a focus this month on your material world, with an emphasis on your investments. This can include your career, your home, and your possessions. The pragmatic guidance is this: take stock of your practical outgoings, create a budget, and create savings. If you own a property it could be a prompt towards having it valued. For all things career: reevaluate your earnings and create a plan to grow your wage. With many people feeling the pinch across the globe, getting organized and having a clear picture of your finances is crucial for you moving forward with comfort and security. Get pragmatic!
Mantra: 'I am organizing my finances.'
Aquarius
Tarot card: Three of Cups
Message: Celebration
Hello Aquarius! The month of June holds plenty of celebratory and social energy for you. Get out there and dance, be merry, and engage in your extroverted side. This is a wonderful time for friendship, collaboration, and attending parties and weddings. Particularly celebrate your female friendships by having a summer garden party or creating a women's circle. The Three of Cups also pops up when there is something to celebrate like a graduation, promotion, or accomplishment. It is also a beautiful healing card and can be a prompt to surround yourself with healing women this month to help you lift your spirits and navigate your spiritual journey. Enjoy the joyful vibes!
Mantra: 'I am celebrating life!'
Pisces
Tarot card: Reversed Nine of Wands
Message: Navigating setbacks
Hi Pisces! Keep on pushing through the challenges. The universe is supporting you! Last month we saw the theme of making decisions and many of you might have firmed that up as you moved into June. It takes time to transition from one chapter to another and sometimes we can experience obstacles and setbacks. The key is to not be dismayed. Go inward and find the strength within you to keep moving through the situation. Stay positive, talk with trusted friends, and keep the faith. Think warrior spirit energy! You are nearly there. Don't give up!
Mantra: 'I will not give up and I will push through this challenge.'
Sign up to our free daily email for the latest royal and entertainment news, interesting opinion, expert advice on styling and beauty trends, and no-nonsense guides to the health and wellness questions you want answered.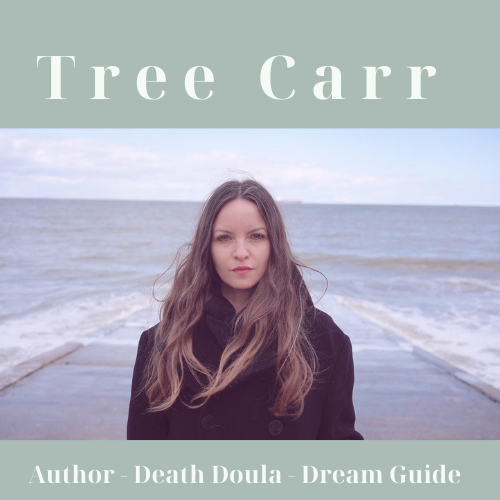 Dream guide, death doula, and divinatory guide
Tree Carr is a published author who works in the esoteric realms of dreams, death, and divination. Her published books include 'Conscious Dreamer' and 'DREAMS: How to Connect With Your Dreams to Enrich Your Life'.
Tree is also a CPD Crossfields Institute Certified Death Doula. Her work as an End of Life Guide involves helping people spiritually, emotionally, existentially and practically at the end of their lives.
As an intuitive empath, she is self-taught in divinatory guidance: The Tarot, Rune Stones and Astrology and has facilitated readings, rituals, classes, and courses spanning a wide variety of esoteric subjects.