Sagittarius season 2022: When does Sagittarius season start and how will it affect your star sign?
Sagittarius season 2022 lights a fire under our feet and motivates us into our purpose - here's what that means for your star sign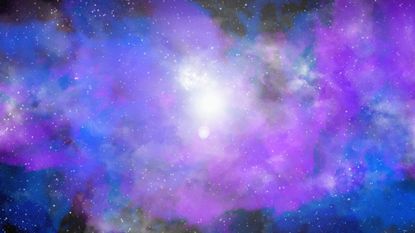 (Image credit: lali lavrelashvili/Getty Images)
Sagittarius season 2022 comes as a blessed relief to many after the intensity of eclipse season. As winter rolls in, this time lights a fire under our feet and motivates us into our purpose.
The deep transformations of watery Scorpio season combined with the eclipses during the October New Moon 2022 and the October Full Moon 2022 created chaos in the emotional realms for some of us. However, what has risen out of its manic mists is powerful rebirth and renewal. If you played your cards right during Scorpio season 2022 and let go of the old versions of yourself, accepted the endings, and focused on self-care, you'll be ready to grasp the fiery bow and arrow of Sagittarius season and push forward like a warrior.
Sagittarius season 2022 is an activating time to step into purpose, passion, and new versions of yourself. It's time to get your body moving and feel energized. Sagittarius, which is the Latin word for 'archer' is the zodiacal archetype for the searcher of truth. A true bohemian, the archer wanders the earth on a quest for a higher vision. The Sagittarian pursuit of meaning pulls them into all realms - mental, physical, and spiritual. The deeply philosophical nature of the Sagittarian archetype fuels the zones of inspiration, purpose, and freedom. Sagittarius is a fire sign, therefore the spheres of ignition and action are key in a purposeful process.
A mutable sign ruled by the planet Jupiter, Sagittarius sizzles with the energy of flexibility, restlessness and going-with-the-flow. Sagi's ruling planet Jupiter embodies all things expansive. It's a, "go big or go home," type of energy!
Ruler of the ninth house of travel, exploration and philosophy there is an emphasis on this season of looking at all things self-discovery. From road trips, online courses, therapy, fitness regimes, or stepping out with a new project idea, Sagittarius season will be activating you into a new and improved version of yourself!
When does Sagittarius Season 2022 start?
The archer leaps into action on November 22 and continues its fiery dance throughout the dark season up until the shortest day of the year on December 21: Winter Solstice. The Sagittarian New Moon on November 23 is the perfect time to embrace the new season with setting intentions around stepping into a new chapter of self-discovery.
Check your astrology birth chart for your sun sign, rising sign, and moon sign to see how the season influences you and which days are heightened for your zodiac.
WHAT YOUR STAR SIGN SHOULD EXPECT IN SAGITTARIUS SEASON 2022
Aries
Hello Aries! Sagittarius season 2022 is centered around your inner growth and development. It's also time to step out and embrace personal growth by expanding your skills. Take up a new course or watch more YouTube tutorials on how to finally perfect your video editing skills. The restless Sagi energy will also be prompting you to get back to the gym, yoga, or dance classes. You may be feeling much more social this season than you did in Scorpio season. Time to host a dinner party or cozy get-together at home. The social energy from your friends will give you a positive boost! The New Moon in Sagittarius on November 23 is a perfect date for you to set intentions around manifesting an exciting project.
Mantra: "I am expanding my skills."
Taurus
Hey there Taurus! You really got yourself out there last month. Congrats to you! At the start of this Sagi season you might feel a bit of friction around people and socializing however, your ruling planet Venus moves into fiery Sagittarius and will remain there until December 9 ushering in more romantic expansion around relationships. Perhaps the friction is there to show you something? During this aspect, you will also find that you are feeling activated into creative pursuits and adventures. Although it's tempting to spontaneously take a road trip, remember to stay focused on your goals in order for them to flourish.
Mantra: "I expand my relationships."
Gemini
Welcome to Sagittarius season lovely Gemini! The mutable energy of this fire season could have you either feeling restless or feeling inspired. It's up to you how you want to navigate it. If you are feeling impulsive, be mindful of how this might affect you further down the line. Especially when it comes to relationships. Think before you act! If you focus the mutable energy on a career rather than a relationship you may find yourself pleasantly surprised. The inspiration and motivation of the archer could prove to be highly productive for you and you may find yourself coming out of Sagi season fired up and confident of what the new year will bring.
Mantra: "I am expanding my career."
Cancer
The archer is aiming its fiery arrow at the bullseye on your ass this month, dear Cancerians. So it's either going to be 'yeeeoooutch' or 'get moving'! Best to take this as a prompt to move forward. This season might get you out of your comfort zone but it's all good. The expansive and freedom-loving energy wants you to embrace your own self-development by stepping out into new social circles. You are a nurturing soul, and always put others first but, this season it's all about you. Last month your mantra was, "I am transforming into my best self." A big part of this is sharing your amazing self with the rest of the world. Don't turn down any opportunities for social engagement this season. This is a chance to shine!
Mantra: "I am expanding my social circles."
Leo
Dear Leo, last season could have been an emotional one for you but rest assured the energy is shifting. Sagi season will have you feeling like your old self again. The fire energy matches yours and you will be feeling active and motivated. There is a strong pull towards the physical this season, whether it's the gym, running, dancing or sex. Be mindful of the balance that your body needs. All that fire energy is best served by being channeled into physical exercise rather than losing tempers or burning out. The New Moon on November 23 is a great time to set intentions around personal development in regard to long-term health and fitness. Put time aside for a personal ritual or reflection and witness the positivity it brings for the new year.
Mantra: "I am expanding into a healthy lifestyle."
Virgo
Hi Virgo! All this mutable Sagi energy wants to activate the expansion of your pragmatic world. Use this lucky energy to take action around all of those unfinished projects. Whether it's household DIY or an unfinished script, ignite yourself into getting it done. And guess what, it's not boring! You finishing these projects is actually very exciting as it pushes you into a new stratosphere of self-confidence and positivity. So, make those lists and check them off and use the fire energy this season to push through. You will find yourself by the end of December feeling very accomplished and ready to take on the new year!
Mantra: "I am expanding my confidence."
Libra
Dear Libra, it's been a transformative time for you the past few seasons. The theme of self-care continues through Sagittarius season 2022. Your ruling planet Venus travels through fiery Sagittarius until December 9, which will shine a light on relationships, love, beauty, and the arts. Embrace the expansive energy and lean into freedom through expression. Amp up your self-care through creative practices like painting, music, or even creating flower arrangements. The fire energy of Sagi season might make you feel supercharged but be mindful to not take on too much and end up burning out. Everything is best in moderation.
Mantra: "I am expanding my self-care practice."
Scorpio
Dear Scorpio, the big healing transformations around family and relationships last season prepared you for this new chapter. Welcome to Sagittarius season 2022, where you are feeling much more integrated and ready to charge ahead. There is a focus this month on your career and how to create more abundance. Allow the fire energy of this month to activate you into receiving inspirational ideas on how you can move forward with a purposeful career strategy. Be mindful of where to put your energies this month. Best you put your passions first on the priority list and fuel them with a New Moon intention on November 23 and witness abundance begin to unfold in 2023!
Mantra: "I am expanding my abundance."
Sagittarius
Happy Solar Return Sagittarius! It's your birthday season. A good thing too, as Scorpio season was a bit of a rough ride for a few of you. But no worries at all, you've let go of an old version of yourself and here you are with the sun shining down on you, ready to take on the world. Solar Returns vibrate with the energy of joy, positivity, and purpose. Feel the love! This season is the perfect time to reflect on the past year. Learn from the hardships and send gratitude. There is so much to be grateful for. As you reflect on the past, then look to the future. What do you want to bring into your life moving forward? Use the energies of the New Moon in Sagittarius on November 23 to set intentions towards the life of your dreams.
Mantra: "I am open to expansion."
Capricorn
Lovely Capricorn, welcome to Sagi Season. It's quite a magical one for you. Embrace the fire energy towards all things spiritual. You are being alchemized into a more complete version of yourself. The synchronicities and luck carry on for you this month. Don't forget to send out gratitude and not let it go to your head. There will also be an emphasis on your sleep and dreams this month. If you are not getting good rest, prioritize it. Keep a dream journal and pay attention to your nightly dreams. They are trying to tell you something! Follow the clues from the universe around your spiritual development. It is deepening. Work with the New Moon on November 23 to set intentions for the year ahead. You are becoming wiser!
Mantra: "I am expanding my spirituality."
Aquarius
Hello Aquarius! It's time to get creative this Sagi Season. Harness some of that archer fire energy and blast it toward all of your creative endeavors. Part of this creative energy is collaborations with others. Align yourself with like-minded creatives and watch the energy spark into action. If there is a hobby or interest that you want to discover or you are keen to improve your creative abilities, this is a great season to embark upon that journey.
Mantra: "I am expanding my creativity."
Pisces
Dear Pisces, it's all about learning during Sagittarius season 2022. The mutable energy of Sagittarius is activating your curiosity around all things philosophy, spirituality, truth, and wisdom. Let the fire energy spark you into action by immersing yourself in knowledge. Take up a course, enroll in a workshop, read books or listen to mind-expanding podcasts. The thirst for knowledge will bring you to a place of incredible self-discovery. Use the energies of the New Moon on November 23 to set intentions around your personal development. You are evolving and you are becoming wiser!
Mantra: "I am expanding my knowledge."
Dream guide, death doula, and divinatory guide
Tree Carr is a published author who works in the esoteric realms of dreams, death, and divination. Her published books include 'Conscious Dreamer' and 'DREAMS: How to Connect With Your Dreams to Enrich Your Life'.
Tree is also a CPD Crossfields Institute Certified Death Doula. Her work as an End of Life Guide involves helping people spiritually, emotionally, existentially and practically at the end of their lives.
As an intuitive empath, she is self-taught in divinatory guidance: The Tarot, Rune Stones and Astrology and has facilitated readings, rituals, classes, and courses spanning a wide variety of esoteric subjects.