The New Moon November 2022 is about to TOTALLY overhaul these signs' relationships
The New Moon November 2022 is calling on you to stop playing small after a very intense, dramatic, and slightly chaotic Scorpio season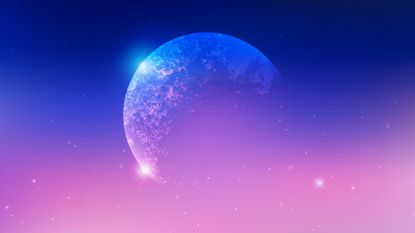 (Image credit: user785468/Getty Images)
The New Moon November 2022 is here and we're happy to say welcome to Sagittarius season! If you're anything like most people, you've probably weathered a few rough storms during this very intense, dramatic, and slightly chaotic Scorpio season that featured two seismic and potent eclipses.
Great new beginnings and hard endings were likely the themes you encountered as Scorpio season 2022 had us going through relationship purges and pivots – whether that was in love, at work, with friends, or even at home or in our personal lifestyles. You don't need to be an expert on the impact of eclipses in astrology to be aware that this past cycle in the Moon calendar 2022 has been one hell of a ride.
Luckily for us, the mood has now instantly shifted to a much lighter, jovial, and fun tone, as we welcome Sagittarius season 2022 - just in time for the upcoming festivities of the holiday season. The Sun has moved into the sign of Sagittarius and is being quickly met up with by a feisty and flirtatious Moon.
Taking place on November 23, 2022, at 5:56 PM EST, this New Moon in Sagittarius occurs at 1 degree of the Sign of the Archer, the zodiac sign associated with free-spirited adventure, optimism, hope, belief, and the power of positive thinking. With so many planets in this dynamic fire sign, including loveable Venus and chatterbox Mercury, the New Moon November 2022 signals that the stars are calling on us to open our hearts, open our lines of communication, and open our minds to the limitless possibilities available to us if we just believe that they're possible. A New Moon is always about feeling our way in the dark with a bit of faith and belief in ourselves, and when the New Moon takes place in Sagittarius, it's doubly so.
Sagittarius is about being open to experimentation and changes even if those plot twists weren't part of your original vision. Sagittarius energy calls on us to keep navigating through by calling on our inner reserves of strength and bravado – if not us, then who? If not now, then when? This is about having an adventure and living to tell the tale – whether it's an epic love story or a funny anecdote you get to share while having a pint with your pals – you need to live life and experience it to its fullest. Don't count yourself or anyone out - and never take life, yourself, or anyone else too seriously. Instead, find the joy and even the humor in your situation while setting in your intentions and then go after it with everything you've got.
Here's how the New Moon November 2022 will affect you depending on your star sign. For the most accurate reading, look at your sun or rising sign according to your astrology birth chart. For added insight into the month ahead, check out woman&home's November 2022 tarotscope too.
Aries
You've got major planetary momentum on your side if you're looking to break out of a creative or repetitive rut. All work and no play can make anyone feel dull – and that goes especially for you, Aries. With this New Moon in your ninth house of exploration, a last-minute getaway might be just what the stars have in mind for you to receive some divine inspiration on forging a new path forward toward what feels more intellectually and spiritually aligned for you. Think about what subjects or studies you can expose yourself to – your mind is like a sponge right now, so soak up all you can.
Taurus
Relationships have likely been a major theme for you especially during this most recent eclipse season – what you do and do not want; what you will and will not tolerate; who you do and do not see factoring into the future. The lesson is not quite over yet, but now the stars are calling on you to be a more conscious and active participant in scripting your next chapter in love. It's easy as a Taurus to focus on lists of demands, ultimatums and dealbreakers, and while important in establishing boundaries, be mindful of creating a fortress around your heart. The New Moon November 2022 is in your eighth house of intimacy and is calling on you to seek out connection – and find the bravery to be open to uncertainty.
Gemini
If you've been longing for a fresh start in your love life, Gemini, the stars are shining on you. You've been blessed with an infusion of new energy in your seventh house of partnerships. For single Geminis, this is your chance to put yourself out there and allow someone to see you, know you, and love you for it. No more hiding. For coupled-up Geminis, try opening yourself up to new avenues of relating to your partner – ones that you may have been too shy to suggest before, but can finally work up the courage to make your true needs known. Communication is key to harnessing this exciting energy.
Cancer
As a Moonchild, you have a reputation for being a creature of comfort, longing for the familiarity of what you already know and expect. But remember that you are ruled by the changing cycles of the moon – and that means you're more open to experimentation than you may be giving yourself credit for. With this New Moon in your sixth house of daily routines, allow yourself the space and flexibility to shape your schedule around your moods – not the other way around. Make time for your emotions and self-care, don't just fill your day with errands, tasks, and endless work meetings. This cycle is about being in rhythm with yourself. Real change starts within.
Leo
As one of the most joyful and fun-loving signs of the zodiac who's been undergoing some planetary stress of late, you're overdue for some astrological good news. And luckily for you, the New Moon November 2022 is taking place in your fifth house of fun, creativity, sex, and romance. For single Leos, this is the right energy to enter (or re-enter) the dating scene with a renewed sense of fervor. Flirt to your heart's content and know that you earn every ounce of the spotlight that's shining down on you. Let them see that lion roar. Be warned that this New Moon has definite baby-making energy to it – you're absolutely intoxicating right now, so stay prepared!
Virgo
Change is in the air, Virgo, and this could be really good news for you. With a New Moon in your fourth house of home and family, you're expanding your definition of what it means to be at home. Yes, your physical space matters, but also what it means to proverbially let your hair down and truly be at ease and at peace with yourself and those around you. Who you surround yourself with has a major influence and impact on you – and it's your job to make your environment one that is conducive to your personal, emotional, and spiritual growth and well-being. Be open to the wonderful possibilities involved in making a house feel like a home.
Libra
The boldest thing you can do during the New Moon November 2022 is say exactly what's on your mind, Libra. Taking place in your third house of communication, this Sagittarius energy is calling on you to make sure you're not counting yourself out to keep the peace with anyone else. Harmony in relationships is always the goal – but it doesn't have to come at the cost of your needs and boundaries or your self-respect and dignity. Now you have the cosmic permission slip to explore advocating for yourself – because we know you're certainly great at speaking up for others. This is a new cycle you're starting, one where you can be front and center, and more importantly, seen and understood.
Scorpio
If any sign needs a check-in after this bumpy eclipse season, it's you, Scorpio. Knowing it may have left your psyche a bit rocked – to say nothing of your relationships – you're overdue for some cosmic good news. And luckily that's what the stars are bringing you with this New Moon in your second house of income. Think about how you're spending or saving your money – and if you couldn't allow yourself more wiggle room for fun. You have reputation for being serious but step out of a scarcity mindset. Don't just live a little – live a lot. Spend your money on something you enjoy if you can. Indulge your sense of adventure. Believe in abundance.
Sagittarius
It's your season, Sagittarius! The New Moon November 2022 has your name written all over it, as it takes place in the most personal part of your chart - the first house of your body, personhood, and self. Whenever there is a sign in this house, it's the cosmic greenlight to reinvent yourself in any way you'd like. All you have to do is purposefully direct the energy towards the vision of yourself you'd like to manifest – and remember to play small. Go big by dreaming big and asking the stars for exactly what you want. The more specific the better as you're positively brimming with magic now. Make your wishes come true!
Capricorn
Self-care is not just a buzzword – it's your sacred duty to yourself during this lovely New Moon in your twelfth house of the subconscious. Be open to new forms of healing modalities – ones that may sound a bit out there or out of your comfort zone. But what is Sagittarius energy if it's not asking you to push yourself beyond what you think you know? Put your trademark Capricorn grit to work and figure out what it is you want to feel and heal. Meditation, sound baths, talk therapy, rest, a psychic reading, nature walks, breathwork, grounding – do some research and experiment with what feels aligned with where you are and where you want to be.
Aquarius
As the community organizer of the zodiac, this New Moon in your eleventh house of networks is coming along to help you energize how you connect and relate to groups. You could find yourself gravitating to new people who inspire you to think differently. Be intentional about the kinds of group dynamics you actively participate in – while also remaining open to activities you may have previously written off as not for you. Similarly, perhaps the means by which you connect to people could undergo a change – like perhaps you'll start a podcast, coordinate a group chat, or plan a party. In any of these cases, know that your social calendar is about to get a lot busier!
Pisces
Be ready for more abundance than you ever thought possible, Pisces. With the New Moon November 2022 lighting up your tenth house of career, you're stepping into the spotlight and setting yourself up to succeed in ways you only ever fantasized were possible. But now the stars have aligned to make your dreams a reality and the praise and accolades you so richly deserve will finally make their way to you. Remember though that the journey always starts with a single step. If you're not inspired by your current career, expand your search, and make the connections now. Pay attention to who you meet around this time – they'll factor into your success in a major way later.
Astrologer and tarot reader
Maria Sofia is a Greek-American writer, astrologer, Tarot reader, and intuitive. She is a lifelong lover and student of the stars, who has been practicing divination and magic for 20+ years.
Maria is Leo Sun, Cancer Moon, and Virgo Rising. Her favorite natal placement in her chart is her Virgo Mercury conjunct the ascendant that makes her a fast writer and talker and she smiles anytime she pulls the Queen of Wands or the Nine of Pentacles.