Kate Middleton's important coronation duty could leave her feeling unwell
According to documents, Kate will be part of a carriage procession despite suffering from motion sickness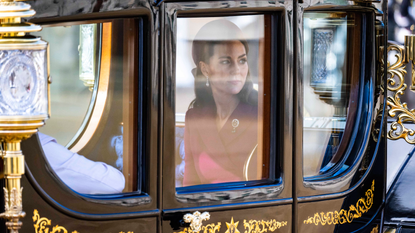 (Image credit: WPA Pool / Pool)
King Charles' coronation is just around the corner, scheduled for May 6, and folks are already wondering what the duties of each member of the royal family will be on the allotted day. Turns out, Kate Middleton's important role may actually leave her feeling quite unwell.
According to documents, Kate will be part of a carriage procession that, in the past, has left her feeling seasick.
Kate will reportedly be joined by her husband William and their children George, Charlotte and Louis in a carriage right behind the King and the Queen.
As any royal aficionado knows, back in 2019, Kate felt a bit off her game during the Trooping the Colour event because of the swaying motion associated with the carriage procession that she was a part of.
Well, history is about to repeat itself as the Princess of Wales will once again join the parade - this time during her father in law King Charles' coronation proceedings, which will happen on May 6.
According to reports, Kate will join her husband William and their children George, Charlotte and Louis in a carriage right behind Charles and Queen Consort Camilla.
A few years ago, the Princess boarded a carriage with Camilla, then the Duchess of Cornwall, alongside Prince Harry and Meghan Markle, traveling from Buckingham Palace to Horse Guards Parade - a trip that's less than a mile long - as part of the Trooping of the Colour festivities.
The royal famously looked unwell during the event and, at the time, a source close to the family revealed that Kate actually suffers from motion sickness, hence her disposition throughout the day.
During next month's coronation, all senior royal members are expected to make grand appearances. In addition to taking part in the procession, Kate will likely join her husband William on the balcony at Buckingham Palace as well.
As for what she's going to wear to the event, Kate actually shared a rare detail about her much-anticipated coronation outfit just a few days ago.
While chatting with TV host Alison Hammond during her and Prince William's Birmingham visit, the Princess reportedly revealed that her look will feature "a hint of blue."
Specifically, while talking to radio co-host Dermot O'Leary about her meeting with the Wales', Alison explained that she asked Kate what she would be wearing to the coronation.
"I said to her, 'I'm feeling like you're gonna wear blue' and she was like, 'There is a hint of blue.' So I was like, 'Fantastic!'," she explained on the air.
Always fashion-forward in her wardrobe choices, Kate has recently made appearances wearing blue outfits that still resonate with the public. On Easter Sunday this year, for example, she opted for a stunningly bold cobalt blue Catherine Walker coat dress, which she had previously worn to last year's Commonwealth Day Service. Leaning into the monochrome look, she accessorized the dress with a matching blue pillbox hat and handbag and looked absolutely mesmerizing.
Whether suffering from motion sickness or not, we're sure that Kate will steal everyone's attention during next month's coronation through her choice of outfit and always impeccable demeanor.
Anna Rahmanan is a New York-based writer and editor who covers culture, entertainment, food, fashion and travel news. Anna's words have appeared on Time Out New York, the Huffington Post, Fortune, Forbes, Us Weekly, Bon Appetit and Brooklyn Magazine, among other outlets.