The cheeky action that shows Prince William is keen on 'becoming more accessible to the public'
The Prince and Princess of Wales stopped by the Indian Streatery restaurant in Bennetts Hill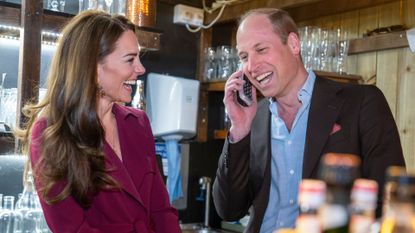 (Image credit: Arthur Edwards - WPA Pool/Getty Images)
Prince William surprised an unsuspecting customer during his and Kate Middleton's visit to the Indian Streatery restaurant in Birmingham, by taking a booking over the phone.
Prince William got everyone laughing during his and Kate Middleton's Birmingham trip this week, answering the phone at the Indian Streatery restaurant and booking in a customer's table reservation.
The restaurant owner said William did a 'really good job' and even said she would 'probably' employ him as a member of staff.
---
After a long break over the Easter period, Prince William and Kate Middleton are back to attending royal engagements, beginning a tour of the country ahead of the King's coronation which will take place on May 6.
The couple visited the city of Birmingham to meet with future leaders in the arts and creative industries, hosting a get-together for designers, artists, and playwrights at The Rectory restaurant on the edge of the city's historic Jewellery Quarter. Kate looked stunning in a maroon trench dress while Prince William seemed to have ditched one of his usual two wristwatches.
But before they became the hosts, the Wales' were treated to a range of dishes at the Indian Streatery restaurant in Bennetts Hill where they went head to head in a cooking competition. Prince William even stepped into the role of restaurant owner, taking a booking for an unsuspecting customer over the phone.
Body language expert Darren Stanton, working on behalf of Betfair Bingo told woman&home that the quirky action proves the "confident" Prince of Wales is keen to become "more accessible to the public."
As Kate and William sampled the dishes on offer, they revealed that they "love curries" and "secretly try lots of curry houses around the country" as they travel around for engagements.
Kate shared that she "loves spice" while William admitted he prefers milder food, saying, "I'm a masala man." The couple were asked whether their children like Indian food to which Kate responded, "Absolutely, they love it."
As the couple stood behind the bar to sample the foods, everyone was surprised when the phone rang and Prince William quickly picked it up, saying in a perfect customer service voice, "'This is the Indian Streatery."
According to Darren, who studied Kate and William's interactions during their visit, William's antics demonstrated the Wales' "ability to muck in and be one of the people."
Speaking on behalf of Betfair Bingo, he revealed, "William is displaying open body language, there were no signs of a lack of confidence, no hand to face or mouth gestures, facially we saw genuine happiness and joy. William was genuinely having a laugh, he wasn't embarrassed at all, there were no signs of anxiety."
The unsuspecting customer on the other end of the phone asked if he could book a table for half past two, to which William agreed and then also gave him directions to the restaurant. After hanging up, William said, "He knows where you are now, I probably sent him somewhere else in Birmingham so I apologize."
The customer Vinay Aggarwal said he had "no idea" that William took the call. He told SkyNews, "It's pretty amazing and a surprise. I didn't know at that moment, but it's a very nice surprise. Obviously (I will be telling everyone), it's not something that happens often.
Talking about Prince William's antics, restaurant owner Meena Sharma told SkyNews, "All of us around him were really surprised he actually picked up the phone and actually said 'this is the Indian Streatery', and there was a genuine person on the other end wanting to make a booking.
"But I think he probably could have a role as a front-of-house manager, we could probably employ him to take phone calls in the future as he did a really good job."
Clearly keen to get involved with the running of the restaurants, Kate and William then took part in a cooking competition, which Kate won. William took his defeat gracefully, laughing as he admitted that even he would not eat the curry he had prepared, joking, "We will let that one just be in the corner somewhere."
Charlie Elizabeth Culverhouse is royal news and entertainment writer. She began her freelance journalism career after graduating from Nottingham Trent University with an MA in Magazine Journalism, receiving an NCTJ diploma, and earning a First Class BA (Hons) in Journalism at the British and Irish Modern Music Institute. She has also worked with Good To, BBC Good Food and The Independent.