Princess Catherine's $130 brass earrings with ocean blue stones were a total statement moment in Birmingham
Princess Catherine's $130 brass earrings were a gorgeous addition to her Birmingham outfit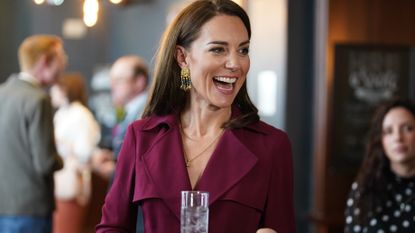 (Image credit: Getty Images)
Princess Catherine's $130 brass earrings provided a touch of gold and ocean blue when she added them to her outfit for her and Prince William's royal trip to Birmingham.
The Prince and Princess of Wales arrived in Birmingham on Thursday by train for a number of engagements in the city, with Catherine looking stunning in a maroon Karen Millen dress.
Kate teamed the chic burgundy piece with a pair of statement earrings, previously worn by her on Christmas Day 2022.
---
Princess Catherine looked gorgeous in head to toe burgundy as she teamed her Karen Millen trench dress with a pair of color-matched Gianvito Rossi shoes from her expansive collection and her Daniella Draper Baby Treasure Necklace in gold.
While Kate's heels were a classic way to accessorize, the Princess of Wales's earrings added a touch of unique elegance to the outfit, much like her sell-out Zara earrings that you can actually still get your hands on.
Catherine's Dina earrings from Sezane feature a gold plated brass composition with regal blue labradorite dangling from a circular top detail. Sadly, the earrings that Kate previously wore on Christmas Day last year are out of stock right now, but Sezane has many other incredible styles to choose from.
During the trip to Birmingham, which marks the Prince and Princess of Wales's first official outing since Easter, the pair met with royal fans and paid a visit to The Rectory, where they met with local business owners.
The couple also greeted a group of University College of Birmingham students studying catering and dropped in to visit to The Indian Streatery, a local Indian restaurant.
Prince William left onlookers chuckling as he tried his hand at booking diners into the restaurant, taking a phone call with the unsuspecting customer looking to make a reservation for the independent, family-run restaurant.
In a video shared by royal journalist Rebecca English, William can be heard telling the caller there would be a table available "about half two", glancing down at his watch as the business owners laughed.
Hope we told this customer to come to the right place…! @indianstreatery pic.twitter.com/0dxzpegLqtApril 20, 2023
See more
A snapshot from the funny moment was shared on Kate and William's official Twitter account, with a cheeky post that read, "Hope we told this customer to come to the right place…!"