Kate Middleton's camo cap is quite the departure from her usual attire
The Princess typically opts for more elegant looks - but she just sported a new, casual accessory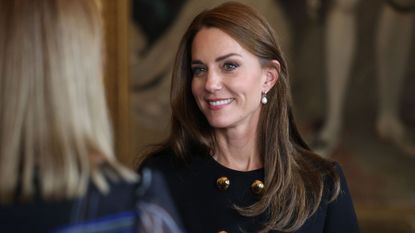 (Image credit: IAN VOGLER/POOL/AFP via Getty Images)
The royal couple was seen meeting the Central Beacons Mountain Rescue team as they took part in outdoor activities and learned more about their important work - and Kate sported the most unique baseball cap on her visit.
On Thursday, Princess Kate and Prince William visited Merthyr Tydfil, Wales to meet the Central Beacons Mountain Rescue team, and they showed up dressed for adventure. Thursday marked the first day of the couple's tour of Wales.
William and Kate wore matching puffer jackets to help them brave the cold while abseiling and hiking - which hopefully kept them warm, seeing as the climate in Wales is still quite chilly. They matched the other Mountain Rescue team members, who were also decked out in rain gear and protective clothing to keep dry and warm.
Kate also wore a pair of her favorite Berghaus boots, which are coincidentally on sale *right now* on the Berghaus site for $152.
Her army-style camouflage cap also added an outdoorsy element to the already relaxed look. The Princess doesn't wear hats too often (unless they're of the Jackie Kennedy-esque, fascinator type), so this cap really marks a turning point from her typical stylish accessories.
We've found an affordable style that looks similar to Kate's cap.
---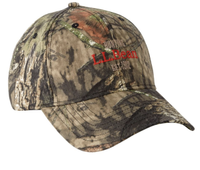 Adults' L.L.Bean Heritage Hunting Hat, Camouflage in Mossy Oak Country, $14.95 | L.L. Bean
With comfortable, soft washed-chino twill feel and snug adjustable cam-lock back strap, you'll love wearing the durable L.L.Bean camo logo hat with hunting logo for on and off the field.
The Princess also wore a thick brown knitted roll-neck pullover and a pair of charcoal skinny jeans to finish off the look, making Kate's abseiling attire still somehow chic for an outdoorsy day. What can't she do?
According to the DailyMail, while they were engaging in outdoor activities, William was asked by instructors if he had abseiled before. William said, "It's been a while" - and before heading over the edge, Kate was allegedly heard telling her husband, "We're not racing." Looks like the dynamic duo has a competitive edge!
After hiking through the mountain, the team (including William and Kate) got pizza from the Little Dragon Pizza Van, which was parked outside of Dowlais Rugby Club in Merthyr Tydfil. "The club is a popular spot where the rescue team socialize and relax when they are off duty," adds the DailyMail.
Madeline Merinuk is woman&home's US lifestyle news writer. She covers celebrity, entertainment, fashion, and beauty news but is also obsessed with internet trends - you can find her reciting trending TikTok sounds out loud at any given time.
After winning multiple student journalism awards for her investigative work, she graduated from Hofstra University in 2021 with a B.A. in Journalism. After graduating, she worked at today.com, the digital site for the Today Show, where she wrote pop culture news and interviewed big-name personalities like Emily Ratajkowski, Haley Lu Richardson, Emma Corrin, and more.
Her personal interests, in no particular order, are: cheese, Joni Mitchell, reading, hot yoga, traveling, having multiple chapsticks in every handbag at all times, and dancing to ABBA songs as if she were in the Mamma Mia movies.