Jennifer Aniston looks incredible in sheer mini dress as she mocks co-star Adam Sandler for wearing a sweatshirt to their premiere
Jennifer Aniston looked stunning in a sheer mini dress for the LA premiere of Murder Mystery 2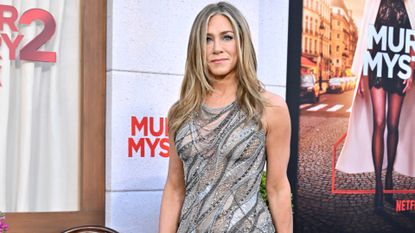 (Image credit: Getty)
Jennifer Aniston never looks anything less than flawless, and she certainly didn't disappoint as she rocked a sheer mini dress at the Los Angeles premiere of Murder Mystery 2 on Tuesday.
From her glowing skin to Jennifer's flawless hair, fans are always keen to know how the Friends actor manages to look so good all the time, and this was no different as she stepped out for the Los Angeles premiere of Murder Mystery 2.
Jen, 54, looked incredible in a sheer, sparkling mini dress by Atelier Versace, which she accessorised with black strappy heels and her trademark loose waves.
The actor shared a reel on Instagram ahead of the premiere, which took place at Regency Village Theatre in LA.
Like us, fans couldn't get over how amazing Jen looked at the event, with one commenting on her post, "The dress looked just 'ok' on the hanger but once she put it on omg… she is so gorgeous."
Another added, "Best style of anyone in Hollywood - hands down!" while a third wrote, "This woman can pull anything off. Stunning."
In contrast, Jen's Murder Mystery co-star and long time friend, Adam Sandler, rocked up to the glitzy premiere in a Todd Snyder New York Knicks hoodie, khakis, and blue sneakers.
Mocking him, Jen said as he walked in to an interview, "What the hell are you doing?!" and added, "I'm not standing next to him."
Insisting that Jen had approved the outfit before the event, Adam teased, "You said it, you texted me, 'Please wear your sweatshirt,'" to which she responded, "I said, 'Please don't wear your sweatshirt.'"
Jen also looked incredible at the Murder Mystery 2 photo call, where she wore a nude spaghetti strap dress. But it was her fresh blonde highlights which really caught our eye. Paying homage to her days as Rachel Green, Jen looks as though she's had some new blonde highlights, with two blonde streaks at the front of her head, framing her face along with her famous layers.
Fans of the Friends star have long been inquisitive about the actress' habits that keep her looking as fabulous and glowy as she does - and she's been more than gracious about sharing tips in the past, like the facial tool she uses for lifted and glowing skin.
The actor's age-defying body is also something that is often talked about. Sharing her secret weapon for avoiding workout injuries at 54, Jen has said that a good night's sleep is key.
"I don't push myself so hard [in a workout] because that will lead to an injury when your body and your brain aren't fully rested," she explained.
"I just try to do my best and just figure out everything possible that will ensure a good night's sleep."
She added, "Sleep is extraordinary. It's beautiful. But, boy, did I take it for granted when we were young. When you're younger, you kind of take it for granted. You think, 'I can survive on three-to-five hours of sleep and I feel great,' and then, all of a sudden, it just starts not to feel great and your performance isn't as up to par as it should be."
Robyn is a celebrity and entertainment journalist and editor with over eight years experience in the industry. As well as contributing regular to woman&home, she also often writes for Woman, Woman's Own, Woman's Weekly and The Sun.