Full moon October 2021—what is the Hunter's moon in Aries?
Full moon October 2021 is in Aries but, despite Mercury in retrograde ending, intense times may lie ahead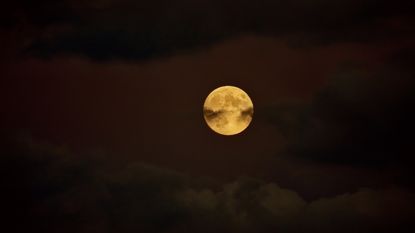 (Image credit: Emanuel Love/Getty Images)
Full moon October 2021, comes just as Mercury in retrograde is wrapping up. This full moon, known as the Hunter's moon, is in Aries.
Although many will be relieved to know we're coming out of the mayhem, as Mercury in retrograde ends, we're still making our way through the Mercury in retrograde shadow period.
The full moon in October 2021 follows the unforgettable lunation that was the full moon in September 2021.
Astrologer, author, and creator of Dynamic Astrology (opens in new tab) Carolyne Faulkner (opens in new tab) spoke to woman&home and explained what full moon in October 2021 is all about. Carolyne—whose book The Signs: Decode the Stars, Reframe Your Life (opens in new tab), is considered a must for all creative astrologers—said this moon cycle will bring intensity.
---
Full moon October 2021—what to expect
The full moon is always the time to release things and this lunar cycle is sure to get a lot out, but perhaps by brute force! This is all because of the combination of planets in Libra.
Carolyne tells us, "The full moon in Aries is opposing Mars, Mercury, and the Sun in Libra. It's intense—fire crashing into air!"
The author explains in further detail, "this particular full moon is in the sign of Aries and the full moon is always opposite the sun. So it's opposite the sign of Libra, which is all about peace and harmony and balance."
She continues, "Mars, which is the ruler of Aries, is in the sign of Libra. But Mars is the traditional ruler of Aries, so it's the planet or god of war. It's also opposite Mercury, which is how we think and communicate—so this is absolutely huge."
If you've noticed people around you being a bit tetchy over the last few days, Carolyne explains there may be a reason for that.
"In Tibetan astrology, they believe that the full moon actually is as potent three days before", she explains. "And people are suffering from a lack of tolerance due to all the planets in Aquarius."
She adds, "Aquarius is an extreme energy, it's about extreme compassion or total intolerance. And that combined with this full moon, I think that people's tempers are likely to be quite frayed."
In the days ahead, it's vital that you keep these things in consideration.
"It's really important that we hold our tempers and don't react to what people say or write or do before we pause and take a couple of deep breaths, be calm and chilled," she says. Adding, "which is all you know, Libra and traits working at their best!"
Carolyne adds, however, that this energy can also be channeled into getting stuff done—to pushing forward with things you've been putting off, goals you've left by the wayside.
In order to harness the most from this lunar cycle, Carolyne suggests a full moon ritual.
She tells woman&home, "I like to do a little Full Moon ritual, which is basically writing down all the things I like to release—any kind of anger, or resentment, or feelings of failure. All those sorts of negative low vibe things."
Once you've written down the things you want to release, you can perhaps burn the piece of paper (safely!) and let go of these feelings which are weighing you down.
"It's almost like maybe your, your pipes haven't been working properly," says Carolyne. "And then all of a sudden, the plumber comes in and everything starts working again, that's kind of the release of a full moon."
When is October full moon 2021?
October's full Moon appears on Wednesday, October 20, 2021. Similar to the full moon in September 2021, the Harvest Moon, this moon will rise around the same time for several nights in a row.
According to The Old Farmer's Almanac (opens in new tab), this moon will be a stunning lunation and may appear larger and more orange as it drifts over the horizon around sunset. However, this is in fact a trick of the eye known as the 'moon illusion.'
"When the Moon is high overhead, it is dwarfed by the vast hemisphere of the heavens and appears to our eyes as a small disk in the sky," they explain.
"By contrast, when the Moon is low, it is viewed in relation to earthly objects, such as chimneys or trees, whose size and shape provide scale. Your brain compares the size of the Moon to the trees, buildings, or other reference points, and suddenly, the Moon looks massive!"
What is the Hunter's moon?
The Hunter's moon comes after the Harvest moon, which means it is in October or November each year. These moons are significant as they herald the fall equinox and the progression into the winter months.
Per The Old Farmer's Almanac, it's believed that it gained the monicker of the full Hunter's Moon because it, "signalled the time to go hunting in preparation for the cold winter ahead."
"Animals are beginning to fatten up ahead of winter," they explain, "and since the farmers had recently cleaned out their fields under the Harvest Moon, hunters could easily see the deer and other animals that had come out to root through the remaining scraps (as well as the foxes and wolves that had come out to prey on them)."
Aoife is Junior News Editor at woman&home.
She's an Irish journalist and writer with a background in creative writing, comedy, and TV production.
Formerly Aoife was a contributing writer at Bustle and her words can be found in the Metro, Huffpost, Delicious, Imperica, EVOKE and her poetry features in the Queer Life, Queer Love anthology.
Outside of work you might bump into her at a garden center, charity shop, hot yoga studio, lifting heavy weights, or (most likely) supping/eating some sort of delicious drink/meal.