The full moon September 2021—the full harvest moon welcomes the fall and a whole lot of change
The full moon September 2021 is an opportunity for great introspection as the days grow shorter and we slip into fall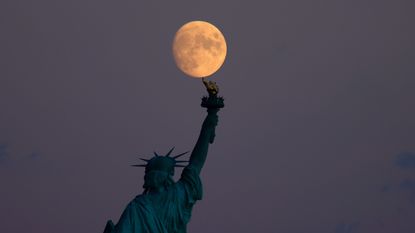 (Image credit: Gary Hershorn/Getty Images)
The full moon September 2021 and fall are suddenly upon us. This stunning lunation is known as the harvest moon, owing to its proximity to the fall equinox.
Unlike other full moons, the Harvest Moon rises at nearly the same time, around sunset, for several evenings in a row and it's extra special as it's so close to the fall equinox.
Astrologer, tarot reader and psychic Inbaal Honigman (opens in new tab) revealed to woman&home what to expect this fall Harvest Moon.
---
What is the Harvest Moon September 2021?
According to the Farmer's Almanac (opens in new tab), the name relates to the fact that the harvest moon provided an invaluable source of light as the days grow shorter.
Luminous moonlit evenings, which offered farmers extra time in the last push to complete their harvests before the fall frosts arrive, meant it's long been held as a marker of change in the seasons.
Inbaal explains from an astrological perspective that, "The autumn equinox rests right between the season of Virgo (which would mean a Pisces full moon) and the season of Libra (which would mean an Aries full moon). In 2021, it is just moments away from the seam between the two."
"As it happens, it's a Pisces full moon during the season of Virgo, and as such, will be a dreamy moon," she says. "The Pisces full moon speaks of illusion, delusion and even madness."
Inbaal says not to forget that, "under the Pisces full moon, dreams are vivid and sometimes prophetic, and not all is as it seems."
What does the full moon September 2021 mean for my star sign?
Air signs—Gemini, Libra, and Aquarius
Inbaal says that air signs, "are great humanitarians and therefore are always on the lookout for liars and cheats."
During this time Gemini, Libra, and Aquarius will be extra aware of any nonsense whatsoever. "They'll have their sensors out for misinformation and confusion," says Inbaal.
So anyone who thinks they can pull the wool over these astute air signs, don't even bother trying!
Fire signs—Aries, Leo, and Sagittarius
Of all the four different types of signs, the fire signs don't have time for dilly dallying.
"Fire signs love directness," says Inbaal. "So the vague and mysterious air of the Pisces moon will agitate them and raise their anxiety levels."
The Harvest Moon is a time for fire signs to be patient with themselves and others too.
Earth signs—Taurus, Virgo, and Capricorn
Of all the signs, earth signs will struggle most with this up in the air time. As their name suggests, they like to keep things relatively solid and to be on terra firma.
"Earth signs prefer to see things for what they are—grounded and safe.," says Inbaal. "The uncertainty of this moon will make them want to stay indoors, watching an old movie in the duvet-fort."
Water signs—Scorpio, Cancer, Pisces
This full moon is the chance for water signs to totally thrive.
Inbaal says, "Water signs are in their element! Scorpios love mystery and illusion, Cancerians are ruled by the moon, and Pisceans will finally share their water-tinted view of the world with everyone, even if just for a night."
How to make the most of the September full moon 2021
Although this time might be trickier for some of the signs, the best thing you can do is focus on harnessing all of that Piscean energy and use it to help manifest your deepest, darkest desires.
Inbaal says, "The Pisces moon is a fabulous time to set out your intentions. Pisces is a very mystical sign, and Virgo is a very practical sign, and when they meet, via this full Moon, they can make fantasy a reality."
If you're into full moon rituals, or considering giving them a try, this is a great time to flex your witchy muscles.
"Write down your manifesting list, and do not leave out the more outlandish requests. If they're going to come to pass—tonight is the night! Especially if you've invested your time and energy in a resource or a project and it is now time to harvest—what better time is there to wish for it, than the Harvest Moon?"
Aoife is Junior News Editor at woman&home.
She's an Irish journalist and writer with a background in creative writing, comedy, and TV production.
Formerly Aoife was a contributing writer at Bustle and her words can be found in the Metro, Huffpost, Delicious, Imperica, EVOKE and her poetry features in the Queer Life, Queer Love anthology.
Outside of work you might bump into her at a garden center, charity shop, hot yoga studio, lifting heavy weights, or (most likely) supping/eating some sort of delicious drink/meal.