The best matching pyjamas for Christmas for all the family
Spend the big day in matching pyjamas this year - a cosy and fun way to open presents!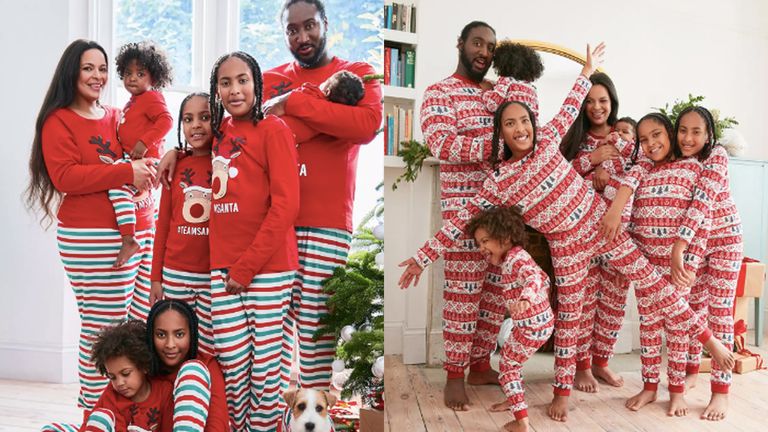 (Image credit: Next)
There's nothing quite like spending Christmas with family - especially if you can be wrapped up in matching pyjamas!
Luckily, the trend is growing, and you can get matching PJs from your favourite high street shops.
Where to buy matching family Christmas pyjamas
Matching family Christmas pyjamas have gained in popularity in recent years. Now, all you need to do if you want to match your children, grandchildren or husband is nip to your nearest supermarket, Primark or Next stores, where brands stock their very own ranges.
Whether you want themed or traditional designs, they're so easy to find - and affordable. Most stores sell sizes for women, men and children. All you need to do is persuade the family to put them on for a festive picture!
Feeling inspired? We've found the very best matching pyjama designs, but you'll need to shop quickly. These are bound to sell out...
Best matching Christmas pyjamas
Best matching Christmas pyjamas
We love that each of these pyjamas are very slightly different. The women's top says 'Bearing gifts', the mens; 'Bearly awake', the childrens 'Bearly behaving' and the baby; 'Bear cub'. So sweet!
These do exactly what they say on the t-shirt! The comfy stretch-fabric pyjamas are made for all the family - even the dog! There's a gorgeous little bandana for your four-legged friend, plus slippers to match.
Trust Marks & Spencer to come up with the classiest Christmas PJs out there. These gorgeous checked cotton ones look seriously cosy, and they come in matching trousers or shorts for men, plus an adorable babygrow for the little ones in your life.
4. Elf on the Shelf pyjamas, George
Elf on the Shelf lovers will adore these themed pyjamas, which are made from a lovely stretch material. They're available in men's, women's, children and even baby sizes, with an adorable red babygrow for the smallest ones in the family.
5. Reindeer pyjamas, Next
These comfortable pyjamas aren't overly festive, so you can wear them all through the winter. In a matching long sleeved jumper and leggings design, we think they look so comfortable - in fact, your kids might even be happy to wear them!
6. First family Christmas pyjamas, Etsy
Mark your first Christmas together with these special personalised pyjamas, which are designed for newborns, toddlers, women and men. You can add a name to each set to make them feel extra special, and you can bet your young ones will love wearing them.
7. Fairisle pyjamas, Amazon
Fairisle print is a gorgeous way of embracing Christmas without looking overly gaudy, but there's no mistaking that these were made for the festive period. With reindeer and snowflake print, they're bound to be a favourite.
8. Christmas pyjamas, Amazon
Merry Christmas! These very festive pyjamas are bound to get you into the spirit of things, and with the year printed on they feel extra special. We'll be wearing them from now until Christmas Day.
If you want to go all-out festive, you won't find better than these fun reindeer onesies, which come complete with a hood featuring ears and antlers. Available in sizes starting from newborn baby and going up to men's XXL, there really is one for everyone.