30 best alcohol gifts and present ideas for a very merry Christmas in 2022
From wine and gin, to trendy alcohol gift sets, these alcohol gifts and present ideas are the ideal way to treat friends and family who are hard to buy for this Christmas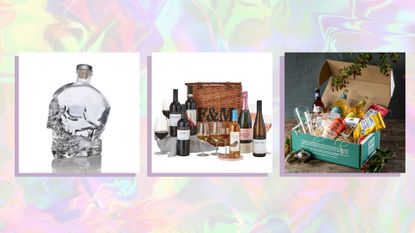 (Image credit: Crystal Head, Fortnum & Mason, Sandford Orchards)
Alcohol gifts make great present ideas at Christmas time because they are quick and easy to source, they've got a great shelf life and as long as your recipient likes the tipple in question, the gift is almost guaranteed to be well received because it doesn't need to match their style, be stored or displayed.
There's more to choosing the right alcohol gift than nipping to the supermarket and grabbing the cheapest bottle of prosecco though. Whether you're buying a thank you gift for your host this Christmas or opting for something drinkable as a Christmas gift for the dad who has everything, it's always worth looking for a thoughtful or indulgent version of someone's favourite tipple so it really feels like a treat.
Before buying, start by considering what drink they like the most and if you're more likely to see them sipping spirits or enjoying a real ale. If in doubt, it's hard to go wrong with a bottle of the best Champagne or a warming, well-rounded bottle of red to enjoy with a festive feast.
For our guide, we largely avoided featuring single bottles unless there was something particularly special or notable about them and instead chose presents that were more unusual, practical or downright decadent to make sure these alcohol gifts felt really special this Christmas.
Where to find the best alcohol gifts in the UK
Best alcohol gifts ideas for Christmas 2022
From boozy Christmas hampers to experiences like tastings, this is our pick of the best alcohol gifts to put under the tree this Christmas.
How to choose the best alcohol gifts to give this Christmas
Remember the type of alcohol and the thought behind the gift are both far more important than any specific brand when choosing alcohol as a gift. There's little point splashing out on a high-end whisky if the recipient is a dedicated beer drinker, or choosing ale for someone who adores cocktails.
"Great gifts show the recipient that you know their tastes, and have actually given thought about what to buy," says Master of Wine Sarah Knowles from The Wine Society (opens in new tab). "Giving just any old bottle to a friend can be construed as lazy."
When buying wine, think about whether a bottle from a certain country might appeal or simply select a more expensive version of a friend's go-to drink. "Wine is often used to celebrate the little and large milestones in life," says Sarah. "A specific bottle can, if chosen thoughtfully, link to a great memory for your friend, perhaps even one that you've shared together."
Another way to make an alcohol gift feel special is to think about size and quantity. "Magnums and bigger bottles are just great fun and can feel extravagant without breaking the bank," says Sarah. "A mixed case of half bottles could also be perfect for someone to explore various wine styles."