The best Christmas Hallmark movies to stream on the Hallmark Channel for 2022
With autumn upon us, there's plenty of time to catch up on the best Christmas Hallmark movies to stream on the Hallmark Channel now…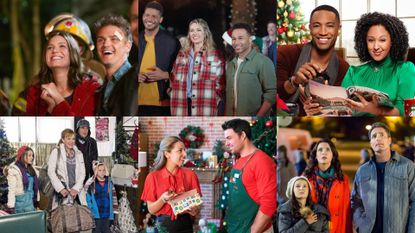 (Image credit: Future// Images credit: Hallmark )
woman&home newsletter
Sign up to our free daily email for the latest royal and entertainment news, interesting opinion, expert advice on styling and beauty trends, and no-nonsense guides to the health and wellness questions you want answered.
Thank you for signing up to Woman & Home. You will receive a verification email shortly.
There was a problem. Please refresh the page and try again.
The best Christmas Hallmark movies have it all - comforting plotlines, heart-warming romances and enough festive joy to put you in the holiday mood whatever the time of year.
With the darker nights approaching fast now that the official start of autumn is just around the corner it won't be long before the countdown to Christmas begins. And for many movie enthusiasts out there that means getting cosy on the coach in your warmest leggings and enjoying the best Christmas food and drink as you make your way through festive film after festive film. If you've already made your way through the best Christmas movies on Netflix and the best Christmas movies on Amazon Prime then why not check out Hallmark's offering?
There's nothing wrong with diving into the Christmas spirit a little bit earlier and Hallmark's movies are fabulous if you're looking for a film that tugs on your heartstrings and reminds you of the power of family, friends and love.
Here we reveal the best Christmas Hallmark movies you can stream on the Hallmark Channel Live - all you need to do to be granted access is input your cable details!
Best Christmas Hallmark movies to stream now
My Grown-Up Christmas List
Full disclosure: although a celebration of love, this Hallmark movie is likely going to have you shed loads of tears! Starring Kayla Wallace as journalist, Taylor, and Kevin McGarry, a military man, My Grown-Up Christmas List chronicles their relationship as they meet up for Christmas in the same town throughout the years. A truly heart-warming watch!
Campfire Christmas
Corbin Bleu of High School Musical fame joins Tori Anderson, Jeffrey Bowyer-Chapman, Caitlin Stryker and others in this memorable film about a holiday-themed reunion among childhood friends. The celebrations are held at a summer camp where all the protagonists would spend holidays in, a place that is scheduled to go up for sale in the very near future. If it's nostalgia you want from your Christmas films then this is well-worth checking out...
Christmas in Toyland
Is there anything more magical than a toy store during the holidays? We didn't think so! And that's the concept at the heart of Christmas in Toyland, starring Vanessa Lengies and Jesse Hutch as a duo of clerks who are desperate to save the shop that they work in and keep the festive spirit alive.
A Dog Named Christmas
Noel Fisher takes on the role of Todd McCray, a young man with a learning disability who lives with his parents in rural America and is passionate about giving dogs their forever home. One holiday season he sets out on a quest to save as many dogs as possible during the local animal shelter's "Adopt a dog for Christmas" program meaning there's not only lots of festive fun but adorable dogs to enjoy.
A Season for Miracles
Based on an eponymous novel, A Season for Miracles is one of the best Christmas Hallmark movies and boasts a pretty stellar cast. Jurassic Park star Laura Dern plays Berry, who overdoes at Christmas, leaving her children J.T. (Evan Sabara) and Alanna (Mae Whitman) facing the prospect of foster care. Their aunt Emilie Thompson (Carla Gugino), eventually takes them in but the three flee to Rhode Island to escape the authorities. There, they meet a "guardian angel" played by Patty Duke that will help them find the strength and peace they've been looking for. Heartwrenching and emotional!
Christmas in Conway
Mary-Louise Parker is Suzy Mayor, a terminally ill woman that lives in South Carolina with her husband Duncan (Andy Garcia) and is assisted by live-in hospice nurse Natalie (Mandy Moore). Determined to give her one last magical Christmas before she passes away, Duncan decides to build a Ferris wheel in their own backyard, mirroring the place he proposed. Unfortunately for them, the townspeople aren't exactly delighted by the idea but with Christmas just around the corner, will they find it in their hearts to accept this heartfelt creation?
Lucky Christmas
Just like many of the best Christmas Hallmark movies the somewhat predictable nature of this festive story is why we love it so much! Holly Ceroni (Elizabeth Berkley) is a a single mother who wins the lottery but quickly realizes that she left the ticket in the glove compartment of her stolen car. Mike Ronowski (Jason Gray-Stanford) is the construction worker behind the theft who comes up with a plan to befriend Holly and convince her to split the lottery winnings with him. Believing her luck has turned when she meets Mike, romance soon blossoms between Holly and Mike. Though the secret he's keeping can only be kept for so long...
Fallen Angel
Fallen Angel is another of the best Christmas Hallmark movies which is based on a novel and just like many of the best book-to-movie adaptations this makes for an unmissable watch! Author Don Snyder is also the writer of the film's teleplay and it stars Gary Sinise as Terry McQuinn, a successful attorney that lives in California but was raised in Maine. When his father passes away, Terry returns to his hometown and must deal with his past head on.
November Christmas
November Christmas is based on a short story by Greg Coppa about a young couple with a sick daughter that live in a small community in Rhode Island. Plenty of familiar faces grace the screen, including Sam Elliot, John Corbett, Sarah Paulson and Emily Alyn Lind, as devoted dad Jess is determined to give his daughter both Halloween and Christmas ahead of time as he fears the worst.
Silver Bells
The late Anne Heche stars as Catherine, a widow who has been refusing to celebrate Christmas since the passing of her husband. Things are set to change, however, when widower Christy Byrne (Tate Donovan) travels to New York, where Catherine lives, with his children to sell their homegrown Christmas trees. Developing over the course of a few years, this feel-good Christmas film will spread some serious festive joy...
The Town Christmas Forgot
A Christmas pageant as the setting to a Hallmark movie? Sign us up! Annie Benson (Lauren Holly), husband Charles (Rick Roberts) and their children Nolan (Azer Greco) and Trish (Torri Webster) are stranded in a remote town right before the holidays and, while waiting to head back home, they decide to get involved with the area's Christmas pageant.
Meet me at Christmas
Joan (Catherine Bell) is at a loss when her son's wedding planner quits. While scrambling to coordinate the Christmas Eve wedding and give her son the perfect day, she enlists the help of the bride's uncle, Beau (Mark Deklin). And it's not long before the two find out that they are connected in more ways than one...
Every Time a Bell Rings
Christmas just wouldn't be Christmas without family and Every Time a Bell Rings follows three sisters who re-discover the importance of their own family while visiting their hometown. Working through a scavenger hunt that their late father left for them, as he was wont to do every holiday season, this is a heart-warming tale of togetherness that can't fail to bring a smile to your face.
Let it Snow
Snow Valley Lodge, the main setting for Let Is Snow, is a family-owned destination that is bought out by Falcon Resorts. To the surprise of nobody, given Hallmark's usual plot lines, the offspring of the two families initially butt heads over the direction the property should take... but eventually fall for each other.
The Christmas Train
This entire festive movie is basically based on a train journey - a fact that sets The Christmas Train apart from the other best Christmas Hallmark movies. Dermot Mulroney is a disillusioned journalist who decides to take a train from Washington, D.C. to Los Angeles during the holidays as a tribute to his late father and in the hopes of finding some inspiration for a new article. The story follows the lives and travails of his fellow train riders and is packed full of wonderful moments.
A Christmas Miracle
Tamera Mowry-Housley is Emma Sanderson, a single mother who is frantically looking for a Christmas miracle after her boss at the temporary job she's landed at a lifestyle magazine steals her idea for a cover story. Emma finds comfort in her colleague Marcus (Brooks Darnell) as the two embark on a romance while trying to solve the problems at hand. If you love a yuletide romance then this media-focused story has everything you could ever hope for!
Mingle All the Way
Molly is the founder of a networking app called Mingle All the Way that seeks to connect professionals for upcoming events without promising long-term romance. To prove its success, Molly actually joins the app and before long she meets Jeff. Although at first the two don't get along, they decide to stay connected throughout holiday events and - as you might have expected - long-term romance beckons...
Magic Stocking
If you believe in magic (as you should!) and love the holidays, then this Christmas Hallmark movie is for you. The plot is pretty straightforward: a widow's young daughter is given an old Christmas stocking while at a local craft sale and the object ends up sparking a slew of miracles throughout the holiday season. After all, there's nothing like a miracle or two to show the power of Christmas.
Marry Me at Christmas
There's a lot going on here, starting with everyone's favorite romantic event: a Christmas wedding. In the midst of planning the perfect nuptials for a client, bridal boutique owner Madeline Krug meets and falls in love with the bride's brother, Jonny Blaze, who is a celebrity. Will Madeline get to know the real Jonny or will she not be able to scratch the surface? Will Jonny fall in love with Madeline as well? You'll just have to settle down and watch to find out!
Sign up to our free daily email for the latest royal and entertainment news, interesting opinion, expert advice on styling and beauty trends, and no-nonsense guides to the health and wellness questions you want answered.
Anna Rahmanan is a New York-based writer and editor who covers culture, entertainment, food, fashion and travel news. Anna's words have appeared on Time Out New York, the Huffington Post, Fortune, Forbes, Us Weekly, Bon Appetit and Brooklyn Magazine, among other outlets.