The real meaning behind upside down Christmas trees
Upside down Christmas trees have been around for centuries but the festive tradition has become more mainstream in recent years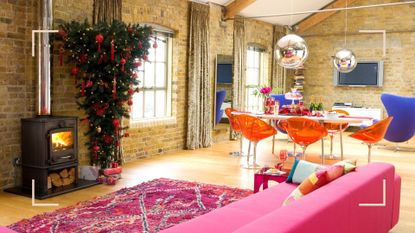 (Image credit: Future)
woman&home newsletter
Sign up to our free daily email for the latest royal and entertainment news, interesting opinion, expert advice on styling and beauty trends, and no-nonsense guides to the health and wellness questions you want answered.
Thank you for signing up to . You will receive a verification email shortly.
There was a problem. Please refresh the page and try again.
Upside down Christmas trees are becoming more and more popular but is there any meaning behind the inverted shape? We explain the origins of the quirky arrangement.
Christmas tree decorating ideas don't come much more original than this, so if you're looking for a way to display your best Christmas decorations while making an immediate impact, it might be worth flipping your tree around. It's a quick but creative way to utilize the decorations you already have and this Christmas tree theme is much-loved by designers and celebrities.
But where did the tradition actually come from and is there any symbolism attached to the shape? We explain the history behind the tradition, plus some expert tips on how to style an inverted tree.
What's the meaning behind upside down Christmas trees? All you need to know about their origin
Upside down Christmas trees have been around for centuries as a popular Christmas decoring idea. The exact origins are unclear but it's understood they may have been a staple in homes over the holiday season from as early as the 7th Century. Folklore from the Middle Ages credits a Benedictine monk named Saint Boniface who, according to legends, saw a group of pagans worshipping an oak tree.
This prompted Boniface to cut down the tree, replacing it with a fir tree, before cutting up the fir tree and hanging it upside down as a way of explaining the Holy Trinity to the pagans.
It is believed the tradition stuck for centuries afterward, with the shape of the upside down Christmas tree representing Jesus' crucifix. However, many people also opted for an inverted Christmas tree throughout history for space and financial purposes.
Author Bernd Brunner (opens in new tab) explains in his book, Inventing the Christmas Tree that the arrangement became popularized in "In the small common rooms of the lower classes" in the 19th century when there was simply no space for an upright tree.
"It became common to hang a tree from the ceiling joists or rafters. Dangling above, the tree was out of the reach of children who might otherwise have pilfered the decorations or sweet tidbits," he explains. "Trees were sometimes even hung upside down: pointing the root toward heaven was supposed to imbue the tree with divine powers. Having the tree from the ceiling like a chandelier was also thought to protect the household from harm."
The Polish Art Center (opens in new tab) also confirm that it was common for people to suspend branches from their ceiling during the festive period, in the absence of being to afford a full tree. It was not common, they note, to suspend a "whole" Christmas tree, though.
"Before the Christmas tree became widespread in Poland during the 20th century, it was the custom to decorate peasant cottages, especially in southern Poland, with a "podniczka" (upcreeper) or "sad" (orchard). This was nothing more than the point of an evergreen suspended point-side-down from the rafters," the center's Warsaw correspondent Robert Strybel confirms. "Sometimes it was simply an evergreen branch. These were decorated with homemade ornaments, fashioned from straw, paper or Christmas wafers ("oplatek"), as well as sweets, gingerbread hearts and "marcypan (almond-paste) figures."
These days, some people simply opt to hang their trees upside down for aesthetic purposes. In 2017 Karl Lagerfield designed the glitzy tree for Claridges and opted for an inverted shape, saying at the time that it was inspired by childhood memories of Christmas. A year later, in 2018, singer Ariana Grande posted a picture of her upside down tree on her Instagram, prompting a barrage of questions (and sales). When quizzed on the arrangement, she reportedly told the press at the time "Sometimes life just be upside down."
How to style an upside down Christmas tree in your home
Sure, the best artificial Christmas trees and the finest real Christmas trees are pretty special, but if you want something a bit out there, then incorporating an upside down Christmas tree into your space is surprisingly easy.
If you're a fan of the look and would like to incorporate it into your own festive décor this year, London-based interior designer, Rudolph Diesel (opens in new tab), shared his top tips on how you can make the most of this trend.
"The trend is fun, a little 'out there' visually, and a suitable way to change things up a little. What better way to take an old tradition and make it your own. There is no right or wrong, no rules… so just go for it," he tells woman&home. "I would start by making it the feature and move anything out of the way that might distract the eye. Christmas trees are usually a feature in a room but the mistake people make is surrounding them with furniture and other accessories. In this case, you want the tree to truly take center stage—a truly bold, eye-catching statement."
Rudolph says that when creating such a statement piece, you need to also consider your theme as it will make or break the 'wow' factor.
"An upside down Christmas tree requires commitment. You need to pull out all the stops and adorn the tree with sensational ornaments. Forget the tinsel this year which can sometimes look cheap—think bigger, bolder, and more glamorous."
It's not a trend that works for every space, however, and Rudolph notes that most people who enquire about an upside tree end up reverting to the traditional arrangement.
"We have always ended up reverting back to the traditional approach. A traditional tree is gorgeous in its own right and might suit more classic-style interiors better," he says. "Upside down trees suit medium to large spaces best. Think lobbies, entrance foyers, living rooms, formal reception rooms, and open-plan spaces."
It's recommended that you buy an upside down tree that comes with a sturdy stand built into the design so you can simply place it on the floor, rather than trying to secure it to the ceiling (which for most domestic spaces is a risky move). You can find upside down Christmas trees on Amazon (opens in new tab), most of which come with a stand. They can be a little more precarious to balance, so if you're looking for a cat-proof Christmas tree, you may want to consider another design.
If you want any more inspiration on unusual decoration ideas, check out our guides on the best Christmas tree alternatives and the Christmas tree color trends of 2022.
After watching 13 Going on 30 one too many times, Emma decided that she wanted to be a journalist and studied Multimedia Journalism at the University of Salford. She started her career as a fashion copywriter before delving into the world of digital journalism and her published work can be found in the likes of woman&home, Cosmopolitan, Metro, i-D and Apartment Therapy. Emma writes about interior design, travel, film and television, celebrities, and internet culture.