Heard of a capsule wardrobe? Here's why experts keep a 'capsule kitchen' using the same principles
Our food editor reveals how a 'capsule kitchen' has changed how she cooks, sharing her tips for how to create one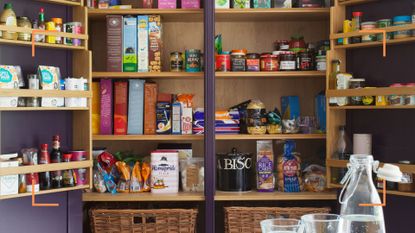 (Image credit: Future | Richard Gadsby)
woman&home newsletter
Sign up to our free daily email for the latest royal and entertainment news, interesting opinion, expert advice on styling and beauty trends, and no-nonsense guides to the health and wellness questions you want answered.
Thank you for signing up to Woman & Home. You will receive a verification email shortly.
There was a problem. Please refresh the page and try again.
Capsule kitchens are trending and we are totally on board. A streamlined kitchen can save time, money and precious kitchen space by slimming down your store cupboard to a selection of hard-working essentials all suited to the way you cook.
Similar to how a capsule wardrobe can transform your closet a well-organized kitchen is a gift for any keen chef when preparing meals. From carefully maintained kitchen cupboards stocked with the perfect ingredients to a thoughtfully stocked fridge to ensure you always have exactly what you need right at your fingertips every time you cook.
As womandandhome's food editor, I'm an expert in food prep. I'm sharing my top tips and tricks for building your successful capsule kitchen and explaining why keeping stock of your pantry ingredients is so important.
What is a capsule kitchen?
A capsule kitchen is a carefully curated store cupboard of essential ingredients that can be mixed and matched to create everyday dishes for breakfast, lunch and dinner for your weekly meals.
In many ways, the capsule kitchen - or capsule-organised pantry - is similar to a meal plan, with the added benefit of flexibility, allowing for a bit more spontaneity.
The benefits of a capsule kitchen
Before embarking on my capsule kitchen adventure, I was regularly guilty of picking up a few whimsical or 'just in case' ingredients every time I went to the shop. It's great to try new products, but I found my cupboards would regularly fill up with open packs of pulses, rice and pasta, and my fridge door was overrun with half-used jars of condiments.
Slimming down my kitchen to the bare bones meant I was always aware of what I had on hand, and would be better attuned to deals on the things I use the most.
Here are the five main benefits of implementing a capsule kitchen...
Saves money: One of the biggest benefits of a capsule kitchen is the money-saving aspect. Having a set list of ingredients you always fall back on means you avoid the temptation of adding impulsive buys to your shopping basket. By nature, the capsule kitchen also tends to contain a lot of staples which are generally more economical. Reflecting on her capsule shopping habits, I noticed I was spending a lot less on the weekly shop.
Reduces waste: With a capsule kitchen, you have fewer ingredients to keep track of. With less produce in your cupboard and fridge, you tend to use everything before it expires - no more sad slimy salad or pappy apples lingering in the back of the fridge. I've found it very rewarding to use up everything I have. It makes my kitchen work harder and there's less, often nothing, going in the bin at the end of the week.
Saves time: By simplifying your day-to-day shopping and cooking, you'll naturally free up spare time. The typical capsule meal for me tended to be fast and easy to cook. With fewer trips to the shops and less musing over the question of 'what's for dinner?' I'm able to better plan my week. I also like to eat out several times a week and I've found this method of cooking far more flexible than other types of meal planning.
It stirs creativity: With fewer ingredients to turn to, the capsule kitchen encourages you to cook more creatively. I've become more attuned to good substitutions and over time my capsule essentials have evolved a lot. I've found it easy to edit down from where I started. For example, apple cider vinegar is a great substitute for a lot of the other acid flavourings I would otherwise be adding to my cooking. There's a special sense of satisfaction that comes from this sort of thrifty cooking - it feels more wholesome and rewarding when you find a good solution.
Encourages healthier meal plans: Cooking from scratch means you know exactly what's going into your food. The capsule kitchen makes home cooking easier and faster and organically encourages you to cook more. I eat far less takeaway now, and with fewer ingredients to focus on, I tend to get more creative with the fresh ingredients I'm adding to my cooking.
How to build a capsule kitchen
Getting started with your capsule kitchen can feel a little overwhelming, but it's easy enough if you follow a few simple steps.
There isn't a one size fits all approach, but once you work out what works for you, it's simple to follow. Here are five simple steps to get you started:
1. Get organised
Take some time to give your kitchen a good spring clean and do a stocktake of what you have. Separate out the ingredients you have in regular rotation and the ones that have been lingering at the back of the cupboard or fridge. Now's the time to do a big use-it-up cook up, and/or donate the bits and pieces you won't use.
Top tip: Check with your local food bank to see what they will and won't take. Sharing apps such as Olio are another great place to donate anything the food banks can't take.
2. Consider your cooking habits
Chances are you'll have some cooking habits that will influence your capsule kitchen. Do you like to batch cook, or are you more of a speedy sheet pan dinner household? Do you gravitate to a certain cuisine or are there any health or dietary considerations that influence the way you eat? Do you dine out or entertain on a regular basis? Do you bake a lot?
All of these questions will help you decide what goes into your capsule kitchen.
Top tip: Make a list of your go-to recipes and the flavours you craves the most. The basic list of ingredients in your capsule will tick many of these boxes.
3. Make a list
After your kitchen clear out, it will be more obvious what ingredients you use regularly, and the ones that you really don't. Now make a list of the ingredients you reach for time and time again. These will form the heart of your capsule kitchen.
It can be hard to whittle down the list at first, so start with a long list at this stage, and you can always edit it later. Be really honest here, if you cook with it every week, add it to the list, but if it only gets used once a month or less, it's probably not an essential. Divide your list into the following and note the things you use most often:
Proteins: What's your go-to?..chicken, mince, tofu, fish/seafood?
Fresh/frozen fruit and veg: Think about the things you actually use and the things that tend to linger. Do you like to switch it up with the seasons or do you buy the same ingredients year-round?
Dairy (or plant-based equivalents): Milk (fresh or long-life?), butter, cheese, yogurt, eggs?
Condiments: Think about your go-to seasoning - the salts, fats and acids you always reach for - oils, bottles of vinegar and alternative salts like soy or fish sauce - What do you use the most?
Flavourings: What spices and/or dried herbs do you use on a regular basis? Are there any shortcut ingredients like pesto, harissa or curry paste that make their way into a lot of meals?
Carbs: Pasta/noodles, rice, bread, grains and pulses - do you tend to cook from dried or opt for a convenient pre-cooked pack?
Other basics: flour, sugars etc. - it's worth thinking about what types you use all the time. If you're a baker you might want to keep self-raising flour and even bread flour on hand, as well as plain flour. Bicarbonate of soda, baking powder and cocoa powder are also useful additions if you bake on the regular, but the golden rule is only put it in if you use it regularly!
Top tip: I like to include a few freezer-friendly proteins, veggies and fruit in my capsule kitchen to ensure I always have something to rustle up, even on those weeks when i've not been to the shops.
4. Assemble your capsule kitchen
Now for the fun bit. The size and content of your capsule kitchen is really up to you. There's no hard and fast rule, but as a starting point, aim for something like this:
Assemble your store cupboard:
3-4 seasoning condiments: Oils, vinegars, salt alternatives (soy sauce, fish sauce etc.)
3-4 additional condiments: Mayonnaise, mustard, honey, peanut butter, tomato ketchup.
3-4 spices/blends: Coriander, cumin seeds, cinnamon, garam masala, fajita seasoning
3-4 carbohydrates: Pasta, rice, couscous
3-4 tinned/jarred stapes: Pulses, beans, pickles, fish, olives, pesto etc.
Add some additional basics according to your habits and likes - eg. flour, sugar, oats, bread, tinned tomatoes, jarred pickles etc.
Add fresh produce:
2-3 versatile proteins: Chicken breasts or thighs, mince, fish fillets (or tinned fish), prawns, sausages, tofu, eggs
3-4 fresh/frozen vegetables
2-3 fresh/frozen fruits
Add your fridge/freezer staples:
1-2 cheeses
Milk
Butter
Yoghurt
Frozen pastry
Top tip: Add a few rotational items to your shopping list to keep things fresh and interesting from week to week. A jar of pesto, some chorizo sausage, some seasonal veggies or a nice pickle of ferment like kimchi can be very versatile and keeps you on your creative cooking toes. Set a limit - perhaps 2-3 items at a time, and make sure you use it up before adding something else.
5. Shop and get cooking
Now you have your list of ingredients, it's time to put your capsule kitchen into practice. Note what you have on-hand and shop to replenish as needed.
Your core ingredients may evolve over time, so remember to keep reviewing, and adjust to what suits you best. You might find you need more or less ingredients than we suggest, but as long as it's giving you the flexibility you need and you're using everything then you're doing it right.
What you need in your capsule kitchen
My capsule kitchen is a little larger than a basic one, but it leans heavily to store cupboard staples, which last a lot longer than fridge and freezer produce.
I love a double-duty ingredient that works as a marinade, seasoning and dressing - and many of my staples fall into this area.
My main rule of thumb is to make sure you tick the five flavour boxes - something sweet, something sour, something salty, something spicy, something savoury and you'll always have a great meal.
In the cupboard
Cooking oil: A good neutral oil like sunflower or light olive oil is a versatile workhorse in the kitchen and can be used for most of your cooking needs from deep/shallow frying, to grilling, baking and beyond.
Extra virgin olive oil: A high-quality 'finishing' oil will elevate any meal. It's great for drizzling just before serving. It also makes a more robust base for dressings and sauces like mayonnaise.
Apple cider vinegar: I always have a bottle of apple cider vinegar in the cupboard for adding a dash of sour to any dish. It's also great for dressings and sauces and makes a good substitute for most other vinegar, including those used in a lot of Asian cuisines, which I like to cook.
Balsamic vinegar/pomegranate molasses: A sweet and sour condiment like these can really earn its keep in the kitchen. It's good for drizzling over salads, as a quick post-grill marinade for steak (drizzle over while it rests), or even as a little hit of something sour in sweet dishes. I love to add a splash to fruit crumbles and it's a winner with vanilla ice cream.
Soy sauce: I love having alternative slat options for cooking. A good quality soy sauce is so versatile and will work with everything from seasoning to marinades to dipping sauces.
Chilli oil: A good chilli crisp is my go-to condiment when I want something spicy. It's great in stir-fries, braises and marinades, and is good on its own, drizzled over fried eggs or simply steamed rice.
Mustard: I like Dijon or English mustard. Beyond a sandwich spread, it makes a delicious coating for roast meats and adds piquant pep to dressings and marinades.
Honey: A good sweet touch for dressings, marinades and any sweet dishes too. I like honey on toast but if you're more of a jam/marmalade fan, these would both work in its place.
Chilli oil/paste: I like to keep a good chilli on hand for marinades and dressings, as well as quick sauces. Sometimes it's harissa, chilli crisp oil, or Korean gochujang.
Mayonnaise: Good for creamy sauces and dressing, it also works in cakes and bakes believe it or not.
Spices: I always have cumin seeds, coriander seeds, smoked paprika and ground cinnamon/mixed spice on hand. It's amazing how universal these flavours are, and I find they work well in a lot of my favourite cuisines, from Mexican to Indian. Additionally, I like to have a couple of good spice blends in the cupboard. Garam masala works well in both South Asian and middle eastern style dishes, and a chipotle blend works well in chillies, with cheesy dishes and as a quick seasoning for chicken, mince and fish.
Stock cubes/pots: A low sodium stock cube or pot does wonders for all my stews and braises, and makes a good base for quick soups.
Pasta: I like to keep long and short pasta on hand. It's cheap, fast and endlessly adaptable. I like orzo as it makes a good speedy alternative to rice when you're craving a risotto dish.
Rice: As I'm often only cooking for one or two at home, I've become fond of pre-cooked rice pouches. Great for a quick side or even a filing base for salads.
Couscous: It's always good to have a third carb on hand. Fast to prepare and it works hot or cold and can be flavoured as needed.
Tinned tomatoes: Whole ones are generally cheaper than crushed ones and more versatile as you can drain and whizz them into a pizza base, or add them to curries, stews etc.
Tinned beans/pules: I always keep chickpeas and butter beans or similar on hand. Good for adding to soups, stews, salads and whizzing into dips for snacking.
Tinned fish: I always keep a couple of tins of tuna in spring water on hand. It's a cheap and cheerful addition to salads, pasta dishes and toasties.
Jarred Deli goods: I keep olives in the cupboard for a good briny kick in salads, stews and whizzing into a quick tapenade for snacking. I also like to keep a jar or two of red peppers on hand for similar usage, and for adding a touch of sweetness to baked chicken and the like.
Additional basics: Plain flour, corn flour, panko breadcrumbs, rolled oats, cocoa powder, brown sugar.
Fresh and frozen
Onions/garlic/ginger: There are a few dishes that don't start with onions and/or garlic as a base. I tend to keep my ginger in the freezer as it lasts longer and adds an extra layer of flavour to the base of curries and soups.
Potatoes: I always have some on hand. Opt for a workhorse spud that's not too floury for the most versatile usage.
Mushrooms: So nutritious and fast to prepare, I whizz them into ragu to bulk it out, pan fry with a little garlic, or roast for a quick veggie main.
Lemons/limes: A bit of citrus is always handy and lasts a long time.
Frozen spinach: Good for pies, curries and soups and it keeps for a long time.
Frozen peas/edamame: Good for everything from dips to salads to soups and fried rice.
Frozen berries/other fruit: Good for quick smoothies and sweet treats like crumbles.
Eggs: If you have a pack of eggs you always have a meal. They turn a salad into a main meal and can be cooked in so many ways you'll never get tired of them.
Milk/butter/yoghurt: Yogurt is great for savoury and sweet dishes, and it's healthy too. It tends to last a while in the fridge too
Cheese: I always have parmesan in the fridge. It is a good savoury umami boost to everything from pasta dishes to stews. I also like to keep feta or cheddar depending on the season - feta for summer and cheddar for the cooler months.
Proteins: I like to mix this up from week to week but I generally always keep a packet of frozen raw prawns in the freezer - fast, lean and tasty. Additionally, I generally alternate between sausages or mince - great for burgers, meatballs, chillies and a quick ragu - and chicken thighs - good for curries and schnitzels.
Sign up to our free daily email for the latest royal and entertainment news, interesting opinion, expert advice on styling and beauty trends, and no-nonsense guides to the health and wellness questions you want answered.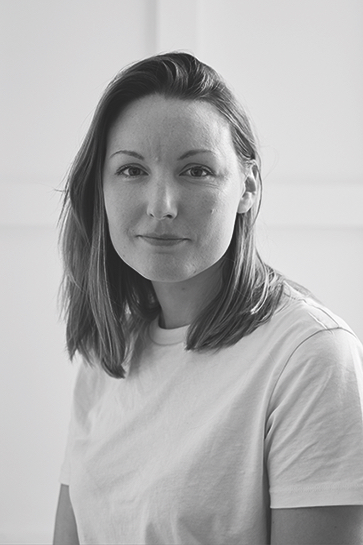 Jess is the Group Food Editor at Future PLC, working across brands in the woman's lifestyle group, including Woman and HOme, Woman's Weekly, Woman, Woman's Own, Chat, womanandhome.com and Goodto.com. Jess studied at Leiths School of Food and Wine in London, graduating with a diploma in culinary arts before gaining a scholarship to study at the Ecole Nationale Superieure de Patisserie (ENSP) in France, where she learned the fine art of French patisserie.
An experienced recipe writer, food stylist and home economist, Jess honed her skills in print and digital food media, working with well known brands such as Great British Bake Off, Tastemade US and UK, Slimming World, Tesco, M&S, Tabasco, Baileys, Castello and Stella Artois to name a few; as well as a host of book titles.