The best sleep aids will have you snoozing in no time
The 11 natural sleep aids in our round-up are designed to help you get the best sleep, every night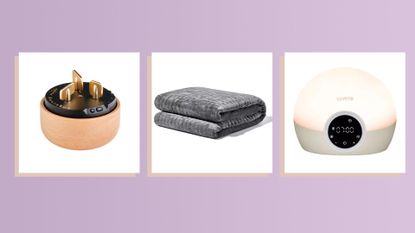 (Image credit: Future)
The best sleep aids are natural, safe-to-use, and designed to soothe you into a peaceful slumber, so you can have the best sleep every night.
Good sleep is so important for our physical and mental wellbeing. As we sleep, our body rests and repairs—it keeps our heart healthy, our immune system strong and our brain functioning effectively—it's pretty essential. But, here at w&h we know good sleep doesn't always come easy and we all struggle to nod off every now and again. This is where the best sleep aids come in.
Natural sleep aids are designed to promote a restful night's sleep. They can help you master how to fall asleep fast, create a relaxing bedtime routine and ensure you wake up feeling refreshed and energized. They can also benefit those who do suffer from sleep disorders, are some of the best natural cures for insomnia and can help ease sleep anxiety at night. We tested everything from pillow sprays and magnesium flakes to the latest apps and eye masks, to bring you the very best sleep aids on the market.
How we selected the best sleep aids
Why you can trust Woman & Home Our expert reviewers spend hours testing and comparing products and services so you can choose the best for you. Find out more about how we test.
Over many months, our testers trialed natural sleep aids to bring you this round-up. Testing everything from pillows and weighted blankets to meditation apps and sleep teas, they considered:
Brand's claims—when trialing sleep aids our testers considered if the product lived up to the brand's claims and their own expectations. The best sleep aids for you will very much be down to your personal preference, but our hope is this list gives you a starting point on your journey to better sleep.
Scientific evidence—testing natural sleep aids is no mean feat and it was important for our testers to not only weigh up the brand's claims, but also any evidence around these promises. Due to their holistic nature, many natural sleep aids have little scientific research to back up their claims, but we included information on the products that research has delved into further.
Price—to bring you a mix of budget-friendly and luxury products, we tested sleep aids at a range of price points.
The best sleep aids, according to our experts
1. Emma Memory Foam Pillow
Best pillow
Specifications
RRP: $109 / £119
Type: Memory foam
Firmess: Soft/medium
Reasons to buy
+
Relieves pressure in head and neck
+
Adjustable to suit your sleeping position
+
Breathable machine washable cover
Reasons to avoid
-
Might be too soft for some
If you find yourself tossing and turning at night, it could be time to change your pillow. No matter your sleeping position, the Emma Memory Foam Pillow is one of the best pillows on the market for comfort and breathability. The soft and breathable pillow is adjustable, which means you can add and remove layers to suit your needs. Emma recommends side sleepers keep all three layers in place, while back sleepers should use two and front sleepers should use just one. Our side sleeping tester found this to be true, but our second tester who describes herself as 'restless' at night found using two layers was best to suit her position changes.
The make-up of the foam filling adds the necessary pressure to keep your spine aligned and relieve tension in your head and neck. All while still allowing your head to rest comfortably throughout the night. The only downside to this sleeping aid is that it may be too soft for those who prefer a firm pillow.
2. Alaska Bear Contoured Eye Mask
Best eye mask for sleep
Specifications
RRP: $15.99 / £14.99
Material : Memory foam and silk
Reasons to buy
+
Contoured around eyes for comfort
+
Effectively blocks out light
+
Adjustable straps for a perfect fit
Reasons to avoid
-
Thick material and the memory foam might be too hot for some
There are plenty of gorgeous sleep eye masks out there but if you want an eye mask that really means business when it comes to quality shut-eye, let us introduce you to the Alaska Bear Contoured Eye Mask. Thanks to the contoured design and adjustable straps the Alaska Bear eye mask fits comfortably, leaving plenty of room for your eyes to naturally open and close. The contoured design is ideal for those with LVL or eyelash extensions as the inside of the mask doesn't touch lashes—win! Made from soft memory foam and with a silk feel, it feels luxurious to touch and more expensive than its price tag.
Best of all, it totally blocks out light so you can sleep soundly. Our tester used this mask at home and while traveling, during afternoon naps to airplane snoozes, and slept comfortably each time. While the memory foam filling provides plenty of padding for ultimate comfort, in the warmer months this might be too hot for some.
3. This Works Deep Sleep Pillow Spray
Best pillow spray for sleep
Specifications
RRP: From $29 / £19.50
Sizes available : 75ml, 150ml and 250ml
Key ingredients : Lavender, chamomile and vetivert
Reasons to buy
+
Calming scent
+
Cruelty-free and vegan
+
Award-winning product
+
Subscription service available
Reasons to avoid
-
Expensive for 75ml bottle—more affordable options out there
Spritz your pillows, duvet, blanket, pajamas, and anything in sight with the This Works Deep Sleep Pillow Spray and you'll soon be catching those desired Zzzs. The award-winning product contains an aromatherapeutic blend of lavender, camomile, and vetiver to encourage sleep by soothing the mind. Research in this area is limited, but there are some studies (such as that from Wesleyan University (opens in new tab)) that suggest Lavendar scent can increase the amount of deep-wave sleep we experience. What's more, 89% of This Works' panel of testers say they fall asleep faster than usual when using this spray, and our tester would agree.
With a spritz of this on the top of their duvet and on their pillow, our tester felt calm and relaxed. They found it particularly helpful to still their anxious mind after a stressful day. Of all the lavender-based sleep sprays they tested, they found the Deep Sleep Pillow Spray was the least overpowering, and instead, they appreciated the subtle hint of lavender. However, for a small 75ml bottle this is on the more expensive side and you can pick up lavender sprays for less elsewhere.
4. Gravity Weighted Blanket
Best weighted blanket
Specifications
RRP: From $215 / $£149
Weight available : 15lbs - 35lbs
Material : Microfiber fleece fabric
Filling : Glass beads
Size : Single and Queen
Reasons to buy
+
Has outer removeable machine-washable cover
+
Gridded stitching keeps filling secure
+
Range of weights available
Reasons to avoid
-
Expensive in comparison to other weighted blankets
-
Some people don't like the weighted feeling
Using the power of deep pressure stimulation, a weighted blanket is designed to mimic a cozy hug. Although an investment, the Gravity Weighted Blanket is one of the best out there. As a general rule, you should use a weighted blanket that's around 10% of your body weight—and this option is available in a range of sizes and weights, from 15lbs—35lbs.
Made from a microfiber fleece fabric, the Gravity Blanket has a removable and machine-washable cover for easy cleaning. Inside it's filled with glass beads which add weight to this bedtime companion. The blanket is said to reduce sleep and anxiety, by stimulating the feeling of being held which increases serotonin and melatonin (two hormones that regulate our sleep). On top of that, the brand's own sleep study found 72% of participants had a deeper and more restful sleep using the Gravity Weighted Blanket, while 76% said they fell asleep faster. Our tester rated this blanket for its quality and comfort—and they felt almost instantly calmer with this sleep aid draped over them. However, they did note that others in their household weren't comfortable with the weighted feeling, so using a weighted blanket for better sleep might not be for everyone.
5. Headspace App
Best sleep meditation app
Specifications
Monthly plan: $12.99 per month
Family plan : $19.99 per month
Annual plan : $69.99 per year
Available on : Apple App Store and Google Play Store
Reasons to buy
+
Wide range of mediation practices and courses
+
Bedtime stories for dozing off to
+
Kids and parents section
Reasons to avoid
-
Not suitable for those avoiding phone use in the bedroom
Meditation kickstarts our body's rest and relaxation response so it's no surprise it's one of the best natural sleep aids. When it comes to meditation apps, look no further than Headspace—there's a reason it's loved by millions of people worldwide. Offering a huge variety of meditation practices and mindfulness courses, our tester took a 10-day sleeping course and found it helped them wind down in the evening and prepare their body and mind for a restful slumber.
The best part of all? Headspace's Sleepcasts—aka bedtime stories for adults. The soothing 45-minute tales are a great addition to your bedtime routine and will have you nodding off in no time. They've been designed to help you wind down and lull you to sleep—so don't worry if you fall asleep mid-story, our tester certainly did. If you find yourself becoming too engrossed in the story, you can try the Sleep Music section instead, which features tracks up to 500 minutes long. If you wake up in the middle of the night, there are Nightime SOS meditations to ease your mind. And, if you've got kids, the Kids and Parents section is here to help you build a better evening routine as a family.
For those who want to keep their bedroom a tech-free zone, a non-digital or screen-free meditation device might be better than an app like Headspace. If you like to mix up your meditations and hear from a range of practitioners, it's also worth noting there are only a few meditation teachers voicing the practices on Headspace.
6. Morphée Sleep Aid
Best screen-free meditation device for sleep
Specifications
RRP: $142.99 / £79.95
Rechargeable : Yes
Features : 210 guided sessions
Reasons to buy
+
Non-digital and easy-to-use
+
Guided meditations and soundscapes
+
Rechargeable via USB cable
+
Small, chic and travel-friendly
Reasons to avoid
-
Can only choose between 8 and 20 minute practices
The best meditation device for those who've removed all tech from the bedroom. The non-digital, screen-free meditation aid from Morphée seriously impressed our tester. The sleep aid holds 210 guided meditations, is rechargeable via USB, and is travel-friendly—so you never have to go without your meditation routine.
By turning the gold keys on this ultra-chic device you can move between 210 guided breathing, movement, visualization, and body scan meditations, cardiac coherence practices, plus napping and relaxing music sessions. You can also choose whether you want a male or female voice to guide your session and whether you'd like it to last for eight or 20 minutes. Our tester enjoyed the breathing and visualization meditations in the morning, and the body scan meditations, and relaxing music sessions for winding down at night. They went to bed feeling relaxed and drifted off easily.
The Morphée Sleep Aid is expensive, coming with a $142.99 (£79.95) price tag, but it's a product you'll come back to again and again on your journey to better sleep. While our tester has yet to get bored of the guided sessions on offer, they did wish there was more variety in the length of each session.
7. Shakti Mat Original
Best acupressure mat
Specifications
RRP: $89 / £49
Types: Light, Original, Advanced
Colors : Black, Green and Orange
Reasons to buy
+
Three pressure types are available
+
Includes tutorials and guidance
+
Ethically handmade in India
Reasons to avoid
-
Initial pain might not be suitable for some people
The Shakti Mat might not look relaxing, but this acupressure mat could be a total gamechanger for your sleep in the long term. Handcrafted in India, the birthplace of acupressure, this mat is covered in small white spikes that target pressure points on the body to promote relaxation and deeper sleep.
Available in a light, original and advanced pressure, our tester trailed the original mat and was impressed by the results. It's not one for the faint-hearted, and for the first few sessions, you'll have to grit your teeth as you lay down. But, the idea is that by using this mat for 20 minutes every day you'll decompress and enter deep relaxation for a restful sleep. How exactly? According to Eastern medicine, acupressure stimulates specific areas of the body to restore equilibrium. In this state, you can experience deeper relaxation. And, there's some science behind it. Research (opens in new tab) by universities in Italy found acupressure therapy improved the sleep of a group of adolescents with insomnia.
The Shakti Mat comes with plenty of guidance and video tutorials to get you started, but the initial pain might be too much for some and if that's the case, it's worth skipping this one!
8. Lumie Bodyclock Spark 100
Best sunset/sunrise clock
Specifications
RRP: $99 / £79
Dimensions : 19cm x 12cm x 16cm
Sunset/sunrise time: 30 minutes
Reasons to buy
+
Gradually wake you up with sunrise light
+
Tap to snooze
+
Warm to bright light
+
Nightlight features
Reasons to avoid
-
Mains operated so not easy to travel with
The early birds among us won't mind waking up before the sun, but for those who struggle to get out of bed while it's pitch-black outside a sunrise/sunset clock could do the trick. The Lumie Bodyclock Spark 100 promises to promote the body's natural sleep response in the evening and boost energy and mood in the morning. Instead of being jolted awake by a standard alarm, the light on the Lumie clock gradually gets brighter 30 minutes before your alarm so you wake up naturally. You can even adjust the sunrise intensity from bright white light to a yellow glow. Once your alarm sounds, tap the light for a five-minute snooze.
The Lumie can also be used as a nightlight or reading light, and on the 30-minute sunset setting gradually gets darker to help you fall asleep naturally. Our tester found it helped them wind down at night and made getting out of bed on cold, dark mornings a little bit easier. It's great for those who want to keep their phones out of the bedroom, however as it's mains-operated it's not the most travel-friendly device, and you can't adjust the length of time of the sunset and sunrise settings.
9. Rise App
Best sleep tracking app
Specifications
RRP: From $9.99 / £9.99
Free trial: 7 days free
Available on: Apple App Store and Google Play Store
Reasons to buy
+
Provides a variety of data to optimize your day and sleep
+
Compatible with Apple, Fitbit and Garmin
+
Easy to use
+
Information shown in graphs
Reasons to avoid
-
Monthly membership is expensive
-
Doesn't record sleep stages
Want to take your sleep tracking further? There's an app for that. In fact, there are lots of sleep apps out there (see our round-up of the best sleep apps for more recommendations)—but, when it comes to the overall best, RISE easily takes the top spot.
RISE tracks your total sleep time. And, then it takes things one step further and determines your sleep debt (aka how much sleep you owe your body) and your energy schedule (including what time your energy will peak and dip throughout the day). It will remind you when to start winding down for the evening, and notify you of your melatonin window so you can take advantage of your body's natural response and give into sleep. It will help you build better sleep habits, and get to know more about the importance of rest through the education section.
While our tester found RISE gave them great insight into their sleep and used the data to inform the tasks they did that day (e.g. in high energy hours tackled bigger tasks), they felt information on the different sleep stages would be a great addition. Monthly membership costs $9.99 (£) so if you're not ready to invest just yet, try a free sleep tracking app first.
10. Aromatherapy Associates The Atomiser
Best bedtime diffuser
Specifications
RRP: $170 / £120
Mist time : 30 minutes, 1 hour, 3 hours
Water capactiy: Waterless
Charge time: 5 hours
Running time : 18 hours Standard Mode ,12 hours Boost Mode
Reasons to buy
+
Doesn't require water or heat
+
Disperse well in a fine mist
+
Features halo light
Reasons to avoid
-
Quite loud
-
Take five hours to fully charge
Essential oils are a holistic way of improving mental and physical wellbeing—and we think the Aromatherapy Associates The Atomiser is a worthy addition to any nighttime routine. The best essential oil diffusers can fill your home with a calming scent to still your mind, boost your mood and relax your body.
Our tester rated The Atomiser for many features but particularly loved that it's a waterless diffuser so doesn't require a water tank or heat to work. It disperses the scent beautifully in a fine mist and filled their bedroom with a calming blend of Frankincense, Wild Camomile and Petitgrain in the form of the Aromatherapy Associates De-Stress Oil Blend. It was the perfect reset before bed and the subtle glow of the halo light at the top of the diffuser was a calming addition.
The Atomiser features can run for 30 minutes, one hour and three hours. In Standard mode it has a battery life of 18 hours, while in Boost mode that's reduced to 12 hours. Despite the long battery life, it's worth noting that it does take five hours to fully charge, and our tester found it a little noisy which could be a dealbreaker for some.
11. Clipper Organic Snore and Peace Herbal Tea
Best sleep tea
Specifications
RRP: $5.99 / £2.25
Key ingredients : Chamomile, lavender and lemon balm
Quanity : 20 bags per box
Reasons to buy
+
Calming ingredients
+
No artificial taste
+
Eco-friendly packing
Reasons to avoid
-
Lack of research into benefits of these types of tea
-
Not everyone will like the floral taste
Research into the benefits of herbal tea is limited, but many people credit the best sleep teas to helping them drift off faster. Ingredients like lavender and chamomile have been used as natural sleep aids for centuries and there are plenty of sleep teas out there containing these calming ingredients. Of all the herbal teas we've sipped, the Clipper Organic Snore and Peace Herbal Tea has a special place in our hearts (and bedtime routines).
Some sleep teas taste artificial with an overwhelming lavender taste, but Clipper's chamomile and lavender blend with a hint of lemon balm is pleasant to drink. Our tester said it was the perfect accompaniment to her wind-down routine. Clipper's products are blended with natural ingredients and packed in unbleached and plastic-free teabags in the UK. Our tester enjoyed the slightly floral taste, but this flavor might not be everyone's cup of tea... (sorry, we had to!)
12. BetterYou Magnesium Flakes
Best bedtime bath companion
Magnesium Flakes are a very cost-effective way to enjoy the health benefits of a magnesium bath. Soaking in magnesium is said to improve skin health, muscle relaxation & demineralization, helping you to relax before bed. Some studies have linked a nutrient deficiency in magnesium and sleep conditions such as insomnia, claiming that upping our intake can make it easier to drift off. BetterYou is a trusted health brand, that offers a highly concentrated form of 100% natural, pharmaceutical-grade magnesium chloride. Experts recommend soaking for at least 20 minutes to get the full effect of magnesium flakes.
Plus, a hot bath before bed has its own benefits for helping us to sleep. "When we fall asleep our body temperature drops, so having a hot shower or bath an hour before bed artificially raises it. This means we can then allow it to fall naturally so we're kick-starting the sleep cycle again, promoting a deep, better quality sleep," sleep expert Karl Rollison, a therapist who specializes in treating insomnia. Our tester found introducing a warm soak with magnesium an hour before bed was a good way to relax and unwind, and reported much better sleep on the nights they tried this solution.