The 12 best confidence books to boost self-esteem and self-worth
These are the best confidence books to read in 2022 for a self-esteem boost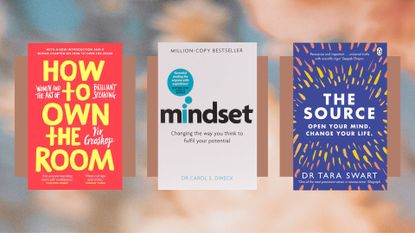 (Image credit: Amazon/Future)
woman&home newsletter
Sign up to our free daily email for the latest royal and entertainment news, interesting opinion, expert advice on styling and beauty trends, and no-nonsense guides to the health and wellness questions you want answered.
Thank you for signing up to . You will receive a verification email shortly.
There was a problem. Please refresh the page and try again.
If you're looking for the best confidence books to read this year, we've got you covered with the top picks from psychologists, life, and confidence coaches. Ranging from the science behind the way we think to a guide on making friends at work and beating social anxiety, there's certainly something for everyone.
Even if you consider yourself a fairly confident person in normal life, it's perfectly natural to need a little self-esteem top-up. With life being so busy, we can face regular knocks to our confidence and having the chance to take a step back and read, or listen, to the words of others is sometimes the thing we need. After all, the journey to gain confidence isn't linear.
Full of the latest research, sound advice and practical solutions, these are some of the best self-help books for building confidence and self-esteem.
The best confidence books to read in 2022
Whether you're looking for a short holiday read to lift your spirits or want to change your outlook on life, there are so many great options to pick from on our list.
There are books from some of the most famous self-help authors out there, including Dale Carnegie, Viv Groskop, Greg Behrendt and Liz Tucillo, as well as lesser known writers with brilliant insights.
1. The Source by Dr Tara Swart
"The Source is written by neuroscientist and medical doctor, Dr Tara Swart. It really delves into how the mind works and how we have the power to control it," says Ellie Turner, coach and founder of Rise Network (opens in new tab). "This book is basically the neuroscience behind terms like visualization, so it's really great for someone looking to improve their confidence by working out how to re-wire their mind and replace negative thoughts."
---
Read it because: It's a fantastic combination of science-backed explanations and sound advice. An ideal read for anyone looking to learn how to be more confident from a scientific point of view.
---
2. The Big Leap by Gay Hendricks
This one focuses more on our self-imposed limits and limiting beliefs, says Ellie. "These often arise from a lack of confidence and beliefs we've held onto over the years, and this book has advice on how to overcome our fears and take action."
---
Read it because: This book offers a simple and comprehensive program for overcoming our own self-imposed barriers to personal fulfilment. A particularly good one for those looking for relationship advice and tips for marriage longevity.
---
3. You Are a Badass: How to Stop Doubting Your Greatness and Start Living an Awesome Life by Jen Sincero
Jenny Okolo (opens in new tab), a psychiatric occupational therapist within the NHS, says, "I would I highly recommend this book. It was a quick and easy read, and gave me a level of confidence that I can handle any given situation and the best is yet to come."

---
Read it because: This book, by New York Times bestselling author and success coach Jen Sincero, comes in 27 bite-sized chunks so it's a great book to dip in and out of. It's also entertaining to read with hilarious anecdotes, good advice, simple exercises, and a good pick for any fans of confidence affirmations out there.
---
4. Ditching Imposter Syndrome by Clare Josa
"This book has some practical, step-by-step actions that the reader can utilise to analyze their own situation. Both to make sure they genuinely are running imposter syndrome in the first place and ditch it for good," says Kate Hill (opens in new tab), qualified executive coach and confidence expert.
"So many people tell me they are running imposter syndrome but it might be self-doubt, which is more about your skills & capabilities, whereas imposter syndrome is about your sense of identity and runs more deeply," she says.
---
Read it because: It's a great place to start if you want to help yourself overcome self-doubt and possible imposter syndrome. "It's quite a complex subject and requires more than a 'think positively' solution," Kate says.
---
5. How to Own the Room: Women and the Art of Brilliant Speaking by Viv Groskop
"I just love Viv Groskop," says Kate. "She has an engaging way of writing that makes the reader feel empowered and that 'owning the room' is genuinely achievable for everyone. She uses real life (famous) examples which brings the book to life as well."
---
Read it because: It's a great guide about all public speaking-related issues, from what to do when you open your mouth and nothing comes out to getting over performance anxiety. How to Own the Room also take a look at the topic from a gendered perspective - what to do in the moment "when you are made, as a woman, to feel small."
If you're interested in learning more about Viv before buying the book, she also has a podcast (opens in new tab) of the same name.
---
6. Mindset: Changing the Way You Think to Fulfill Your Potential by Dr Carol Dweck
"Carol Dweck's book is one I read when I first starting coaching training and it's one of those books that turns how you think about personality traits, and ways of interpreting our circumstances, on its head," says Kate. "She suggests that we can all genuinely choose how we react to external situations and knowing this and understanding the science behind it is really helpful."
---
Read it because: Written by Stanford University psychologist Carol Dweck, this book explains exactly why it's not our abilities and/or talent that brings success - but rather how we approach them.
---
7. How to Win Friends and Influence People by Dale Carnegie
"This isn't a dating guide," says love coach and host of Later Dater (opens in new tab) podcast, Lucy Cavendish. "But it is a really good guide on how to create your most confident self."
Read it because: This book is almost a cult-classic, and one of the best self-help books out there. It aims to teach you how to make friends quickly and easily, increase your popularity, grow your business with new clients and customers, become a better speaker and communicate with colleagues better. A great one for anyone looking to turn their work life around.
---
8. The Tao of Dating: The Smart Woman's Guide to Being Absolutely Irresistible by Ali Binazir
If you're looking for something easy and digestible to help transform your dating confidence, Lucy suggests The Tao of Dating. "It's a straight-to-the-point guide full of romantic wisdom," she says.
---
Read it because: If you want traditional female-male dating advice, this is one book that Lucy recommends. Author Ali Binazir has been on hundreds of dates and thousands of men have written to him about their dating lives, so he knows what men want.
While that's no reason to change yourself, the book does deal with topics like balancing your professional and dating life, self-confidence, how to handle long-distance relationships, internet dating, meeting people, and so much more. If you're using some of the best dating sites to meet people, this could be a good book for you.
---
9. He's Just Not That Into You : The No Excuses Truth to Understanding Men by Greg Behrendt and Liz Tucillo
When it comes to dating advice, this is another absolute cult-classic - so much so that it got made into a film a few years ago.
"It will change the way you think about men and help you to not get involved with the wrong men, the ones who play silly games," says Lucy.
---
Read it because: If you love the Sex And The City series, then you'll love this as one of the best confidence books. It's an honest, hilarious and playful explanation of male behaviour from a writer and consultant of the hit HBO television show, and can help you grow in dating confidence over time - without being too serious.
---
10. The Inside-Out Revolution: The Only Thing You Need to Know to Change Your Life Forever by Michael Neill
Jules Wyman (opens in new tab), confidence coach and speaker, says, "Michael Neill has a way of laying out information in a conversational transformative way. I have gone back this book time time again as it provides the truth that life, and confidence, happen from the inside out."
---
Read it because: It's a simple book with a three-pronged approach that explains where our feelings come from and how our life experiences can transform us for the better. The book suggests that you'll also come out the other side with an awareness of how to deal with stress.
The Inside Out comes in audiobook, paperback, Kindle and audio CD form.
---
11. The Element: How Finding Your Passion Changes Everything by Ken Robinson
For those looking for confidence books to build their professional talents, The Element is a great one to go for.
"Ken's book was a game changer for me," says Jules. "I realized that you can find your sweet spot in or out of academia."
---
Read it because: 'The Element', as Ken describes it, is the place where natural talent and personal passion meet. Find this place for yourself with this book, which draws on insights from top names like Paul McCartney, The Simpsons' creator Matt Groenig, Meg Ryan, Gillian Lynne - the choreographer for Broadway shows like Cats and The Phantom of the Opera, journalist Ariana Huffington and Richard Feynman, a renowned scientist.
Available in hardback, paperback, Kindle, audiobook and audio CD.
---
12. The Gifts Of Imperfection: Let Go of Who You Think You're Supposed to Be and Embrace Who You Are by Bene Brown
While we all try and change things about ourselves, The Gifts of Imperfection suggests side-lining this in favor of accepting who you are.
"The imperfectly perfect book for you to realise that you are not alone and can make simple lasting differences your life," Jules says.
---
Read it because: Bene Brown, P.h.D, is a leading expert on shame, authenticity and belonging, so if you're looking to engage in more positive body language and boost your self-esteem, this could be the book for you. In it, she shares what she's learned from over 10 years of research and offers ten guideposts for how to implement what she's discovered into your own life.
Available in paperback, hardback, on Kindle, audiobook and audio CD.
A digital health journalist with over five years experience writing and editing for UK publications, Grace has covered the world of health and wellbeing extensively for Cosmopolitan, The i Paper and more.
She started her career writing about the complexities of sex and relationships, before combining personal hobbies with professional and writing about fitness. Everything from the best protein powder to sleep technology, the latest health trend to nutrition essentials, Grace has a huge spectrum of interests in the wellness sphere. Having reported on the coronavirus pandemic since the very first swab, she now also counts public health among them.