Feeling like a fraud? How to tell if you have imposter syndrome - and what to do about it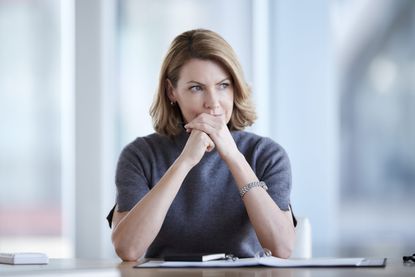 woman&home newsletter
Sign up to our free daily email for the latest royal and entertainment news, interesting opinion, expert advice on styling and beauty trends, and no-nonsense guides to the health and wellness questions you want answered.
Thank you for signing up to Woman & Home. You will receive a verification email shortly.
There was a problem. Please refresh the page and try again.
Have you ever felt like you're waiting for someone to catch you out?
Maybe it's at work, at home, or wherever else – feeling like you've somehow fooled those around you into thinking you're something you're not has a name; imposter syndrome.
And if you've ever felt like you don't belong - like you're not qualified enough for your job, or not deserving enough of a recent accomplishment, there's every chance you're experiencing it.
You're not alone if you have these feelings too. According to a review in the International Journal of Behavioral Science, 70% of us fall victim to imposter syndrome at some point in our lives.
MORE:According to a study, this is the one thing you'll most regret in life
One woman, Holly Stevens, 40, suffered with it to the point of a breakdown. For most of her life, Holly explained, "I constantly felt I wasn't good enough. But itwas fairly objectively unfounded; I did well in exams, at uni, in my career, had two happy young children."
But Holly's goal was perfection - which ultimately lead to it all becoming too much. "I wanted to be the perfect writer, mother, wife, sister, friend, swimmer, climber, have the perfect skin, hair, body, sense of humour, wit," she revealed. "I'd perpetrated the myth of perfection to myself as something that was achievable and inevitably set myself up for failure."
But after having her two kids, Holly hit a wall. "Having children threw post-natal depression into the mix and I had a total breakdown. I had to quit my job and I was intending to be a stay-at-home for the foreseeable future." Holly said.
Who gets imposter syndrome?
Imposter syndrome can hit you at any stage – either at school, university, work, at home, in retirement – whenever.
But where did the concept come from? Back in 1978, psychologists Pauline Clance and Suzanne Imes coined the term, using it to explain people who are convinced they don't deserve the success they have in their lives.
Dr Pauline explained that, "they feel their success has been due to some mysterious fluke or luck or great effort; they are afraid their achievements are due to 'breaks' and not the result of their own ability and competence."
And it'll likely come as no surprise that imposter syndrome is particularly prevalent with high-achieving women – those with powerful careers or busy, full personal lives.
Carly Thompsett, 30, has owned her own business since 2015, and despite multiple, impressive achievements - and in fact, sometimes, because of them - still suffers from imposter syndrome.
Two years ago, her clothes, cosmetics and homeware online store, Anaphase Store, started getting well-deserved award nominations. Now, she's collected over six in total. She's even been invited to Buckingham Palace, and met various members of the royal family as a result of her success, after starting up her business with help from the Prince's Trust.
But surprisingly, it was after that success that the doubt started kicking in. Carly explained, "The doubt started sinking in a little; what if I'm not doing that great, or what if it looks like I deserve it on the outside but they don't know how much I sit around? It also didn't help when I would speak to other entrepreneurs and they say how much time they put into their businesses, and how much sleep they don't get, and how stressed they always were - and I didn't do any of that."
And a new study, lead by Lisa Sublett, assistant professor of psychology at the University of Houston-Clear Lake, found that imposter syndrome is actually having a serious impact on our mental health.
Her research, studying 463 employees over 10 years, was conducted alongside other professors. And they found that workers suffering imposter syndrome at work were left more unhappy with their home life too, and were more likely to experience conflict and exhaustion there due to not feeling 'good enough' professionally.
Sublett explained, "These accomplished employees are emotionally drained and struggle maintaining family and work demands.
So how do you know if you have imposter syndrome?
Symptoms of 'imposter syndrome' are relatively simple to identify in yourself, but you might not even be conscious of the feelings. Psychologist and life coach Jivan Dempsey (www.jivandempsey.com) has shared her take on the symptoms of imposter syndrome, revealing that you may experience all, or just one of them.
"You may have difficulty accepting praise," she explained. "This isn't a false modesty, as you truly believe you don't deserve it, and may attribute your personal success to someone else. You may also have very high personal standards for yourself and for other people. You are a perfectionist and will overwork and overachieve in order to be the best." Sound familiar?
She continued, "You may see yourself as a 'hero' looking to achieve impossible standards of perfection, flawlessly, to the point of burn out and often disappointed that others rarely meet the same exacting standards as you."
MORE:Survey reveals the five jobs that could actually make you happier
And it seems the desire to achieve perfection at all times means a growing sense of pressure for those of us who battle with imposter syndrome.
Jivan explained, "Failure is not an option for you. This self imposed pressure builds and builds as you get more successful, and it fuels greater levels of anxiety creating an internal cycle of fear and paralysis …. so you work even harder to overcome the fear of failure. And so it becomes a poisonous vicious circle.
"You also won't show confidence - worrying that others think you lack the intelligence or talent to back it up. You also assume everyone else is achieving success without the same struggles as you, feeding into your insecurities that there's something wrong with you."
But it's not just us regular people who experience it. While you might assume that some of the world's most successful women never hold onto a shred of self-doubt, it's simply not true.
Facebook COO Sheryl Sandberg (above), in her 2013 memoir Lean In, revealed that it's something she's dealt with since she was younger.
"Every time I was called on in class, I was sure that I was about to embarrass myself. Every time I took a test, I was sure that it had gone badly. And every time I didn't embarrass myself — or even excelled — I believed that I had fooled everyone yet again. One day soon, the jig would be up…"
Michelle Obama also admitted that she experiences it, during a book tour Q&A back in 2018.
She said, "I still have a little [bit of] imposter syndrome.It doesn't go away, that feeling that you shouldn't take me that seriously. What do I know? I share that with you because we all have doubts in our abilities, about our power and what that power is."
Imposter syndrome isn't only seen in the careers of working professionals however. 36-year-old mum Jude Peppis explained that she often experiences it in regards to single parenting.
A mum to 3-year-old TJ, Jude (who runs lifestyle and parenting blog Gluing Cheese) split with her former partner a few months after their son was born. After the split, Jude and TJ moved to an affluent Hampshire village from the Greater London area, but for Jude, the idyllic countryside life brought with it some surprising anxieties.
She explained, "It didn't take me long to feel like I was the only single mum in the village. I felt like an imposter when going to parenting groups without a rock on my left hand, or a husband to moan about coming home late.
"Plus, living in a two-bed flat rather than a home with its own front door left me feeling like I wasn't a 'proper' parent – even though I have always had confidence in my ability to raise my son. There's a huge stigma on single parents, even though one in four of us are going it alone or, like me, co-parenting. And it ishard not to look with thinly veiled jealousy at the people with a back garden for their kids to play in or someone else to do the washing up when they are knackered at the end of the day."
But, for Jude, it's all about reminding herself that she is by no means the only person who might not consider herself to have the cookier-cutter, picture-perfect life from the outside.
"I am, of course, wrong [to have those doubts]. Families come in all shapes and sizes – probably now more so than ever before. You don't need two parents to be a family – all you actually need is love, stability, comfort, trust, forgiveness and respect. We have all of that and more. So, we're really lucky."
Why do we get imposter syndrome?
So if we're all working hard to maintain our family lives and working lives, why are we all so pre-disposed to doubting ourselves, and not celebrating our success and accomplishments - big or small?
Rebecca Lockwood, a neuro-linguistic programming coach (rebeccalockwood.org.uk), explained that actually, it may stem from early experiences in childhood. According to her, moments in our youth where we may have felt 'not good enough' can stay with us into adulthood.
She explained, "Limiting and negative beliefs are usually stemmed from a set of events that have happened in our life that our mind pulls information from. Beliefs are usually formed when we are in the imprint period between the ages of 0-7.
"When we unpick the events that caused the beliefs in the first place they make no sense at all. Things like a parent telling you to stop showing off at age 6/7 can cause feelings of not being good enough, and this can stay with you until adulthood causing this feeling of imposter syndrome.What your mind is doing is recalling a time in the past that gives a 'good' reason for not being good enough.
"For example, something may have happened in the past where you may have lost a job, or a relationship ended. These are all normal things that happen, but your mind searches for these events to back up the reason you are not good enough now. "
With all that in mind, how can you address imposter syndrome? And more importantly, is it even possible?
How can I get rid of imposter syndrome?
Of course, it's not pleasant to feel like you don't belong, or that you aren't worthy.But there are ways to tackle it, and beat back those feelings of self-doubt.
Dr Tanushree Sarma, Consultant Psychiatrist at Priory Hospital Chelmsford, explained that speaking to other women with similar feelings can help. She explained, "Some studies recommend an interactive group setting, where one woman can identify the lack of reality in another woman's belief, and help each other recognise this, and move forward.
"Getting such women to keep a diary of all their achievements, positive feedback etc and supporting them in recalling positively at least one of these achievements, would help in breaking the cycle of self-doubt, and making them more able to accept compliments and get positive reinforcement from them."
Human behaviour expert Tony Cochrane revealed that practising gratitude can also help to dispel feelings of insecurity.
He said, "I also encourage people to write down at least five things they are grateful for every morning to ensure a sense of positivity. People usually roll their eyes at this notion and see it as a bit 'airy fairy' however, practice it for a week. You will be surprised how much it impacts your mood."
For business owner Carly, positive affirmations help to ease the sense of doubt. She explained, "I still get it every so often and think, me? Really? But then I think, 'why not me'? I have done so much to make my business work and I've won the awards because they think I deserve it and I deserve the credit I get. I am proud of my journey and everything I have achieved, and I remind myself that I do deserve everything."
Psychologist and business coach Karen Kwong, who runs Renoc Consulting and helps top business leaders battling imposter syndrome, believes that there are some useful reminders and behaviours we can adopt to get out of the toxic mindset.
When it comes to your working life, the most important source of confidence actually comes from ourselves, not our bosses, according to her. She said, "Internal validation is just as, if not more important. Why do you deserve to be there? Write down a list of your strengths, areas for growth, and weaknesses. Don't fixate on the weaknesses and obsess over the areas for growth." Working on your inner self-esteem and learning more about positive body language to boost your confidence in professional situations can really help.
And if you worry about not being an expert, adjust your thought process by realising that everyone should always be learning and re-educating themselves in their careers.
MORE:How to change: 9 steps to breaking bad habits for good
Karen explained,"It's perfectly natural and normal to not know everything. A good professional role for anyone should be one where learning can occur. Treat your learning and education as experience building. Be open, curious and humble where appropriate and in other areas, play to your strengths. Perceive your contribution to be something that is always a work in progress but a constructive one".
For Holly, changing her career, and so, re-considering everything she had assumed about professional success, was the key. Her dressmaking hobby has, over the last few years, grown into a business (www.wowsersinyourtrousers.co.uk), and for her, "it was a meditative, mindful activity with manageable short-term goals" that helped to reframe her idea of 'perfection'.
In fact, notsetting goals is what has allowed her to take a step back, to stop from comparing herself to everyone else. She said, "It was scary to change my whole mindset from top-down and goal oriented to bottom-up and directionless, but that's what's been the biggest help to combat imposter syndrome. Which makes sense, because if I don't have a goal person I'm aiming to be, then I can't fail or feel like a fraud. I'm just going with the flow and whatever I'm doing is me. Not having goals doesn't mean not developing or being successful."
Sign up to our free daily email for the latest royal and entertainment news, interesting opinion, expert advice on styling and beauty trends, and no-nonsense guides to the health and wellness questions you want answered.
Amy Hunt is an experienced digital journalist specialising in homes, interiors and hobbies. She began her career working as the features assistant at woman&home magazine, before moving over to the digital side of the brand where she eventually became the Lifestyle Editor up until January 2022. Amy won the Digital Journalist of the Year award at the AOP Awards in 2019 for her work on womanandhome.com.