Survey reveals the five jobs that could actually make you happier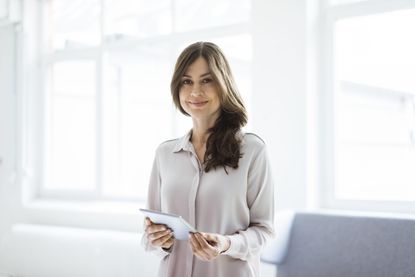 The average Brit will spend a whopping 3,507 days at work including 204 days of overtime in their lifetime, according to a survey commissioned last year by the Association of Accounting Technicians (AAT).
And with so much time spent chipping away at our careers, it's crucial that we find a role that not only makes the most of our talents, but also affords us that crucial work-life balance.
In fact, new research from hiring app, Job Today, revealed that 50 per cent of Brits are so keen to find a job that allows for them to pursue interests outside of work – including potentially starting up a side business – that they are contemplating leaving their 9 to 5 roles altogether.
And when they finally hand in their notice, what's next? Well, the app has also offered up five roles below that it feels could put wellbeing and work in the same sentence.
CLEANER
With a wealth of part-time cleaning roles and the opportunity to fit working hours around family and other commitments, a cleaning role could be an ideal fit for anyone looking for a flexible job. Naturally you'd need to enjoy wielding anything from a mop and bucket to a feather duster, but the good news is that while you're getting things spic and span you may also be reducing your stress levels, as cleaning (opens in new tab) has been show to have a meditative quality.
MIXOLOGISTS
Cocktails as a career path sounds ideal to us. And while the unsociable hours that are normally attached to working as a mixologist might not work for everyone, the creativity and science involved in dreaming up delicious tipple, after delicious tipple is bound to be gratifying. Plus, you get the opportunity to build a rapport with your returning patrons.
DOG WALKING
Numerous studies have revealed the positive impact the calm and companionship of our four-legged friends can bring to our lives. And we're thinking that taking a whole bunch of canine chums out on their daily walkies would only multiply this effect. As a dog (opens in new tab) walker you also get to be your own boss, with the added bonus that you get to choose from any number of stunning walking locations to spend your days in.
MORE:The best career quotes to get you feeling inspired
TOUR GUIDE
Topping up your Vitamin D (opens in new tab) levels while taking in some of the UK's most amazing sights with an enthusiastic tour group in tow could definitely be someone's idea of heaven. While you'll need patience and plenty of first-hand knowledge to keep the group engaged, you'll also benefit from a varied work schedule and the opportunity to meet people from all over the world.
FITNESS INSTRUCTOR
If you're constantly struggling to fit a exercise around your work commitments – we all know that frantic dash to the spin class at the end of the day – then why not get fit while you work? From Zumba instructors to personal trainers, and everything in between, you can work on weekends, daytimes, evenings and more as well as improving your overall health and wellbeing to boot.
Miriam worked for woman&home for over five years and previously worked on the women's lifestyle magazines Woman and Woman's Own.