When did cleaning become the new therapy? Cleaning expert Mrs Hinch explains how to 'clean yourself happy'
Move over mindfulness – sweeping, scrubbing and spraying are the new ways to find peace and inner harmony...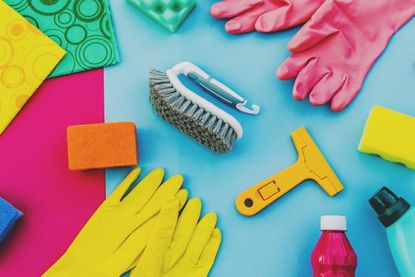 To most of us, cleaning is a (sometimes tiresome) ritual that's just part of life.
So who knew toilets could be on trend or that Zoflora would become part of the zeitgeist?
It's all part of the phenomenon that's seeing countless women discover that getting their homes to look flawless is a cheap, enjoyable and satisfying way to make themselves feel good – and look good on Instagram. The social media platform is awash with clean-home hashtags, pictures of favourite products, sparkling kitchens and orderly hallways. In part, this trend stems from decluttering gurus such as Marie Kondo, whose philosophy boils down to, "Discard everything that does not spark joy."
But for those of us whose "Kondo" homes would be left empty shells, a more accessible housework heroine has emerged in Sophie Hinchliffe, an Essex hairdresser better known to her 2m Instagram followers as Mrs Hinch. She calls her cleaning cupboard Narnia, has nicknamed her Minky cleaning cloth Minkeh, and has prompted a 25% upsurge in sales of old-school disinfectant Zoflora, as she shares hacks and talks us through her favourite cleaning routines in her immaculate @mrshinchhome. In the process she has launched a whole new movement that uses the power of cleaning to soothe the soul and calm anxiety.
Her new book, Hinch Yourself Happy, poses a devastatingly simple philosophy – that from dusting to vacuuming, following familiar rituals when cleaning can make us feel we've achieved something, and therefore feel ultimately happier. Sophie has been refreshingly frank about how cleaning helps her to deal with anxiety and control her panic attacks. Many of her #mrshincharmy followers credit her with improving their mental health too.
While some commentators are horrified at the idea of cleaning being a serious "thing" for women (aren't we still struggling to be taken seriously beyond the home?), for fans it feels less like a retrograde movement and much more like taking back control of life.
Leading life coach Carole Ann Rice explains, "We all need order – and our homes should nurture us and be a place of refuge. If there is clutter, dirt and messiness, we can't gather ourselves or feel in control. "So when we have tidied or cleaned, we feel we've made sense of mayhem. A breath of fresh air runs through us – order is resumed and control gained."
So whether it's the mindful flow of a methodical cleaning session, the ritual of ticking off jobs on a to-do list or the satisfaction of seeing your efforts pay dividends immediately, cleaning really does have the potential to improve your wellbeing.
And as Carole points out, "After all, if we can't feel stable in our own environments, then when can we?"
Mrs Hinch has clearly touched something deep in the nation's psyche, so w&h met her to find out more with a good clean chat...
The Hinch half hour
I'll write a list, set a timer on my phone and I'm good to go. I'll tick things off and it motivates me to get going – I'm like a whirlwind. If I've still got some time left to do more jobs, I'll add a couple of cheeky things to my list just to give myself an extra spring to my step.
The clockwise clean
The beauty of this is that you don't miss anything and it doesn't feel too overwhelming. Walk into your room of choice with your cleaning basket. Start to your left (that's your 12 o'clock), work your way around the room (1, 2, 3 o'clock) and then end up back where you started, having circled the room.
Fresh'n-up Friday
Simply go around every room in the house and write down a maximum of three things in each room you'd like to get done, and take the list with you as you work. There's nothing better than waking up to a lovely fresh house on a Saturday morning.
Cleaning tips for each room of the house
Kitchen
My winning combo for cleaning the hob is Cif original Cream Cleaner and my Minky cloth. It's never let me down and I'm in love with the after-shine. For stubborn oven stains, I recommend the Astonish range.
Bathroom
Towels: Roll rather than fold them so they're easier to stack. I change my hand towels every few days while I like to wash large bath towels once they've been used once or twice, but I'll make a call depending on how they look – and smell!
Toothbrush holder: Come on now – this houses something that goes in your mouth so it's got to be super clean. I rinse out the pot regularly with bicarbonate of soda and water. Rinse and put a couple of capfuls of mouth wash in there and leave the toothbrush heads in to soak. If you do this once a week, you'll avoid that horrible residue building up.
Mirror: Use a fluffy duster or tumble dryer sheet to pick up any dust on the surface. Spray with glass spray or white wine vinegar. Use dry kitchen roll to buff it in before finishing off with a glass cloth. Look in the mirror and say, 'Wow, good job done, mate'.
Bedroom
Mattress: You need to turn and refresh your mattress once a month. Remember that bicarbonate of soda is an odour eater. Pour some into a flour sieve, shake it all over the mattress, leave it for a few hours and then vacuum it off to lift out any nasty whiffs.
Duvet: Spritz with a spray bottle full of your favourite fabric softener mixed with water.
TV: You have to be really gentle with your TV. Anything wet will smear terribly and could harm the screen – I recommend Pledge Electronic wipes.