2020's most enticing fitness trends to try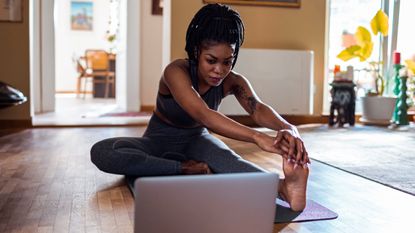 (Image credit: Getty Images / Marko Geber)
woman&home newsletter
Sign up to our free daily email for the latest royal and entertainment news, interesting opinion, expert advice on styling and beauty trends, and no-nonsense guides to the health and wellness questions you want answered.
Thank you for signing up to . You will receive a verification email shortly.
There was a problem. Please refresh the page and try again.
If you've become trapped in a running rut or find a session at the gym leaves you feeling glum rather than geared up, there's good news.
Forget Covid-19 – a new decade means there are still plenty of exciting offerings from the world of fitness to help press the refresh button on your existing exercise routine. And the best thing about most of the 2020 fitness trends here is that they are really easy to add to your routine. Trying something new – at home or in the gym – is easier than you think. And it could be as easy as grabbing one of the best yoga mats (opens in new tab)!
So, why not fill up your eco (opens in new tab)water bottle, grab your high-performance workout wear and give a few of the five top new fitness trends below a try? It could really help you to get your fitness bug back.
1. 2020 fitness trends: Yoga rebooted
Ashtanga, Vinyasa, Bikram and more – there really is a style ofyoga (opens in new tab)to suit every taste and ability, and with such healing powers to help you stay calm, it's no wonder its popularity has skyrocketed during lockdown. One of the reasons it's so on-trend right now is because breathing is hot for 2020. Yes, honestly! Of course, we're all doing it already, but this trend is all about how you do it. Breathing deeply and slowly, using your diaphragm, can help ease pain, beat fatigue and even stop headaches. The best part? It's free – all you need is a quiet spot somewhere and you're good to go.
But that's not all. According to Onbuy Fitness (opens in new tab), terms such as "naked yoga", "dog yoga/doya" and "beer yoga" are now top Google search terms, and the variations on this ancient discipline just keep on coming. Some very modern twists have recently been revealed by events platformEventbrite (opens in new tab). Its research has found that the number of yoga events it lists around the globe has climbed by a whopping 1,400% between 2014 and 2018 (3,000 vs 40,000) – and this is only set to get bigger. There's everything, from Hip Hop Yoga to sleep yoga (or Yoga Nidra), listed to help you reach that perfectly zen state.
Already a yoga fan? Then it's time to give "humming yoga" a try. First launched in London's Rumble Gym (opens in new tab), this involves emitting specific frequencies (into music or background ambiance) into a yoga studio to enhance the practice. One frequency is Schumann resonance. The frequency is 7.83Hz, which is said to help you reach a relaxed state at a faster pace. Another is Gamma waves, which increases memory recall, sensory perception and focus. Can't get to a yoga studio right now? Then find your own frequency to follow on YouTube.
https://www.youtube.com/watch?v=vLEek3I3wac
MORE:Help perfect your downward dog with one of the best thick yoga mats
2. 2020 fitness trends: Virtual-reality exercise
Clocking up the kilometres on a treadmill is a great way to stay in shape and, while many feature in-built training programmes, sometimes it takes a little extra motivation to keep going. Stuck inside and feel a bit lonely? With more than one million members, theZwift Run app (opens in new tab)(free for iOS) is a virtual-reality-inspired fitness platform designed to help runners across the globe maximise their indoor training experience. Create your own avatar and run through amazing virtual landscapes (see picture above), where you'll be joined by fellow running enthusiasts from around the globe. You can also take part in group runs and fun races. Plus, you can follow one of the platform's training programmes to help you prepare for anything, from a 5K (opens in new tab) to a triathlon – all socially distanced, of course!
Prefer to take things a little slower? You don't have to run – try walking or jogging on the treadmill instead.The "less is more" approach to exercise is big this year, too, the theory being that you don't have to blast it at the gym or run a marathon to reap the health benefits.
MORE:Why American women are going mad for the at-home Peloton workout (and why you should try it) (opens in new tab)
3. 2020 fitness trends: Mental-fitness apps
Love a top-to-toe workout? Then what better place to start than with your grey matter? Yep, just like our muscles, our brains need regular flexing to stay in good working order. And this can support our mental health. Using one of the best fitness trackers can make a big difference.MyArkeo (opens in new tab)(which is currently still in development, but you can register on the site for updates) is a mental-fitness tracking app that shows you how your habits and routines interact, through asking a series of daily questions and tracking mood,sleep (opens in new tab), work hours, exercise and more. Initial testing of the app has thrown up the following positive results:
61% said they've noticed patterns and trends in their mental fitness
68% said they're more in control of their mental fitness
59% said they've been more open about their mental fitness
Another great mental-fitness app worth downloading isHer Spirit (opens in new tab)(free on App Store and Google Play), which offerson-demand meditation sessions. We also love the Thrive mental health app (opens in new tab) (free on App Store and Google Play), which is packed withmethods to take control of stress, (opens in new tab) anxiety and mental-health-related conditions.Both are recommended by the NHS.
Also, just like you feed your body to stay fit, feeding your brain is essential, too. "As well as supplements to support brain function, 'natural nootropics' calm highly stimulated brains," says nutritionist Kim Pearson (opens in new tab). "Minerals like magnesium, amino acids like 5HTP and herbs like valerian root and rhodiola rosea can have noticeable calming effects."
4.2020 fitness trends:Dedicated wellness spaces
This one is already a top trend in Los Angeles and Hong Kong. As well as helping to take care of our physical wellbeing, gyms and studios are taking their commitment to wellness seriously. They are now carving out dedicated spaces to support this. Unfortunately, Covid-19 has impacted this really taking off, but it's still a top trend to look out for this year and beyond – and it's essential with stress levels so high right now. David Lloyd Clubs has launchedThe Listening Space (opens in new tab). Staffed by BACP-qualified therapists and coaches who have been working with adults and teenagers for many years. The team is experienced in helping people work through all types of life stresses and challenges.
Luxury health club Third Space has also launched Little Space (opens in new tab) in its club in Islington, London. It features purpose-built quiet rooms for families designed by yoga and meditation teacher Michael J Wong. Each of the quiet rooms has been designed to maximise relaxation. They offer two specific guided meditations to aid members in pre- and post-workout recovery and relaxation.If that's something that interests you, there's also a host of apps aimed at boosting a child's wellbeing. We loveMindful Powers (opens in new tab), offering mindfulness for kids, plus products such as the Tick Tock Turtle Clock (opens in new tab), which help enhance sleep and build confidence.
5.2020 fitness trends:Immersive fitness experiences
Want more from a fitness class than the chance to work up a little sweat and connect with likeminded people? Then immersive fitness could be just what you're looking for! Sweat and Sound bills itself as a "multi-sensory, live music fitness experience". Intrigued? So are we. Simply sign up, and wait for an email to land in your inbox. You'll be sent the details of the secret location for the experience a minimum of 24 hours before the start date. Past events include a yoga experience based on sound alchemy and botanical healing, transporting you to the pages of Paulo Coelho's seminal book, The Alchemist. Other must-attend events involved a 1970s retro workout experience and a Blade Runner 2049 theme.
Faye M Smith is an award-winning journalist with over 15 years experience in the magazine industry. Her continued work in the area of natural health won her the coveted title of the Health Food Manufacturers' Association (HFMA) Journalist of the Year Award 2021. Currently Health Editor across several brands including woman&home, Woman and Woman's Own, Faye specialises in writing about mental health, the menopause, and sex and relationships.