Why American women are going mad for the at-home Peloton workout (and why you should try it)
Pedal power!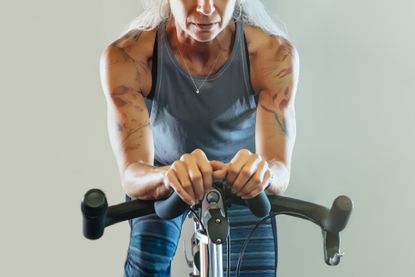 (Image credit: Inti St Clair/Blend Images)
Peloton is the at-home workout that's taken the indoor-cycle world by storm; David Beckham and Hugh Jackman are regular riders and it's gained a cult following of women who just can't get enough. So if you're tempted to hop on the saddle and give Peloton a go, here's what you need to know.
If you enjoy spinning but can't be bothered to traipse to your local spinning class then listen up because Peloton is for you.
Peloton: what's the buzz?
Take the high-octane, sweat-fest of a group spin class, but with the convenience of an at-home workout, and you have the cycling sensation that is Peloton.
In a nutshell, it's a stationary bicycle workout done to live or on-demand classes, beamed straight from Peloton's flagship studio in New York to an immersive screen on your bike. A recent London studio launch means you can now access classes from UK instructors too.
And it's the dynamic instructors that are credited with the rise of this addictive workout, with many of them now mini-celebrities in the Peloton world.
Facing straight into the camera, with around 50 riders behind them in the studio, they'll push you through the workout with bucket-loads of positive, buzzy energy.
In live, virtual classes that can often reach the thousands, home-riders get personal shout-outs, keeping motivation levels high among the masses. With over a million members currently signed up to pedal, it's no wonder they're calling this a 'movement', in the fitness world.
Once you've discovered your favourite instructor, there's a back catalogue of their classes to access, or workouts can be searched based on playlist, or length of cycle. With classes ranging from 10 to 90 minutes, it's designed to slide effortlessly into daily life.
Peloton have become a social sensation too. They have several very active Facebook groups that have become welcoming, supportive communities in their own right. Fans are evangelical about the brand.
What's so special about the Peloton bike?
Remember back in the 90s, when the destiny of a home exercise bike was to gather dust in the corner of a room – used more for hanging clothes on than for getting fit? Well, the Peloton bike is altogether different.
This sleek, cycling machine is the sort you'll see in a gym or studio. It's made from sturdy steel with a sporty saddle and those clip-in pedals that mean business. Note, you do need to buy compatible shoes..
But it's the 22inch HD sweat-resistant screen attached to the front of the bike from where the magic happens. As well as giving a seamless hook-up to the class, live performance metrics track how fast you're pedalling, the resistance and your output. A real-time leaderboard allows you connect and compete with other riders too. All without leaving your living room.
Why is Peloton game-changing for women?
Cycling is a cardiovascular, heart-pumping workout that burns calories and leaves you feeling great. The benefits of indoor cycling have long been proven, and at-capacity classes in gyms and boutique studios show no signs of it slowing in popularity.
But the stand-out appeal of Peloton is being able to personalise your experience to suit your life. For the time-starved it's game-changing and fans of the workout love being able to take a studio-standard cycling class, on a high-tech bike, at a time that suits them. It's that simple.
Ellen, 45 admits she's addicted to the workouts, since getting her bike six months ago. "Discovering Peloton has been life-changing for my fitness routine. I struggled to consistently make time for exercise, but now I can fit a workout around my family and being able to easily track my progress keeps me motivated. I get up and just want to get on the bike," she says.
"I have now found several instructors that I love and they seem to get the best out of me," she adds.
Want to give Peloton a go?
While there's no denying the ease, effectiveness and downright 'cool' factor of Peloton, here's the rub: it certainly doesn't come cheap. The bike will set you back £1,990, but there is an option to spread the cost on a monthly payment plan to soften the blow.
The Peloton membership – which is essential to tap into the class content, then costs £39 per month. This gives unlimited access to the 20+ daily live workouts, plus thousands of on-demand classes that as well as cycling, include running, bootcamp, yoga and more. It's also possible to set up multiple profiles on one membership so family or friends can use the bike too.
Want to try before you buy? There are several showrooms dotted around the country, so you can get into the saddle and take a test ride to see if it's for you. But be warned. Word has it that once you've been biten by the Peloton bug, you'll never go back to a regular exercise class again.
Senior Health Writer Ali Horsfall has almost 15 years experience as a journalist and has written for national print titles and women's lifestyle brands including woman&home, Woman, Woman's Own, BBC magazines, Mothercare, Grazia and The Independent. She currently specialises in health and fitness content and loves sharing the best expert advice on staying well.