25 simple ways to get a good night's sleep
Do you struggle to nod off? Follow our guide to getting a good night's sleep...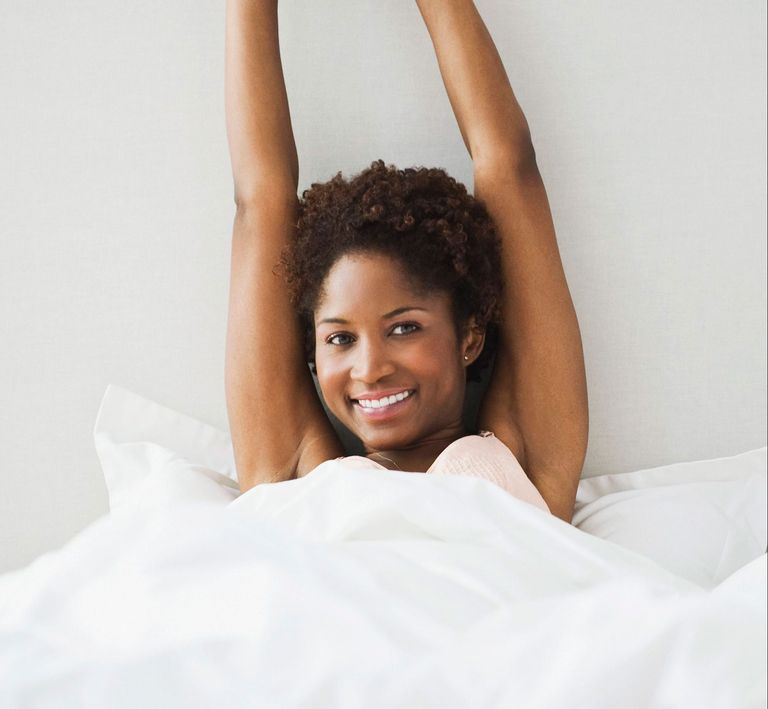 Do you struggle to open your eyelids in the morning while your partner is bouncing around with energy despite going to bed later than you?
Well don't feel guilty about struggling with tiredness, because new research from Loughborough University's Sleep Research Centre has found that women need more sleep than men because their brains are more complex and take longer to recover. Our multi-tasking abilities means we use more of our brains than men do in a day and so the need for sleep is considerably greater.
Women are also much more prone to stress and worry than men and poor sleep can bring on higher levels of psychological distress and stronger feelings of hostility, depression and anger, according to the Sleep Research Centre. And we are at a higher risk from physical health problems such as heart disease and stroke if we don't catch enough shut eye too.How much men sleep, on the other hand, does not seem to have an affect on these particular health issues - which is understandably frustrating to hear!
MORE:The £10 sleep lotion that will help you beat insomnia
In fact, a study published in the journal Nature has revealed that actually get a good night's sleep can protect against cardiovascular disease (heart attacks, strokes), by preventing a build up of plaque in the arteries.
Scientists from Massachusetts General Hospital in the US found that getting in some quality snoozing time helps with the health of blood vessels, which reduces inflammation.
Filip Swirski, from the hospital, explained, "Sleep helps to regulate the production in the bone marrow of inflammatory cells and the health of blood vessels and that, conversely, sleep disruption breaks down control of inflammatory cell production, leading to more inflammation and more heart disease,"
So are you amongst the 87% of women who suffer from a regular lack of sleep? Insomnia and sleepless nights can be utterly debilitating, affecting our judgement at work and our relationships with others. And with so much technology and distraction these days, switching off is more of a struggle than ever before.
But what if you discovered techniques to beat the late-night tossing and turning for good? Our sleep experts are on hand to teach you the quick and easy ways to a good night's sleep.
How can you get to sleep in five minutes? Find out here...
From the foods to eat (and the ones to avoid) to the type of bedding and your night-time routine, we've got the secrets to a night's sweet slumber.
First tip? If you want to fall asleep in just five minutes, just breathe. That's right, simple inhaling and exhaling has an impact on every system in your body. Adopt this easy method and you can effect blood pressure, heart rate, emotional stability and even your hormones. Slow, regulated breathing will shift your automatic nervous system, telling your muscles to relax, your heart rate to slow down and your brain to lower itself from 'high alert mode'.
A common yoga practice to release tension and reduce anxiety, follow this super-simple technique and there's every chance your next sleep will be peaceful, renewing and uninterrupted...
1. Lie down in your preferred sleep position. You can also start on your back and roll into it when you start to drop off.
2. Breathe in through your nose on a count of three seconds.
3. Breathe out through your nose on a count of six seconds.
4. Repeat until you fall asleep. If you find the three to six ratio a stretch, then adapt it to what feels comfortable, but always ensure the exhale is longer than the inhale. Sweet dreams...
Keep scrolling for even more ways to get a good night's sleep.
Eat Yoghurt
Old wives tales may suggest that cheese will give you nightmares, but the truth is dairy products are great for helping you to drift off. The secret is calcium, which is essential in allowing the body to process the sleep-inducing hormones, tryptophan and melatonin.
A glass of cold milk or a pot of yoghurt before bed will lower body temperature - perfect on hot nights when you're worried about sleep eluding you.
Take a cold shower on hot nights
It may be a shock to the system to step into a freezing cold shower, but independent sleep expert Dr. Neil Stanley says it's one of the best ways to guarantee great sleep when the nights are warm. 'The most important thing about being able to get a good sleep in the summer is the ability to lose body heat', he explains. ' A shower before bed will help, as your body temperature will lower.'
For more sleep tips from Dr Neil Stanley and information and advice on nocturnal cramp visit the Crampex website
here
Sleep with a thin sheet
If you don't like to sleep with nothing covering you, swap the duvet for something thinner to help regulate your body temperature on a hot night. Dr Stanley says: 'Sleeping naked under a thin cotton sheet would be, for most people, the most comfortable way of sleeping during the night. It is also important to use natural fibres as these are best at controlling temperatures, as well as wicking away moisture.'
For more sleep tips from Dr Neil Stanley and information and advice on nocturnal cramp visit the Crampex website
here
Don't be fooled by decaffeinated drinks
Some so called caffeine-free coffees and teas can contain up to 10mg of the stuff, which is more than enough to stop you drifting off. A sleep-inducing chamomile tea or soothing warm milk with a little nutmeg just before bed should do the trick.
Swot up on essential oils
While lavender can aid a restful night's sleep, other oils are less helpful. Peppermint, for example, is invigorating, while lemon and rosemary act as stimulants. Bear this in mind when you're running a bubble bath or applying an evening face mask.
Wear something you feel comfortable in
Feeling comfortable is so important when you want to relax. Your body works hard to regulate your temperature while you're asleep, so help it along with cool, breathable cottons - and leave off the bedsocks!
Try a white-noise machine
Call it the waking baby effect, but women are more sensitive to night noises than men so sleeping in total silence could be making your insomnia worse. Invest in a white noise machine for your bedroom to generate soothing background noise that will disguise small sounds.
Exercise more...but steer clear of evening workouts
While two recent studies show that those who enjoy aerobic exercise regularly sleep better, it's best to avoid power walking, swimming or tennis less than three hours before bed. The energy surge these activities cause can leave you tossing and turning. Try yoga instead.
Switch off
'Watching TV before bed overstimulates the brain and can keep you awake,' says Professor Horne. If you fall asleep watching TV, you're likely to wake up again later, which sets up a poor sleep cycle. The solution? No TV in the bedroom!' Set similar rules for other electronic devices too. Laptops and mobiles also emit stimulating blue light so impose a curfew on evening use.
Keep to a routine
'If you often go to sleep and wake up at different times, your body clock will struggle to regulate itself,' says Professor Colin Espie, director of the Sleep Centre at the University of Glasgow and founder of sleepio.com, which is dedicated to helping people to sleep better. 'The solution is to create a routine for going to bed and getting up at roughly the same time - weekends too if you can!'
Stop worrying!
'If you have sleep problems, the worst thing you can do is worry about it,' says Professor Espie. 'Don't despair, just relax. Tell yourself it's not so bad if you don't get quite enough sleep and train yourself to do deep breathing exercises when you're trying to fall asleep.'
Have a bath
Keep it warm but not hot, advises Professor Horne. 'You want to slightly heat up your body, which - paradoxically - causes it to cool down, which then leads to better sleep. A bath that's too hot disrupts this process.'
Keep forgetting things? Try this...
New research has found sleep helps us store information. 'During deep sleep, our brain sorts through our memories from the day and files away the ones we need to keep,' says Professor Espie. Researchers found the first 40 minutes of sleep is when our brain processes most of our memories and stores them on our brain's 'hard drive'. So, if you need to learn something off by heart, read it before bed, he says.
11pm and you can't fall asleep?
'You need a better wind-down routine. Review your day (either verbally with your partner or jot down notes) to put it to rest, or plan ahead for tomorrow. Have some 'me time', whether that's a book or bath, but only go to bed when you're sleepy, whatever time that is. Put the light out and let your natural sleepiness take over. If it doesn't, get up without worrying, returning only to bed when you're sleepy again.'
3am and you're wide awake?
'Remember that everyone wakes up, maybe ten times a night. But most of these awakenings are so brief we don't remember them. If you don't drift off, give yourself 15 minutes. Just relax and breathe deeply. If you still don't fall asleep get up and follow the previous advice, waiting until you feel sleepy before returning to bed.'
Are you awake before your alarm goes off?
'Your body clock is changing, so go to bed earlier to get your quota of sleep. If you want to shift this pattern, keep your room very dark in the morning and very bright in the evening (light boxes help). This will trick your body into resetting its internal alarm clock.'
Refresh your bedlinen
'Dust regularly and change your bedding once a week,' says Myles Black, an ear nose and throat surgeon from The Private Clinic of Harley Street. 'Excess dust can lead to irritation in the airways, which disrupts sleep.' Keep the temperature between 60 to 68 F (16 to 20 C) - it causes drowsiness. Clutter disrupts sleep too, so keep your bedroom tidy and calm.
Avoid a large curry
'Rich, spicy or heavy meals unsettle your digestion and impair sleep,' says Professor Horne.
Try turkey, brown rice and vegetables
'A carby supper helps your body produce melatonin - the sleep hormone,' says Dr Frank Lipman, author of Spent? End Exhaustion & Feel Great Again (Hay House). Turkey contains a sleep-inducing amino acid called L-tryptophan.
Avoid post-dinner chocolate
Chocolate contains caffeine, plus it's full of sugar, which is a stimulant.
Try a bowl of berries and Greek-style yogurt
'If you crave something sweet after dinner, have Total 0% Greek Yoghurt with some berries,' says nutritionist Amanda Ursell. 'The berries are naturally sweet and the yogurt contains more protein than most yoghurts, so it keeps you full and away from the sugary snacks.'
Just one glass...
Watch the wine. 'One nightcap will help sleep,' says Professor Horne. 'But any more will disrupt it' because your body will start producing adrenaline to counteract the alcohol, leading to a restless night.
Get a bigger bed!
Make sure your bed allows you to move around in the night. If you share with a partner, make sure you've both got enough room, and if you like different temperatures you can even buy a split-tog duvet.
Invest in quality bedding
Investing in quality bedding is key to a good night's sleep, especially for pre and peri menopausal women who struggle with keeping cool come bed time. The Wool Room, an expert UK wool retailer, supplies bedding that is proven to regulate body temperature, as you sleep. The average person perspires one litre of water each night, and because this perspiration is unable to be absorbed inside synthetic or down fibres, the moisture sits around the skin, raising skin moisture levels and causing a heat build-up which is enough discomfort to pull you out of your sleep. Wool has an incredibly clever ability to regulate moisture levels and temperature as we sleep and has even been proven to reduce symptoms of allergies. Wool bedding adjusts to individual temperatures of different sleepers, says Chris Tattersall, Managing Director of The Wool Room. It's the perfect solution for pre and peri menopausal women who suffer with hot flushes and night sweats because it absorbs moisture without getting damp and has the ability to keep you cool at the same time as keeping your partner warm.