The woman&home Festive Food Awards: Special Recognition awards winners
Every year our team award the brands and retailers with the very best festive offerings…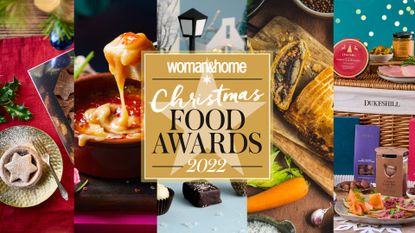 (Image credit: Patisserie Valerie, Waitrose & Partners, Melt Chocolates, Riverford, DukesHill)
The festive season is a time of year when the market is saturated with new food launches all fighting for your attention. It can be difficult to wade through aisle after aisle of festive products and decide which to spend your money on to make you Christmas feast fantastic.
That's where the woman&home Festive Food Awards comes in. Hundreds of products were submitted to woman&home and our panel of experts shortlisted 30 of the best Christmas food products, drinks and retailers for 2022 from these entries.
Our team boasts many years of experience cooking and tasting new and innovative food and drink products. This makes them especially well suited when it comes to finding the best buys for Christmas, making the curation of your shopping list much easier.
The taste tests cover several categories, such as the best Christmas cake, to Christmas turkey and of course, the best mince pies. In addition to this our judges have highlighted five of the best brands and retailers which have an exemplary range on offer for Christmas 2022.
From specialist chocolatiers to artisanal producers who champion quality, British produce, each of the winners has a wonderful selection of food and drink items which will ensure you have the most delicious Christmas yet.
Special Recognition awards winners
Best Christmas supermarket: Waitrose & Partners
This year, Waitrose have truly taken the pain out of prepping and hosting big gatherings over the silly season. The pre-cooked festive mains were a particular standout for our judges. These energy-saving centrepieces mean you don't have to use your oven for long periods of time, but can still enjoy the results of a slow-cooked joint.
Judges especially enjoyed the Slow-cooked Ultimate Crackling Pork Belly which is new for 2022 and forms part of the Heston from Waitrose collection. All fresh Waitrose pork is from British farmers they know and trust so you can be confident you're eating quality meat. Group food director Jen Bedloe described the pork as 'sweet and juicy with fantastic crackling'. She also praised how easy it was to carve, something many cooks find stressful when hosting.
Plus, judges felt Waitrose had innovative and exciting options which make catering for special diets and preferences a breeze. The jewelled roast with a fruity centre is a delightful vegan main we think would even tempt meat-eaters and the plant-based melting chilli bake 'cheese' was mind-blowing!
Those with a sweet tooth with also be satisfied with the selection of Christmas dessert ideas available from Waitrose & Partners. A particular highlight for our judges was the Heston From Waitrose Chocolate Pennies. Eat them as they are, package them up as a stocking filler or, if you're feeling adventurous, melt them into a mug of mulled wine. It's jolly good!
Best independent retailer: Riverford
A true champion for British produce and suppliers, Riverford's festive offering covers all the bases.
From Christmas food gifts, generously fruited mince pies (opens in new tab) which have a charming homemade feel, to cheese selection boxes which are to die for, everything grown, made and sold by Riverford is organic.
This year, judges were impressed with the selection of festive cooking kits which take the stress out of preparing a showstopper from scratch. The Christmas pudding kit includes everything you need to make a carrot and apple twist on the classic and will show you how to make a Christmas pudding with ease.
The veggie wellington kit received high praise. Plus, the instructions explain how to prep the wellington ahead meaning you have little to do on the big day. All the kits include pre-measured ingredients and ensure food waste is at an absolute minimum. Some of the range has already dropped online but the rest will be available to order from the end of October.
Best artisanal supplier: Dukeshill
Famous for their traditionally made hams which are among the tastiest we've ever had, DukesHill have a brilliant handcrafted range of products so you can have the most delicious Christmas yet. Plus, let's not forget that in 2003 they were awarded a Royal Warrant to supply hams to Queen Elizabeth II.
If you want to stock up on special essentials for your own gathering be sure to browse their selection of free-range bronze turkeys. They have been specifically reared for DukesHill by two farming families in Shropshire and Kent and the demand is always incredibly high. Order early online to avoid disappointment.
When it comes to foodie gifts, DukesHill do some of the best Christmas hampers year after year. Judges highly recommend the build-your-own hampers as a way to create the perfect, personalised package of treats. Alternatively, The Star of Wonder Christmas hamper (opens in new tab), pictured above, comes in a 20-inch wicker hamper with leather straps and contains 18 delightful food and drink items. While at £210 it certainly isn't a budget option, it contains enough to keep a family going for a fair few days after Christmas and will no doubt be highly appreciated.
Best cakes and bakes: Patisserie Valerie
This high-street favourite has pulled out all the stops this year with a fantastic selection of sweet treats that taste as good as they look.
Judges loved the traditional yule log which features a rich, handmade chocolate sponge, generously filled with Swiss chocolate buttercream and decorated with sugar snowflakes, a dusting of edible snow and some adorable edible festive figures. Deputy food editor Rose Fooks said: 'The texture of this yule log is similar to chocolate fudge cake. It's rich, nostalgic and well-balanced. Plus, it looks impressive and would be wonderful for any parties or gatherings over the Christmas period.'
The Madame Valerie Gateau also won high praise. Judges loved the fresh cream filling and rich chocolate flavour - some said it was almost like a wedding cake it was so decadent!
If you're not catering for big crowds this festive season you can still indulge with some smaller treats from Patisserie Valerie. The mince pies are bigger than most supermarket offerings and come in a lovely Christmassy presentation box. The macaron selection box was also exemplary with flavours including raspberry, pistachio and salted caramel. If you're feeling generous you could buy it as a gift but we wouldn't judge if you add a box for yourself too. They are available in boxes of six or 12.
Best edible gifts: Melt Chocolates
Purveyors of fine chocolate products since 2005, Melt Chocolates really stood out in the sweets and treats category of our annual Christmas taste tests. From beautifully detailed truffles and chocolates to candied orange slices dipped in dark chocolate, the love, care and craftmanship of all their products is simply outstanding.
The Gianduja cake won lots of high praise with our judges. It's rich, luxurious and would make the perfect accompaniment to an espresso after dinner. Deputy food editor Rose Fooks said: 'Modern and minimalist in design, this is a sophisticated chocolate cake which delivers maximum flavour and indulgence.'
If you're looking for a luxurious advent calendar for yourself or a loved one we love the Notting Hill House (£69), pictured above. Inspired by the neighbourhood in which the Melt Chocolate's headquarters is located, the calendar features pastel-coloured houses filled with an array of sublime treats. A wonderful gift for anyone with a special affinity for this part of London or simply an appreciation for quality chocolate.
We're also impressed by Melt Chocolate's commitment to sustainable and ethical practices and beautifully finished packaging, all of which is plastic-free. They use renewable energy in the kitchens and have an electric delivery van for London orders.
Jessica is a Senior Food Writer at Future and is an enthusiastic, self-taught cook who adores eating out and sharing great food and drink with friends and family. She has completed the Level 1 Associate course at the Academy of Cheese and is continually building on her knowledge of beers, wines and spirits. Jessica writes food and drink related news stories and features, curates product pages, tests and reviews equipment and also develops recipes which she styles on food shoots.